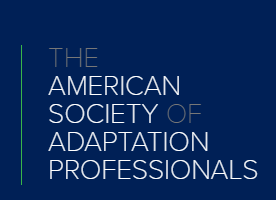 Thank you for your interest in joining the American Society of Adaptation Professionals network.1
In order to access this network in the Adaptation Clearinghous you need to 1) be a member of ASAP and 2) choose to link your account to the Adaptation Clearinghouse. You may do easily link accounts upon joining ASAP or through the user settings on the ASAP website.
If you are not a member of ASAP, you can learn more about ASAP membership and join at www.adaptationprofessionals.org.
The American Society of Adaptation Professionals
The American Society of Adaptation Professionals (ASAP) Portal gives ASAP members a platform to access, share, and rate resources. ASAP members can use this portal to find the most up-to-date catalogue of tools, information and reports on climate change adaptation. Members can also use this portal to rate resources, see what others in the ASAP network rate highly, and submit resources to share with others in the ASAP network. These ASAP network pages are tailored to serve the diverse, multidisciplinary group of adaptation professionals that are members of ASAP. 
COMING SOON!
READ MORE
ASAP is a member-based organization that brings together leading adaptation professionals from a variety of sectors across the United States. By partnering with the Georgetown Climate Center, ASAP is providing a new and important platform for collaboration and sharing information on the resources and information that is the most valuable for professionals working in the field of adaptation and resilience.
Through this portal page, ASAP's diverse members, including climate scientists, public health officials, natural resource managers, urban planners, and more, can come together to share and identify the most useful resources. Members can rate resources highly to help others find them, submit new resources that are not yet in the clearinghouse, and use the filtered lists to find resources targeted at various steps in the adaptation process or that address specific adaptation questions.
SHOW LESS