The Cost and Affordability of Flood Insurance in New York City
This RAND study examined how recent changes to the National Flood Insurance Program (NFIP) would affect the affordability of insurance for homeowners and business in New York City. New floodplain maps in the city are expanding the number of homes and businesses that must carry flood insurance and increasing the rate of insurance for many structures.  Legal changes to the NFIP are also phasing in rate hikes for many insureds. Using flood vulnerable areas in New York City as the study area, this study examined how these changes in the NFIP would affect the affordability of flood insurance. The study answers four questions:
How does rising flood insurance rates increase the "housing burden" (or total cost of housing) for households living in one- to four-family homes in the region?
How might the costs of flood insurance rise in the region given mapping changes and rate increases?
What effect will flood insurance premium increases have on households and communities? 
What are some promising options for subsidizing flood insurance for those that need assistance and how much would different subsidy programs cost?

Consider how to assess flood-insurance related housing-cost burdens in your own community. Identify policy options for  subsidizing flood insurance or funding hazard mitigation as a strategy for promoting equity and resilience. 
The researchers found that costs of flood insurance make housing unaffordable for approximately 11,000 households in New York City, or 25% of one-to four-family properties in the study area (using a ratio of mortgage principal and interest, property taxes, and property insurance payments to income). This includes 64% of extremely- or very low-income households and 41% of low-income households. The study also estimated that the number of households would increase to 33% based upon changes to the NFIP maps and rising insurance rates. Additionally, the researchers found that increases in flood insurance rates could decrease property values by $10,000 to $100,000 and could potentially increase mortgage default rates, especially within high-risk zones.
The researchers also identified several promising options for addressing the challenge of insurance affordability in Chapter 6, including options for subsidizing flood insurance in different ways, providing funds to pay for mitigation measures that will reduce insurance rates and increase claims (e.g. installing flood vents, raising machinery, basement infill, elevation), and options that combine mitigation assistance with a premium subsidy (see table S.3 below).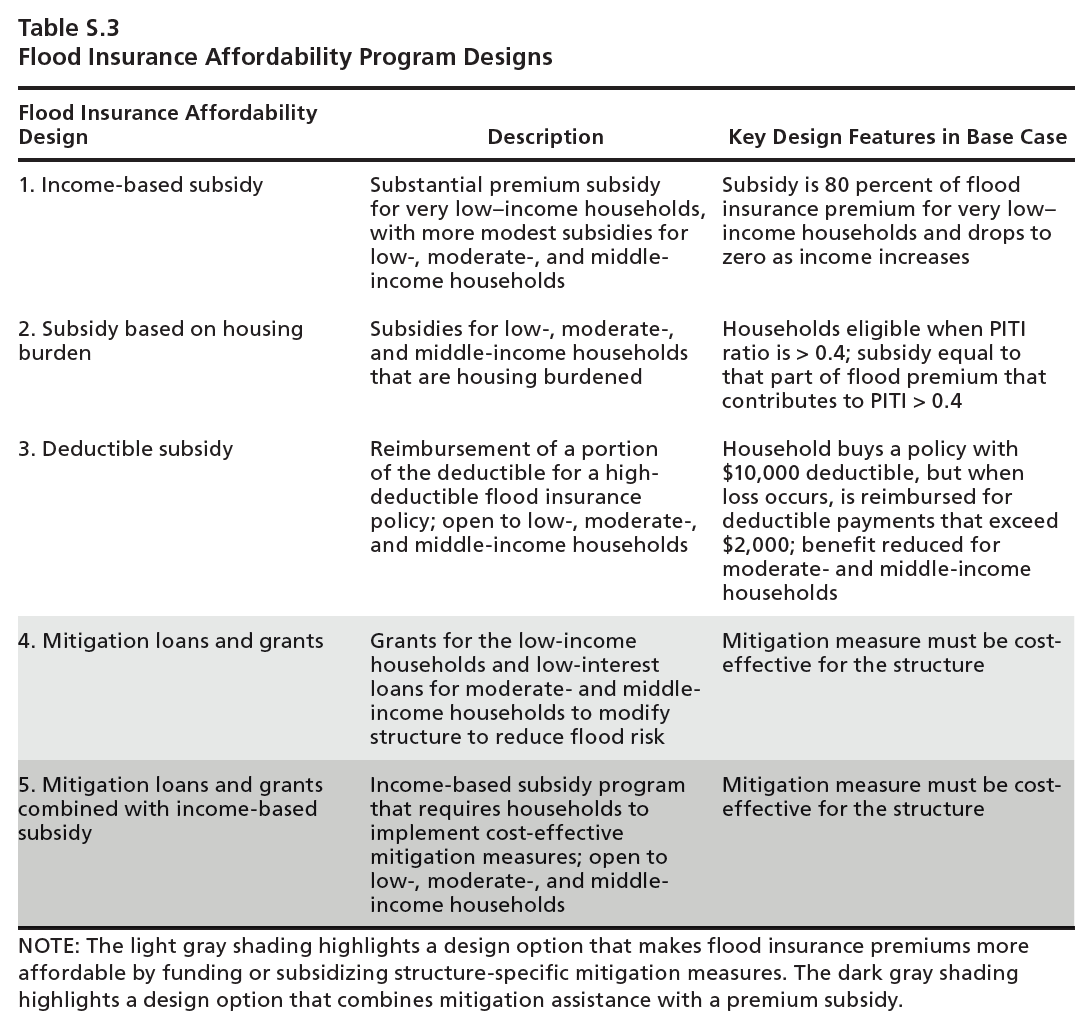 A full summary of the pros and cons of each program can be found in Table 6.19. Overall, subsidy programs could cost between $12 to $33 million per year, and will vary in the extent that the option will reduce housing-burden based on how narrowly or broadly the policy is applied. 
Other findings of note include:
Flood insurance take-up rates increased substantially in New York City following Hurricane Sandy. This likely reflects 1) heightened awareness of flood risks, 2) requirements to purchase flood insurance to receive federal assistance, and 3) outreach initiated by the New York City government. The researchers project that take-up rates may fall again as the memory of Sandy fades and three-year requirements end. 
The paper also estimated that 8 inches of sea level rise would increase premiums in the study area 10% above current rates.
The paper provides an in-depth overview of the methodology the researchers employed, a summary of the information they collected from residents, and an explanation of how the researchers determined flood insurance take-up rates, insurance affordability, and housing-burden. The paper describes which coverage options most NYC residents in the study area chose (e.g. deductible and level of coverage). It also details how changes in grandfathering policies and the proposed new floodplain maps were factored into their analysis.
Publication Date: 2017
Authors or Affiliated Users:
Lloyd Dixon
Noreen Clancy
Benjamin Miller
Sue Hoegberg
Michael M. Lewis
Bruce Bender
Samara Ebinger
Mel Hodges
Gayle M. Syck
Caroline Nagy
Scott R. Choquette
Related Organizations:
Sectors:
Resource Category:
Resource Types:
Academic research paper
Policy analysis/recommendations
States Affected:
Impacts: