A Guide for Public-Sector Resilience Bond Sponsorship
With this guidance, re.Focus aims to support the alignment of public-sector disaster risk reduction measures with private insurance through the use of Resilience Bonds. The report highlights several reasons why governments at all levels and public interest entities (like water and electric utilities, ports, and transit systems) should consider Resilience Bonds as part of a broad strategy to build both physical and financial resilience - and illustrates how to do so.

This resource was featured in the October 5, 2017, ASAP Newsletter.
"A new handbook from Re:Focus provides guidance for the public sector on the resilience bond market. The handbook highlights the opportunity to link the catastrophe bond market with resilience practices to unleash financial opportunities and enhance local resilience."
Resilience Bonds, as described in the report, are a variation on conventional catastrophe bonds that will link insurance coverage that public sector entities can already purchase with capital investments in resilience projects (such as, flood barriers and building retrofits) that reduce expected losses from disasters.
Re.Focus explains that as the frequency and severity of disasters have grown, the gap between insured losses and total economic losses has also grown - which is an unsustainable situation for budget-constrained public entities such as local governments and utilities. The "resilience rebate" from Resilience Bonds can be a source of predictable funding in which sponsors (insurance policyholders) can proactively invest in projects that reduce hazard risk.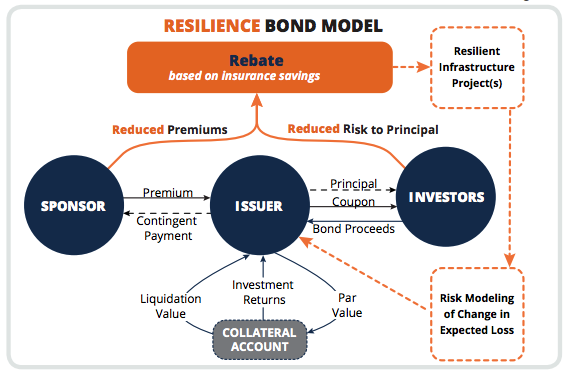 To provide guidance on these types of bonds, the report describes various ways in which a potential public-sector Resilience Bond sponsor can invest based on different priorities for bond design. Each entry point for bond design is described and expanded in a "Sponsorship Flowchart" (Figure 5).
The "re.Balance" section of the report illustrates the resilience bond approach with a focus on transit systems as well as coastal flooding and urban flooding, as they affect urban slums and small islands in particular. A transit example is provided for the New York City subway which faces storm surge risks, and has existing public transit authority insurance portfolios in place. Resilience Bonds in this scenario would provide opportunities to rebalance existing transit insurance portfolios in order to mobilize additional private capital for risk reduction projects in near-term capital plans.
Publication Date: September 2017
Authors or Affiliated Users:
Related Organizations:
Sectors:
Resource Category:
Resource Types:
Impacts: