Advancing Community Adaptation - A Framework for Project Prioritization and Decision Making in coastal Louisiana
Louisiana faces severe climate change impacts of sea level rise and extreme weather events, and related flooding, subsidence, and coastal erosion. The Center for Planning Excellence and Dr. Denise Reed collaborated to develop this adaptation framework for coastal Louisiana, with a particular focus on non-structural elements and the communities impacted in the region. This framework is a tool for a more holistic approach to planning coastal community resilience, and provides near- and long-term strategies for flood risk mitigation and implementing adaptation measures.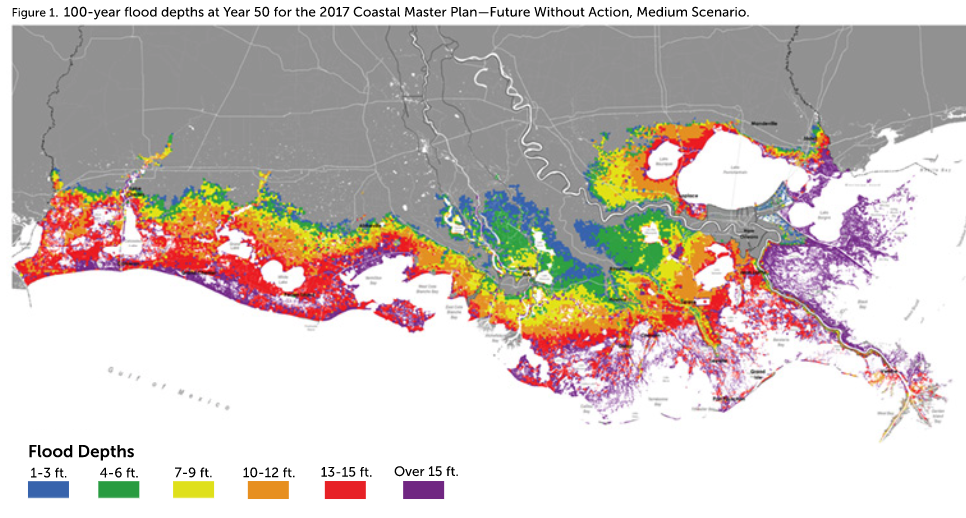 The Framework Approach is designed around five primary resilience elements of a community including:
Demographics

Household Income

Critical Facilities and Essential Services

Transportation

Environment
The report and framework detail how these elements can be incorporated in near- and long-term strategies, while being designed in support of current state-led risk reduction initiatives and efforts. The report offers an analysis of the state's Comprehensive Master Plan for a Sustainable Coast (Coastal Master Plan) and Louisiana's Strategic Adaptation for Future Environments (LA SAFE), and the framework is built to work along with these planning efforts.
Most existing state planning efforts in Louisiana are focused on the mitigation of flood risk to structural assets, and the services and infrastructure of coastal communities. However, as the report details, the community's status, its housing stock, its supporting infrastructure, as well as its context with the wider landscape of coastal planning need to be considered. The Community Resilience Context section describes some of these issues that have important implications for risk reduction programs.
The Framework for Evaluating Coastal Resilience is presented as 2 robust tables for both short-term and long-term resilience strategies. The tables are organized around the five resilience elements, community risk level, local planning/governance, and coastal context. Key questions are also listed that can be used to evaluate a project or plan.
The Framework is organized into 2 tables for:
Near-Term Existing Communities Resilience: actions that can make a difference to communities in current conditions, and can mitigate risk for the existing building inventory. The time frame is the next 20 years or so.
Long-Term Regional Resilience: actions that prepare for the future and transition some communities to areas of future lower flood risk. For most Louisiana coastal communities, flood risk increases dramatically between Year 25 and Year 50 as sea level rise and coastal land loss take their toll.
Overall, the framework promotes:
Coordination across agencies and communities to leverage investments

Better alignment of investments with policies and among programs;

Identification of gaps in resilience elements for communities; and

Illustration of the technical assistance and capacity needed to maximize the benefits of state and local investments.
Louisiana lost over 2,000 square miles of land in the past 80 years due to subsidence and coastal erosion, greatly increasing flood risk on the coast. The state is expected to lose another 2,000 square miles of land in the next 50 years due to coastal erosion and subsidence made worse by rising sea levels.
Publication Date: 2018
Authors or Affiliated Users:
Related Organizations:
Center for Planning Excellence
Sectors:
Resource Category:
Resource Types:
States Affected:
Impacts:
User Comments:
October 22, 2019
Jeannette Dubinin, Director of Resilience and Adaptation at Center for Planning Excellence

great resource that details how to use publicly available data to make informed, holistic decisions about risk reduction efforts towards resilience