Alaska's Climate Change Strategy: Addressing Impacts in Alaska
The Adaptation Advisory Group (AAG) to the Alaska Climate Change Sub-Cabinet created this adaptation response plan as part of Alaska's overall climate change strategy, which also addresses mitigation and research needs, and includes a special Immediate Action Workgroup report.  For more information, "Alaska's IAWG 2008 and 2009 Final Report(s): Recommendations Report to the Governor's Sub-Cabinet on Climate Change" are reviewed in this clearinghouse as well. 
Governor Sarah Palin signed Administrative Order 238 on September 14, 2007, which established and charged the Alaska Climate Change Sub-Cabinet to advise the Office of the Governor on the preparation and implementation of a comprehensive Alaska Climate Change Strategy (AO 238). This document represents the recommendations of the Adaptation Advisory Group which was charged with evaluating and developing options to adapt to climate change. The report also provides additional background on projected climate and impacts for Alaska.
Alaska recognizes that climate change poses disproportionate risks to rural communities. The plan explains that many aspects of traditional and subsistence practices are already becoming more difficult, dangerous, and expensive due to climate change. They comment that one in five people in rural villages currently live below the poverty threshold. This means that the rising costs of rural living is particularly devastating. Climate change is also having an impact on cultural traditions. For example, the plan mentions that the shorter ice fishing season makes it more difficult for elders to teach youth traditional knowledge.  Even more, facing rapid erosion, 213 native villages are at risk of permanent displacement. 

To address these risks, strategies are proposed to provide climate impact assistance to Alaskan villages and rural communities, to improve health access, and to protect gravesites and other traditionally important spaces. 
The AAG organized four technical working groups to address a broad set of sectors with current and/or projected impacts from climate change including: Public Infrastructure, Health and Culture, Natural Systems, and Economic Activities in Alaska. Recommendations for each sector are provided in a comprehensive adaptation plan within this strategy. In addition to sector-specific recommendations, the AAG developed a number of recommendations that represented broader considerations, referred to as "Common Themes." These recommended actions address coordination across and between state government and other governmental and non-governmental entities, provide for the delivery of services and information to communities, and promote the coordination of state efforts to evaluate and address climate changes in ways that cut across agencies' jurisdictions.
The report looks at impacts on human systems and natural resources including: permafrost melting, storm surges and coastal erosion, forest and vegetation changes, changes to marine ecosystems and fisheries, impacts to wildlife (species distribution, abundance, and ranges), and threats to subsistence livelihoods and lifestyles.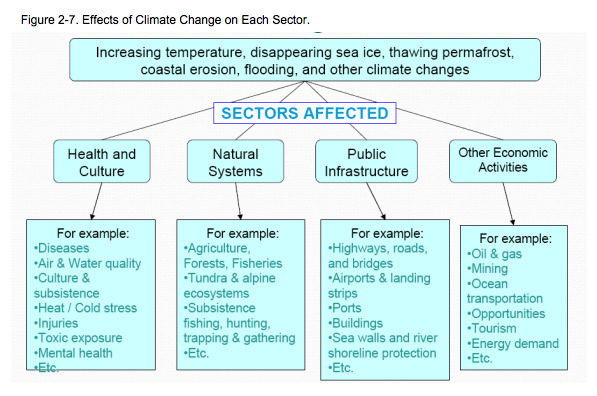 The recommendations developed by the AAG represent a combination of near-term and long-term actions, including the development of baseline information and studies to promote action in the long-term. In addition, the recommendations emphasize the broad principles of coordination and cooperation, integrating climate change into existing practices and decisions, and building on existing programs and activities.
The Strategy includes the following recommendations for reducing climate change threats to the state:
Create a coordinated, statewide system for data collection, analysis, and monitoring
Make improvements to infrastructure to enhance sustainability and the service life of critical assets
Build infrastructure to be resilient to future changes
Consider climate change in fisheries management and adopt adaptive management approaches for fisheries and wildlife
Modify wildfire management plans to consider increases in size and frequency due to climate change
Expand efforts to address invasive species
Support sustainable agricultural practices and marketing
Address potential increases in Arctic economic activities
Develop climate change scenarios for state's economy
Augment surveillance of vector-borne diseases
Develop a community health impact assessment
Assess potential impacts to archeological sites and grave sites
The report contains a section on climate science and projections, including a discussion of the Global Climate Model (GCM) selection and the process used to downscale modeling results for use in developing this strategy. In developing the Strategy the AAG relied upon projections from the Arctic Climate Impact Assessment (2004 and 2005), the National Climate Assessment (2009), and the Intergovernmental Panel on Climate Change (4th, 2007).  Additional analyses of scientific studies on ice sheet melt from Greenland and Antarctica and studies on ocean acidification were also considered in determining potential impacts.
Publication Date: January 2010
Related Organizations:
Adaptation Advisory Group of the Governor's Sub-Cabinet on Climate Change
Sectors:
Fish and fisheries
Forestry
Rural
Wildlife
Resource Category:
Resource Types:
States Affected:
Impacts:
Air temperature
Invasive species and pests
Ocean acidification
Permafrost melt
Precipitation changes
Wildfires