California's Wildfire and Forest Resilience Action Plan
California's Wildfire and Forest Resilience Action Plan, developed by Governor Newsom's Forest Management Task Force in January 2021, provides a comprehensive framework of statewide strategies for forest management and community resilience. The Action Plan outlines four primary goals, which are buttressed by subsections and more specific "key actions." It not only presents mitigation approaches to reducing fire risk, but also embraces adaptation strategies that advance fire-resilient natural environments and bolster the infrastructure of threatened communities.
The plan was developed in response to California experiencing five of its six largest fires in modern history during the year 2020, which consumed over 4 million acres of land across the state, due in part to prolonged fire suppression and the impacts of climate change. To address the historic fires and better protect the citizens and infrastructure of the state, the plan details four goals, each with a subset of actions:
Increase the Pace and Scale of Forest Health Projects;
Strengthen Protection of Communities;
Manage Forests to Achieve the State's Economic and Environmental Goals; and
Drive Innovation and Measure Progress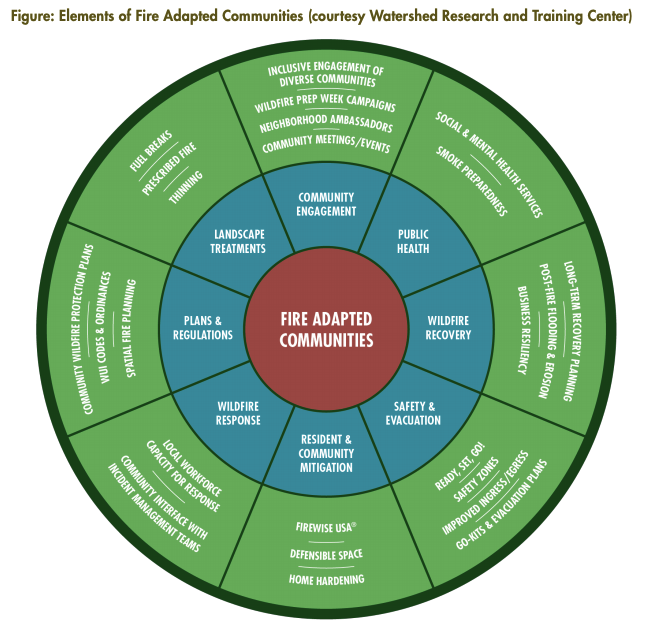 Goal 1 encompasses efforts to coordinate federal and state agencies in the treatment of 500,000 acres annually by 2025 through the Agreement for Shared Stewardship of California's Forests and Rangelands. Coordinated stewardship, across multiple ownerships, emphasizes the shared responsibility and coordinated effort of federal, state, local, tribal, and private agencies to assist in restoration and management endeavors. The plan recommends the construction of regional approaches to improving health and resilience of landscapes, recognizing the diversity of stakeholders and the importance of targeted approaches to adaptation. Specific sub-actions include reforesting burned areas, improving regulatory efficiency, and conserving working forests.
Goal 2 underscores building resilience in threatened communities through adaptive strategies, such as "hardening homes, buildings, and infrastructure, increasing defensible space and fuel breaks, and strengthening community planning and preparedness." The goal outlines specific actions and priorities for the creation of fire-adapted communities more amenable to these changing environments.
Goal 3 ties the strength of community resilience to the health of forested landscapes. It identifies forest thinning and prescribed fire as strategies for promoting the growth of more fire-resistant trees, and dually aims to expand forested landscapes and stimulate rural economic development and sustainable job markets.
To reduce threats of wildfire and climate change while supporting adaptation efforts, Goal 4 communicates the need for bold innovation in monitoring and research. This will involve utilizing best available science, and expanding monitoring and reporting programs.
The Wildfire and Forest Resilience Action Plan is the initial five-year plan to promote Shared Stewardship Agreement Goals, coordinating the state's forestry efforts with other federal, local, tribal, regional, and private organizations. In order to develop the recommendations listed in this Action Plan, the Task Force convened more than two dozen interagency and stakeholder-led workgroups over the course of two years. The strategy aligns with a $1 billion investment proposed in the Governor's 2021 budget to combat wildfire risk and improve the health of forested landscapes. The Plan will be updated every 5 years -- the next plan will be released in January 2026.
Publication Date: January 2021
Related Organizations:
California Natural Resources Agency
California Environmental Protection Agency (CalEPA)
California Department of Forestry and Fire Protection (CalFire)
Sectors:
Forestry
Land management and conservation
Resource Category:
Resource Types:
States Affected:
Impacts: