Case Study: Boulder, Colorado's Home Preparedness Assessment Program
In early 2017, the City of Boulder and Boulder County used Community Development Block Grant for Disaster Recovery (CDBG-DR) funding to launch a pilot home resilience retrofit program called the Home Preparedness Assessment program (HPA). HPA was open to city and county single-family and mobile-family homeowners impacted by floods that swept through the Boulder region in the fall of 2013. While the program primarily addressed flooding risks in homes, the program coordinators used the home assessments to have broader conversations with homeowners about other natural disaster risks and resilience.
The HPA program offered participants a free one-hour in-home consultation in which a professional advisor recommended home improvements that would help residents respond to flood, fire, and drought. Additionally, homeowners could receive a cash rebate that would cover the first $500 of repairs or improvements. The rebates covered the following actions:
Inspecting gutters and replacing roof flashing to prevent leaks and water damage
Sump pump inspections and repairs
Installing permeable pavers to filter and reduce runoff
Smart landscaping such as re-grading the land around the home to prevent water from pooling near the foundation.
Scoping the sewer lateral line (free to City of Boulder residents, but covered by rebate for County residents)
Installing floor guards to prevent sewer backups
Installing backflow preventers to reduce septic or sewer backups
Sealing and repairing cracks and minor damage to the foundation
Cleaning or repairing sewer later lining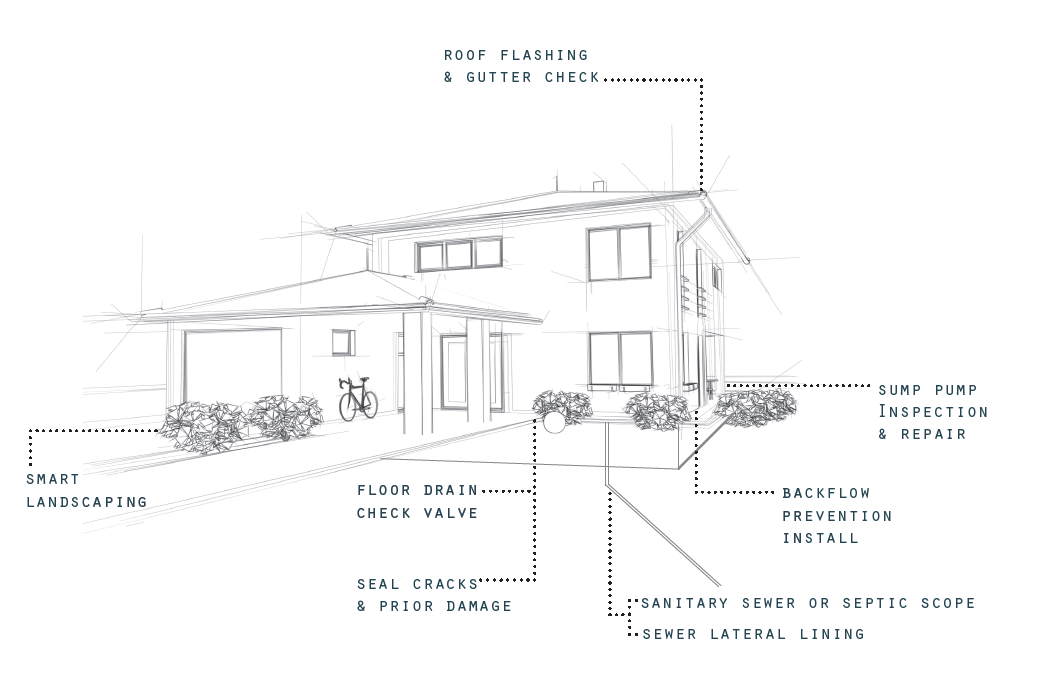 The pilot served 100 homes on a first-come, first-served basis. The program was quickly oversubscribed, suggesting that the demand for these types of assessments exists in the market. Boulder is currently evaluating how it can expand or continue this pilot program.
HPA was administered by the engineering and construction company APTIM who drew on their staff's expertise in doing energy efficiency assessments. All home advisors attended a training on how to evaluate a home's risk by assessing its location, physical characteristics, and the personal preparedness of the residents. A portion of this training took place in a home that had signed up for the program, providing a real-world example.
The program's organizers offered the following recommendations for future resilience home assessment programs:
Consider who are the right people to conduct assessments. While general contractors may have the skills to do assessments, most do not have the time. In Boulder, APTIM fulfilled this role drawing on their qualified team. This was possible because the total number of homes was relatively low. For a larger program, administrators may need to invest in hiring and training a specialized workforce to conduct assessments.
Include green solutions. While smart-landscaping was not originally included in the covered repairs, once it was added, it proved to be one of the most popular options for homeowners.
Think about marketing. Boulder actively conducted community outreach advertising the program through a variety of mediums including newsletters, connecting with various networks, and the social media website Nextdoor (which they noted was the most successful).
In-home assessments provide a real value. Boulder considered the idea of switching to online assessments, but found that residents saw a lot of value having an in-person interaction. Residents reported that they appreciated having a professional in their house to answer their questions as they made decisions about how to invest in their homes.
Have a plan for reaching low-income residents. For a program to better reach low-income residents, it may have to cover a larger share of the costs, apply to multi-family buildings, and have specific marketing campaigns aimed at lower-income residents.
In late 2017, Georgetown Climate Center spoke with HPA Program organizers to learn about this program's successes and provide recommendations for improvement. This case study reflects what we learned from this process. To explore a similar program, see RainReady's Oak Park Village Pilot Program and Chicago Residential Flood Assistance Program. 
Publication Date: 2017
Related Organizations:
Boulder County, Colorado
City of Boulder, Colorado
APTIM
Sectors:
Resource Category:
Resource Types:
States Affected:
Impacts: