Case Study of the Atlanta BeltLine - Adaptation Aspects
The Atlanta BeltLine project demonstrates how cities can reuse underutilized sites and facilities to enhance city resilience to future climate impacts. (However, the BeltLine project is not being designed explicitly as a climate change adaptation project.) With the BeltLine project, the city is converting 22 miles of disused railway beds surrounding the city into a biking and pedestrian loop and a streetcar line, which will include 1,300 acres of new and 700 acres of restored greenspace.
The Beltline project will also help the city address environmental challenges. Atlanta has suffered the consequences of deforestation, where buildings, surface roads, and parking lots have replaced trees in the city. This has led to problems with stormwater management, air quality, and rising temperatures.
A key component of the Atlanta Beltline is the positive impact it will have on the city's environmental footprint and adaptive capacity. The project is centered around five energy and climate guidelines to ensure integrated sustainability. One of these guidelines is to provide highly reflective materials and shading landscapes to minimize contribution to the urban heat island effect. The reforestation of the Atlanta BeltLine corridor will lower surface and air temperatures. Increased tree canopy will also help shade buildings and minimize cooling loads. Furthermore, the trails and streetcar lines will offer alternative transportation options, which should result in decreased vehicle use and the resulting waste heat.1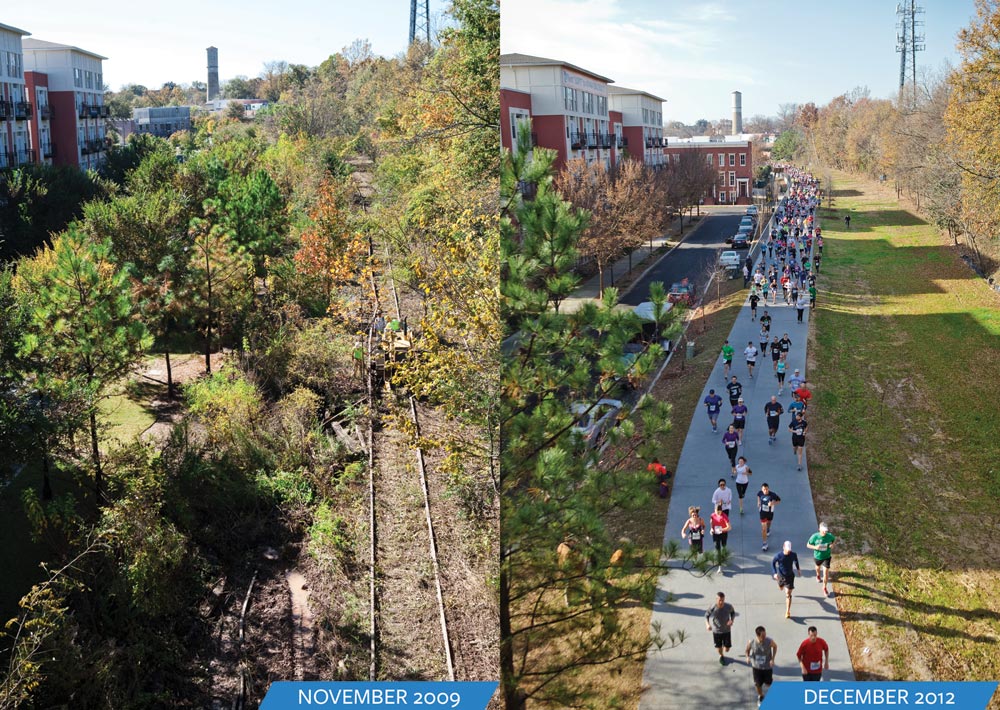 A Georgia Tech graduate student submitted the idea for the BeltLine to city officials in 2001.  This idea turned into a grassroots campaign of local citizens and civic leaders dedicated to the BeltLine's integrated approach to transportation, land use, greenspace, and sustainable growth. Construction began in 2006, and the city expects to complete the $4.8 billion project by 2030. It will connect 45 neighborhoods – cutting across socioeconomic and racial lines – while promoting urban revitalization and a healthier lifestyle for all residents.
The Atlanta BeltLine also stands out because of the large amount of private investment into the project and its surrounding areas that complements public funding sources. Foundations and private donors have given more than $54 million for paths, parks, and other amenities. Home prices have already risen in formerly overlooked low-income neighborhoods where the BeltLine is expected to expand.
The BeltLine provides an interesting model for other cities that are looking to retool underutilized spaces as an adaptation strategy.  Large-scale, multi-modal projects like the BeltLine can be used to deliver multiple resilience benefits to a community: by providing redundant transportation networks, enhancing urban tree canopy, and enhancing greenspace and green infrastructure.  This project demonstrates how cities can align adaptation efforts and programs to revitalize underutilized spaces by looking for opportunities to reforest parks and paths, use reflective materials, provide shade, and increase connectivity between low-income and high-income neighborhoods, and provide alternative transportation options.  This project also demonstrates how cities can attract private financing for resilience projects that increase property values.  
Publication Date: 2016
Related Organizations:
Sectors:
Resource Category:
Resource Types:
States Affected:
Impacts:
Air temperature
Precipitation changes
Endnotes
1. The Atlanta BeltLine, Energy and Climate, available at http://beltline.org/progress/progress/environmental-progress/initiatives/energy-and-climate/ (visited on November 22, 2016).