City Resilience Framework
Supported by The Rockefeller Foundation and developed by Arup's International Development team, the City Resilience Framework is a holistic, evidence-based framework for understanding city resilience to inform urban planning and investment decisions. The Rockefeller Foundation is using the framework to create resilience-building agendas at city-level with current members of their 100 Resilient Cities Network. Presenting an inclusive method for articulating city resilience, the framework underpins and reinforces the City Resilience Index's full suite of indicators and variables.
The report "provides a lens through which the complexity of cities and the numerous factors that contribute to a city's resilience can be understood." To do so, the framework contains 12 key indicators that describe the fundamental attributes of a resilient city. The 12 indicators fall into four categories: the health and wellbeing of individuals (people); urban systems and services (place); economy and society (organization); and, finally, leadership and strategy (knowledge). The indicators are performance indicators - describing the outcome of actions to build resilience, not the actions themselves.
| | |
| --- | --- |
| | One of the essential components of the framework is inclusiveness. The document notes: "Inclusion emphasizes the need for broad consultation and engagement of communities, including the most vulnerable groups. Addressing the shocks or stresses faced by one sector, location, or community in isolation of others is an anathema to the notion of resilience. An inclusive approach contributes to a sense of shared ownership or a joint vision to build city resilience" (p. 5).  In furtherance of this goal, Rockefeller stresses that cities should empower stakeholders, engage in integrated planning, minimize human vulnerability, improve livelihoods and employment, protect human health, promote social stability and security, and foster cohesive communities characterized by mutual support.   |

Analysis for the Framework resulted in a refined list of eight city functions that are critical to resilience - including that a resilient city: delivers basic needs; safeguards human life; protects, maintains and enhances assets; facilitates human relationships and identity; promotes knowledge; defends the rule of law, justice and equity; supports livelihoods; and stimulates economic prosperity. According to the report, a city's ability to perform these functions determines whether the city is resilient or not.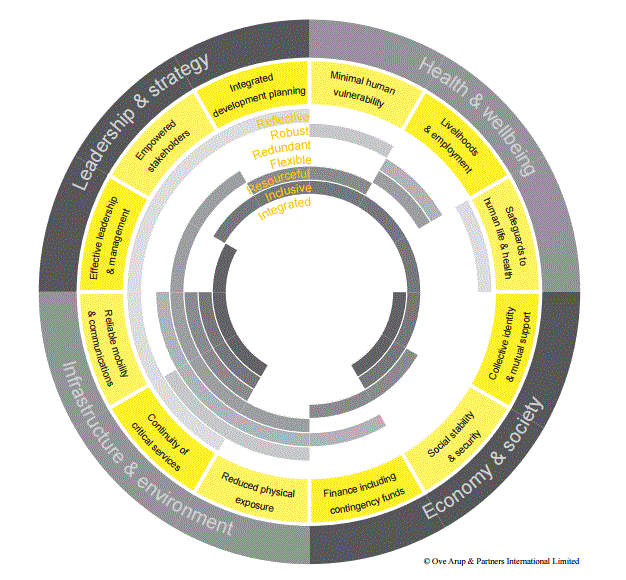 Case studies are provided which detail on the ground actions by resilient cities which have faced natural disasters. The Surat, India example demonstrates that Surat learned from its disasters of recurrent flooding and resulting pneumonic plague, by building resilience by applying lessons learned across all four category areas of the framework. Rapid response to a large earthquake required action to support urban systems and services, and the economy and society of Concepción, Chile. In the New Orleans example, the Vietnamese community demonstrates resilience through efforts to strengthen leadership, health and wellbeing, and its economy and society.  
Publication Date: April 2014 (Updated December 2015)
Related Organizations:
Related Resources:
Sectors:
Resource Category:
Resource Types:
Case study
Indicators
Planning guides
Impacts: