Climate Action through Equity: The Integration of Equity in the Portland/Multnomah County 2015 Climate Action Plan
Climate Action through Equity, produced by the City of Portland Bureau of Planning and Sustainability, provides an overview of how equity in Portland and Multnomah County was integrated in the City's 2015 Climate Action Plan. The case study educates users on city and county initiatives to serve communities of color and low-income populations, what actions the city took to support equity in the 2015 plan, and lessons learned from that process.

Understand one successful model for pursuing equitable climate action planning. 
According to the report, while Portland has always been at the forefront of addressing climate change, the connection between climate action and social equity has long been neglected.  Historically, the City of Portland and Multnomah County set climate goals strictly in terms of carbon emission reduction, paying little attention to which communities and demographics were benefiting from such actions.  As a result, communities of color and low-income populations experience a lack of low-carbon transportation options, inefficient housing, and lack of access to healthy food, among other inequities.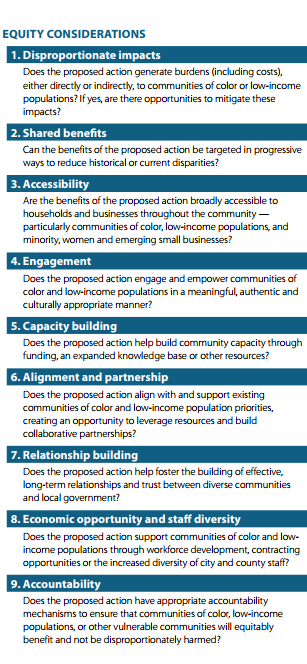 This case study describes the process the City of Portland and Multnomah County used for promoting equity in climate action during their Climate Action Plan update. Drawing on the expertise of an Equity Working Group, made up of six community organizations, Portland and Multnomah County considered equity in the Plan's vision, commitments, implementation, and metrics. This was supported by funding made available for community engagement designed by community partners.
The case study also discusses the importance of bringing in community partners. Six local organizations were selected to join the climate equity working group. Formed in 2013, the equity working group was asked to discuss each topic (e.g. energy, transportation, etc.) in the plan and share experiences they had in their own community related to each topic. The city shared potential action they were considering, and then working group members had a week to review the proposed action and provide feedback related to potential equity considerations. The working group identified nine equity considerations to be included in the Climate Action Plan, which are: shared benefits, accessibility, engagement, capacity building, alignment and partnership, relationship building, economic opportunity and staff diversity, and accountability (see sidebar).   
To address social equity, the City and County are working to increases access to transit options including sidewalks and bike lanes; reduce exposure to pollution and extreme heat; improve access to natural resources and parks; and reduce housing and energy costs for low-income communities. 
The 2015 CAP describes that a key means of handling social equity disparities is to increase vegetation and decrease the coverage of paved surfaces, especially in low-income neighborhoods and communities of color. For example, strategies are presented for increasing tree canopy in under-served communities that can provide vital shading, and eco-roofs to help reduce some of the impacts of extreme heat.
The report also reflects on lessons learned. Key takeaways include the importance of acknowledging the inherent power dynamics between community members and government employees, the importance of patience to allow the process to take the time it needs, as well as the effectiveness of creating metrics to measure impact and progress.
The report also notes that the 2015 Climate Action Plan has had far-reaching effects. Although work on the 2015 CAP has concluded, members of the Equity Working Group are still very involved in championing the need for social equity integration in climate action. The CAP has also inspired the work other organizations like the Asian Pacific American Network of Oregon (APANO).
Publication Date: July 12, 2016
Authors or Affiliated Users:
Related Organizations:
Related Resources:
Sectors:
Resource Category:
Resource Types:
Case study
Progress report
States Affected:
Impacts: