Climate Change Handbook for Regional Water Planning
Developed cooperatively by the California Department of Water Resources (DWR), the U.S. Environmental Protection Agency, Resources Legacy Fund, and the U.S. Army Corps of Engineers, this handbook provides a framework for integrating the impacts of climate change into water resources management. Key decisions, resources, tools, and planning options are presented to guide resource managers and planners as they develop means of adapting their programs to a changing climate. The handbook uses CA DWR's Integrated Regional Water Management (IRWM) planning framework as a model into which analysis of climate change impacts and planning for adaptation and mitigation can be integrated at a regional scale. The handbook offers quantitative tools and techniques for addressing both adaptation and mitigation in order to prepare comprehensive IRWM plans. Although this guide is focused on the IRWM process, it can be used by other practitioners nationally and internationally when incorporating climate change into any watershed or water supply planning process.
The report includes the following sections:
The Science of Climate Change - Global and Regional Application
Evaluating the Energy-Water Connection and GHG Emissions
Assessing Regional Vulnerability to Climate Change
Measuring Regional Impacts
Evaluating Projects, Resource Management Strategies, and IRWM Plan Benefits with respect to climate change
Implementing Under Uncertainty
Case studies illustrating a range of climate change adaptation and mitigation issues within and outside of California are included throughout the report. Section 6 'Evaluating Projects, Resource Management Strategies, and IRWM Plan Benefits with Climate Change' considers how to incorporate climate vulnerabilities, performance metrics, and climate change objectives with other planning objectives. It describes how to measure project performance using climate-related metrics to evaluate both individual projects and project portfolios. 
Climate adaptive resource management strategies are discussed in terms of the following goals:
Decrease water demand
Improve operational efficiency and transfers
Increase water supply
Improve water quality
Practice resource stewardship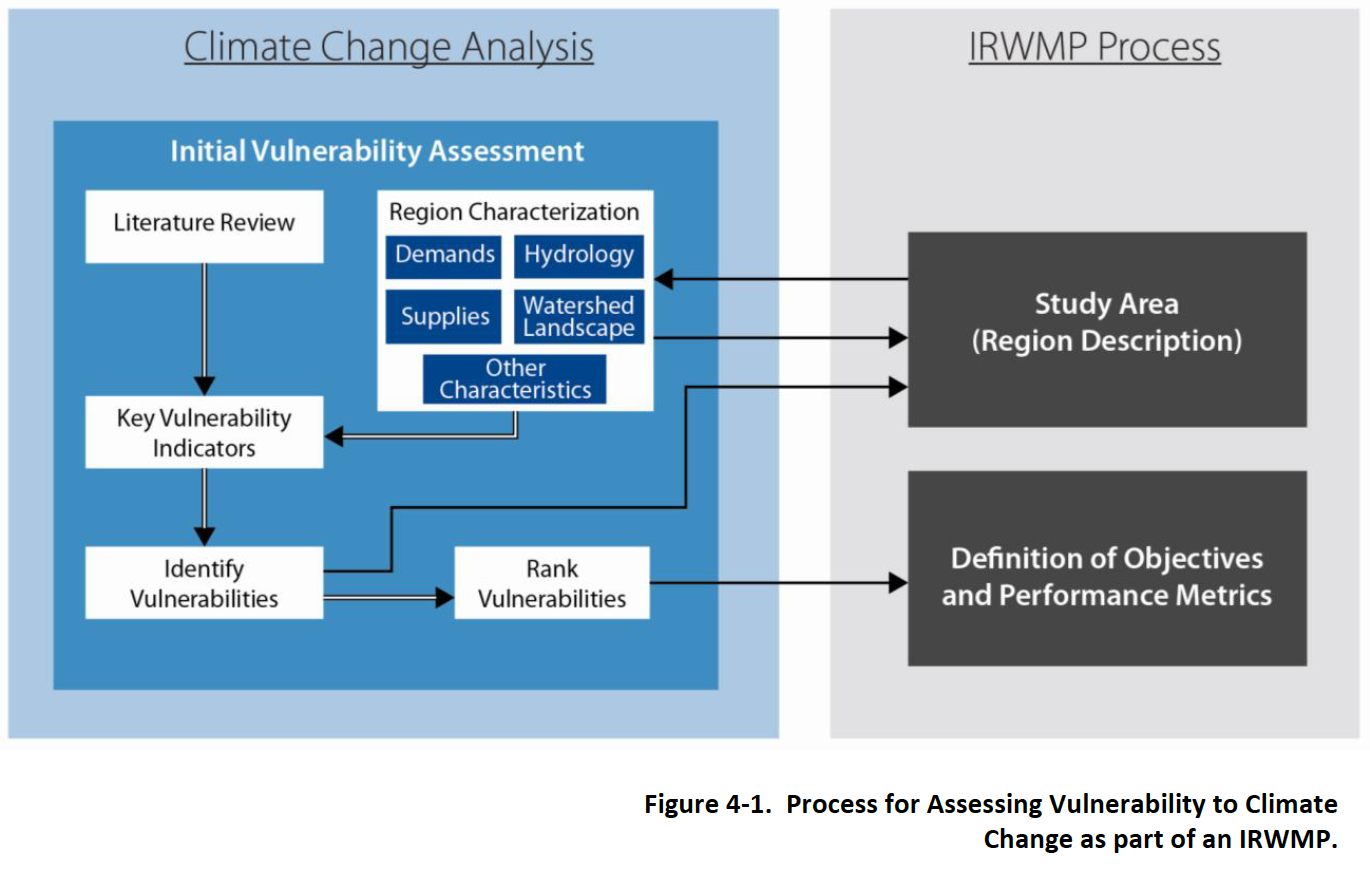 Publication Date: November 2011
Related Organizations:
Sectors:
Resource Category:
Resource Types:
States Affected:
Impacts: