Climate Change Resilience Strategies for Buildings in New York State
From the New York State Energy Research and Development Authority (NYSERDA) and University of Buffalo School of Architecture and Planning's Resilient Buildings Laboratory this report identifies 25 resilience strategies for managing climate impacts to building infrastructure throughout the state. The purpose of the report is to provide relevant state agencies, local policymakers, engineers, planners, as well as communities with more information and case studies on how to make built areas and infrastructure more resilient to climate-related impacts.
Each resilience strategy includes an overview of the climate hazards the strategy is addressing, where in the state it could be applied, and specific actions that owners, operators, policymakers, planners, architects and engineers can undertake to improve the resiliency of built spaces.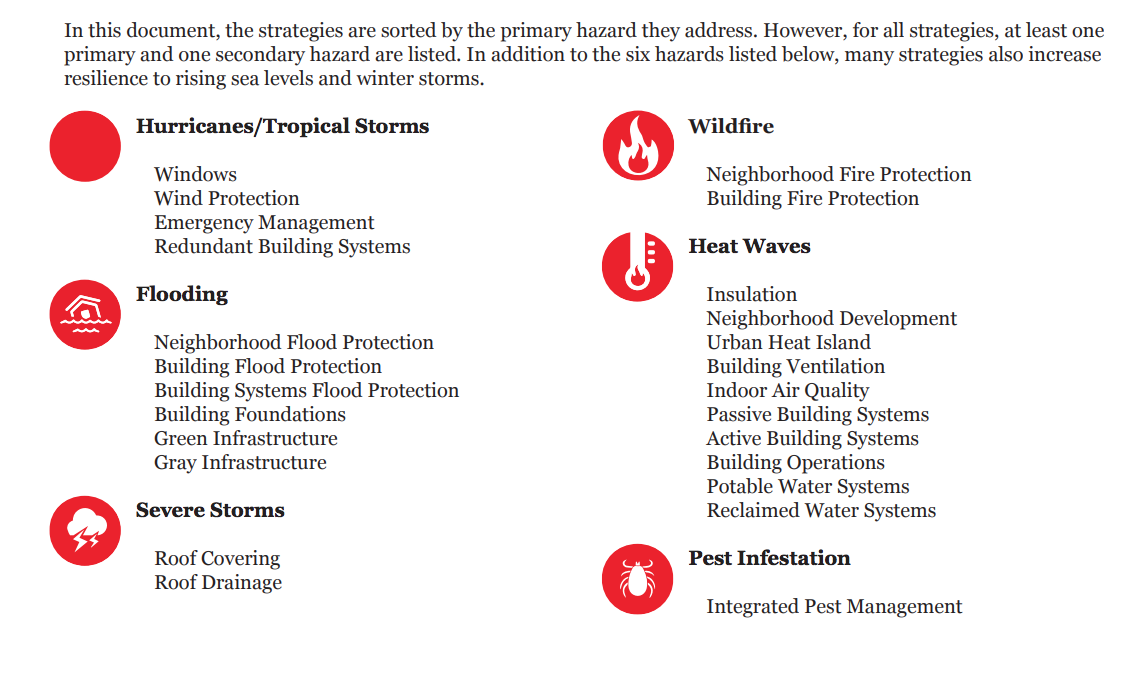 Each strategy also includes related case studies and current government programs that exist that can be utilized to implement the resilience strategy.
For example, Green Infrastructure strategy addresses the climate hazards of flooding, sea level rise, and heat waves through the use of:
- ground infiltration to manage flooding,
- the creation of living shorelines to reduce inundation and flooding, and
- the reduction of urban heat island effects through increased green spaces.
NYSERDA also offers recommendations for homeowners and businesses to install green infrastructure systems on their property; advises policymakers to promote public urban green spaces and allocate more funding for green infrastructure; and encourages engineers to look into green infrastructure planning guidelines from various state governmental organizations. 
Publication Date: June 2018
Related Organizations:
University of Buffalo School of Architecture and Planning
Related Resources:
Sectors:
Resource Category:
Resource Types:
Best practice
Policy analysis/recommendations
States Affected:
Impacts:
Invasive species and pests
Wildfires