Coastal Management in the Face of Rising Seas: Legal Strategies for Connecticut
This article published in the Sea Grant Law and Policy Journal examines two sea-level rise adaptation approaches that could be applied in Connecticut: a local-level approach using zoning and floodplain regulations, and state-level approach modeled after cutting-edge sea level rise regulations adopted by neighboring Rhode Island. For each method, the authors examine what measures can be implemented now given existing legal authorities delegated to state agencies and municipalities; what measures will require additional delegations or amendments to existing statutes or regulations; and what level of government is best suited to implement different measures (state or local). 
The article explores the authority of local governments to implement land use measures to achieve different adaptation goals in a way that is consistent with state and constitutional law; it explores three different types of "zones" that a community could establish to reduce risks from future sea-level rise. Communities could use land-use or floodplain regulations to designate: 
Protection zones in areas with critical facilities or high-density development that could designate areas as appropriate for armoring in advance of impacts; permit armoring by right or create a streamline permitting process for armoring; require that armoring be designed to protect against elevated flood heights due to increased sea levels; and require that projects mitigate impacts to natural resources and public access.
Accommodation zones in medium density or residential areas that could require maximum practicable setbacks for waterfront properties; increase elevation requirements consistent with estimates for projected SLR; establish size and/or height maximums to only allow smaller structures that are more easily moveable and pose less threat of collateral damage in the event the structure is destroyed in a storm.
Conservation zones in less developed or natural areas that could downzone to only allow low-density residential, agricultural, recreational, open space, or water-dependent uses; require preservation of natural flood buffers; restrict rebuilding of storm damaged structures; and restrict hard shoreline armoring.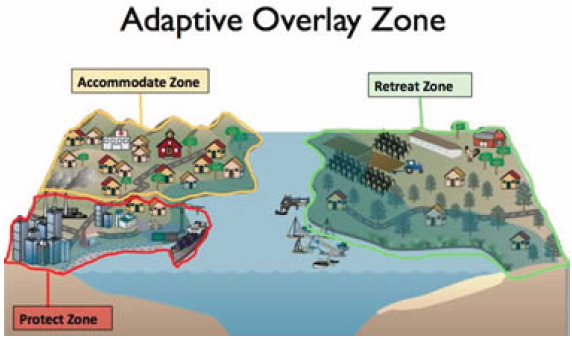 The article analyzes whether these types of measures could be implement at the local with out conflicting with Connecticut state laws, such as the state coastal management act, tidal wetlands act, and inland waterways and watercourse act.  The article also examines potential legal barriers to rebuilding restrictions and downzoning with state constitutional law prohibiting the "taking" of private property for public purpose without just compensation.  And the article suggests different approaches that Connecticut local governments could use to implement adaptive land-use measures in ways that would be consistent with local authority and state law. 
The article also includes a case study of the sea-level rise adaptation approach being implement by the state of Rhode Island, including state "rolling easement" provisions in the state's coastal resources management program and the state's ocean special area management plan.  The article concludes with policy recommendations for improving Connecticut coastal management approaches at the state and local levels to reduce risks posed by sea-level rise. 
This was developed by the Georgetown Climate Center in collaboration with the Marine Affairs Institute, a partnership of the Roger Williams University School of Law, the Rhode Island Sea Grant Legal Program, and the University of Rhode Island.
Publication Date: July 2012
Authors or Affiliated Users:
Related Organizations:
Sectors:
Resource Category:
Resource Types:
Legal Analysis
Policy analysis/recommendations
States Affected:
Impacts: