Colorado Future Avoided Cost Explorer (FACE:Hazards) Tool
Colorado has advanced recovery resources, but the state's risk profile will continue to increase in the coming years. The state did not have a tool to quantify the cost of future risks, until now. The Future Avoided Cost Explorer or "FACE:Hazards" tool includes a suite of resources that will enable local decisionmakers to evaluate the costs of future risks from flooding, drought, and wildfire across seven economic sectors over different climate and population projections between today and 2050. This data can support local actions to make communities more resilient and help them save money over the long term.
FACE:Hazards consists of data and information collected through a vulnerability assessment. The results of the vulnerability assessment are presented in the form of an interactive dashboard that enables local policymakers to compare economic costs from flooding, drought, and wildfire out to 2050 over three different climate scenarios (current climate; moderate and more severe future climate conditions) and four population scenarios (current population; low, medium, and high future growth projections). The tool presents economic data on a county-by-county scale for the costs associated with each hazard under the different climate and population projections for both today and 2050.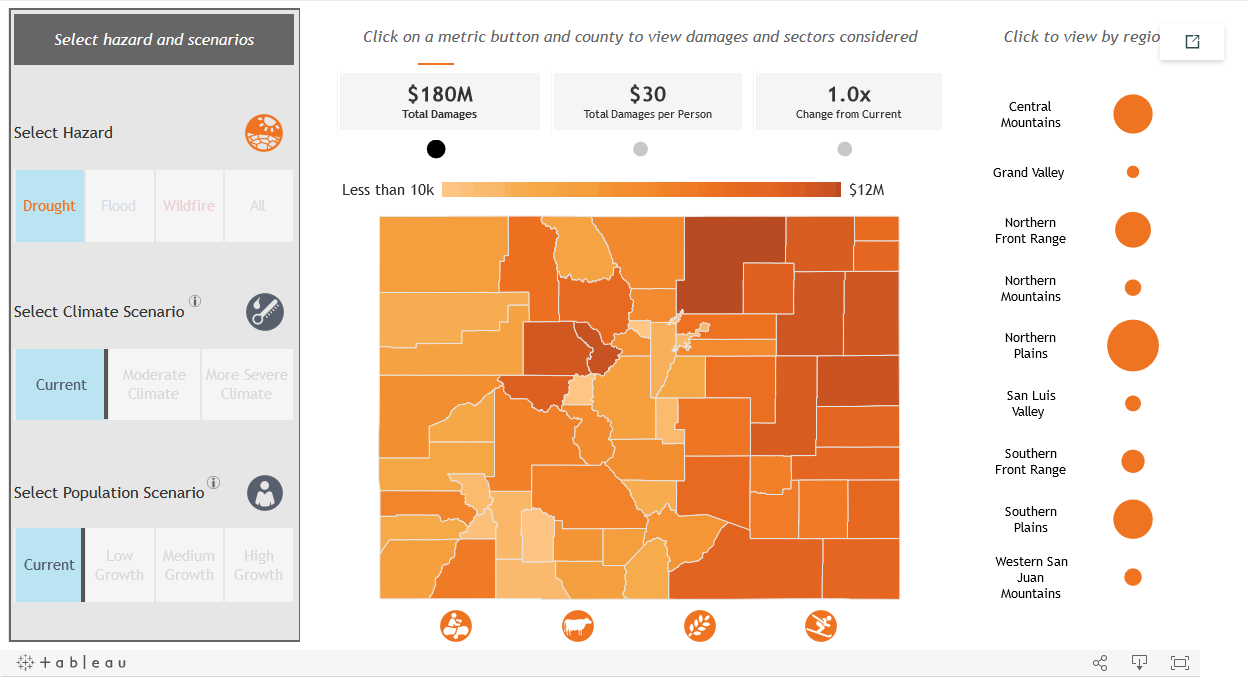 Separately, data for each county is also presented for seven different economic sectors (see below).

In addition, FACE:Hazards features actions that Coloradans can take to reduce the future economic impacts from all hazards. These actions are presented by the relative level of effort and cost to implement each resilience action. The tool's website also includes demonstration resources to help people use FACE:Hazards and case studies that show how the state has dealt with floods, drought, and wildfire and adaptation and resilience recommendations.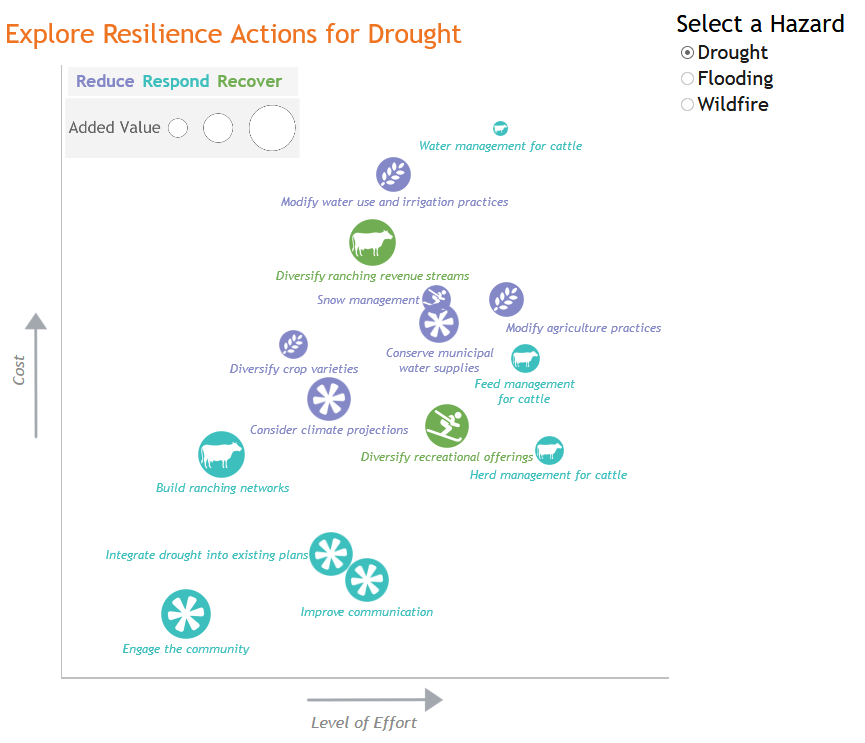 Local policymakers and communities can use FACE:Hazards to quantify the cost of inaction for not adapting to flooding, droughts, and wildfire as populations and land use increase in vulnerable areas. The state's aim is that FACE:Hazards can spur more action at the local level by motivating local policymakers and communities to plan for and invest in hazard mitigation and climate adaptation to reduce the costs associated with these hazards. 
For this tool, Colorado defines risk as "the intersection of a hazard (e.g., flood, drought, wildfire) and a vulnerable asset (e.g., crops, cattle, buildings, bridges)" and quantifies risk as the expected annual damage in dollars. 
The state only analyzed flood, drought, and wildfire hazards for several reasons including the history of impacts caused by these hazards throughout the state, their sensitivity to climate change, and potential to affect different economic sectors. In addition, all three hazards are identified in the current Colorado Hazard Mitigation Plan. Here, the state leveraged and aligned work guided by its hazard mitigation branch. 
This analysis also examines seven sectors that are representative, although not exhaustive, of Colorado's economy including:
Buildings (flood and wildfire)
Bridges (flood)
Crops (drought)
Cattle (drought)
Skiing (drought)
Rafting (drought)
Suppression (wildfire)
The analysis used to develop the tool included direct economic costs that could be easily monetized, such as lost revenue, damages to buildings and infrastructure, and natural hazard response costs. Indirect costs like mortality, human health, and ecosystem services were not measured.  
The FACE:Hazards tool was funded and supported by the Department of Natural Resources, Colorado Water Conservation Board, Department of Public Safety, Colorado Division of Homeland Security and Emergency Management, and the Federal Emergency Management Agency, among other partners. In the future, the tool may be updated to include additional hazards and economic sectors as new data and resources become available. 
Publication Date: June 2020
Related Organizations:
Colorado Department of Public Health and Environment
Sectors:
Forestry
Land management and conservation
Tourism and recreation
Resource Category:
Resource Types:
States Affected:
Impacts: