Community-Driven Climate Resilience Planning: A Framework (2015)
The Community-Driven Climate Resilience Planning framework was developed to help community-based organizations define and build climate resilience, while meaningfully engaging vulnerable and impacted communities. The framework advocates advancing democratic practices at the local and regional levels, describes the principles and practices defining this emergent field, and offers resources for community-based institutions implementing community-driven planning processes. A new version of this resource has been published. Please see the 2017 version here.

Assess if your methodology for community engagement incorporates the core components of a community-driven process.
Community-Driven Climate Resilience Planning is described as being grounded in an understanding of community resilience that integrates strategies to reduce greenhouse gas emissions and other ecological devastation, with strategies to prepare vulnerable communities to actively participate in the development and implementation of innovations that will prepare them to survive and thrive through the increasing impacts of climate change in U.S. cities.
The report defines the key characteristics of community-driven planning as: place based, focused on equitable outcomes, highly participatory, collaborative, life-affirming, based on an integrated systems-approach, and effective in building local expertise and relationships to ensure implementation. The document details a 7 step process, but stresses that the steps are nonlinear, but rather part of an integrated web: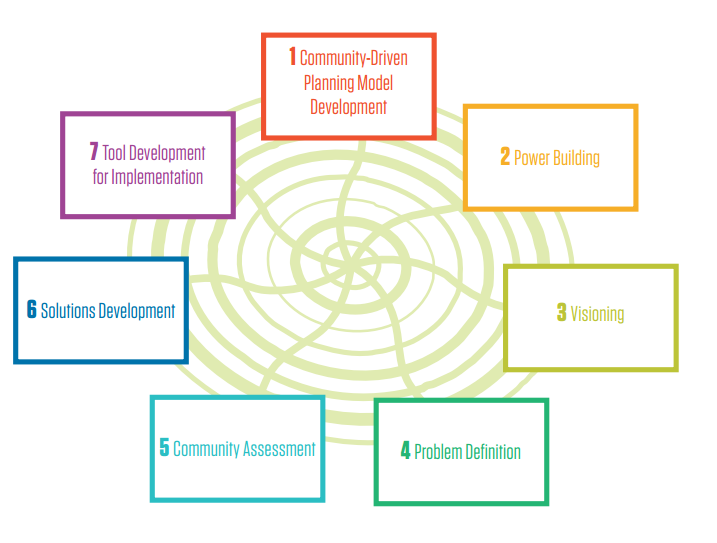 1. Community-Driven Planning Model Development: In this pre-planning phase, a cross-sector coalition of community-based groups and resident leaders come together to define the core values, principles, practices, and essential dimensions of a community-driven climate resilience planning approach that reflects the unique cultures, assets, and challenges that characterize the region's vulnerable and impacted communities.
2. Power Building: This part of the process will increase the capacity for self-governance and democratic decision-making - ensuring that civic responsibility and leadership are widely distributed - to increase community resilience
3. Visioning: As described in the report, the Community-Driven Resilience Planning visioning phase is key to:
ensuring that community-derived visions are at the core of local resilience efforts;
building social cohesion;
cultivating a sense of possibility and purpose that inspires resident leaders to stay and invest in vulnerable communities; and
expanding the range of possible solutions for stakeholders to draw from.
4. Problem Definition: In this phase of the planning process, a shared analysis of the challenges that the community faces or anticipates is developed.
5. Community Assessment: Although most formal planning processes include a community assessment phase, community-driven processes engage in an on-going assessment of the conditions necessary for adoption and implementation of the plan and related community-derived climate solutions.
6. Solutions Development: Two key strategies of solutions development in resilience planning processes are: (1) transforming existing systems, and (2) building a new climate resilience civic and economic infrastructure.
7. Tool Development for Implementation: Facilitating the implementation of community-derived solutions, tools can support the public and private sectors to integrate climate resilience practices into development efforts.
The Movement Strategy Center engages traditionally marginalized populations and their leaders in building an ecosystem of grass-roots organizations that share values, respond to community needs, advance policy solutions and transform lives. The center is strengthening the capabilities of an emerging network of leaders, experts and organizations to advance a socially just climate-resilience framework, influence the broader conversation on climate change and accelerate community-driven approaches to municipal and regional climate-planning processes.
Publication Date: August 2015
Author or Affiliated User:
Related Organizations:
Related Toolkits:
Sectors:
Resource Category:
Resource Types: