Conserving California's Coastal Habitats - A Legacy and a Future with Sea Level Rise
The Nature Conservancy in California and the California State Coastal Conservancy collaborated on this sea level rise vulnerability assessment of California's coastal habitats, imperiled species, and conservation lands. This study is the first of its kind to assess the sea level rise vulnerability of all coastal habitats along the entire coast of California, including the San Francisco Bay and Delta. Vulnerability results were used to develop key strategies to protect coastal habitats and at-risk species from sea level rise and other stressors, as well as determine new priority areas to preserve these habitats. The study and the strategic priorities offer valuable guidance for regional planners, agencies, land-managers, conservationists, and other stakeholders working for the future of coastal resilience in California.
The assessment determined the current state of all California coastal habitats, 159 imperiled species, built environment, conservation management status, and developed a coastal biodiversity index. A spatially explicit vulnerability index maps and quantifies the vulnerability of 40 coastal wetland and terrestrial habitats; vulnerability of critical habitats for focal marine mammals, seabirds and shorebirds; and potential impacts to imperiled species.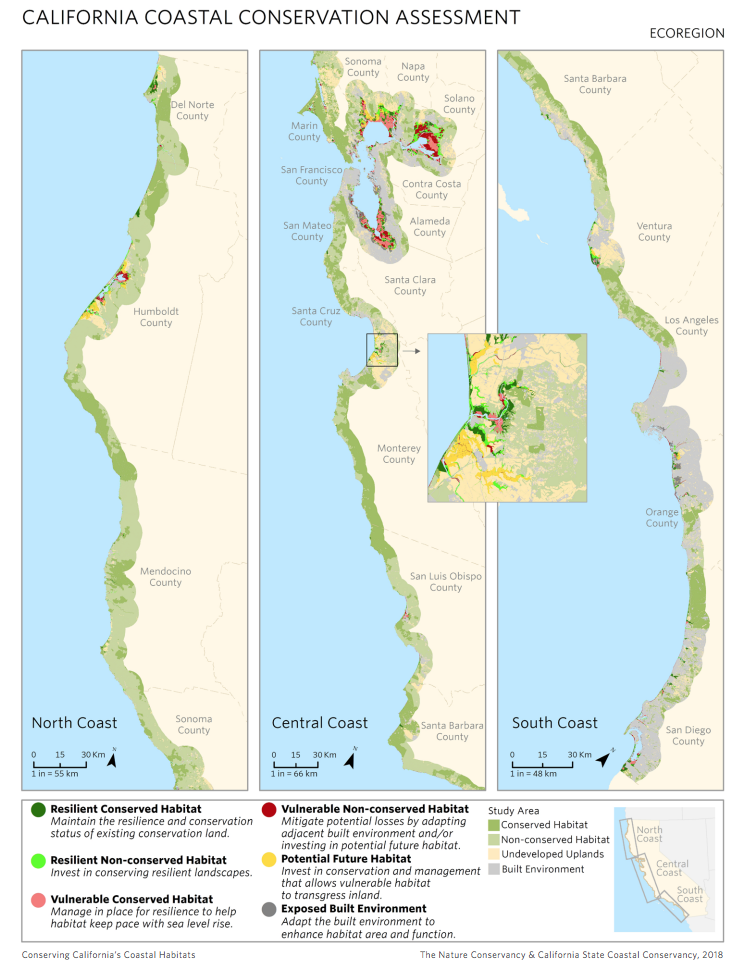 As described in the report, the "vulnerability results are grim." The assessment found that 55% of California's coastal habitat is highly vulnerable to five feet of sea level rise. This includes 60% of California's beaches, 58% of rocky intertidal habitat, 58% of marshes, and 55% of tidal flats. In addition, 39 rare, threatened, or endangered species populations are threatened by sea level rise, and 41,000 acres of public conservation lands are projected to be flooded by subtidal waters. Some coastal areas are at higher risk of permanent inundation from sea level rise, such as beaches at the base of cliffs, and habitats surrounded by development that would not have room to move inland.
The report suggests many adaptation strategies to preserve coastal habitats - and maps where these actions could be best implemented. For example, preserving locations that are inland could be conserved and adapted to become coastal habitat in the future. The report also offers strategies to adapt areas so that habitat lost to sea level rise in one location can be reestablished elsewhere.
Five priority strategies are detailed which aim to ensure that existing conservation lands are maintained and managed for resilience, investments are made in appropriate new conservation lands, and further potential losses of coastal habitat to sea level rise are mitigated.
Maintaining existing protected coastal habitats that are already resilient to sea level rise

Protecting resilient coastal habitats that are not yet managed for conservation

Helping some vulnerable habitats keep pace with rising water by adding sediments

Conserving and adapting some non-habitat areas to habitat as sea level rises

Adapting vulnerable human infrastructure like roads and bridges to allow habitats to move inland or natural processes to be maintained
Publication Date: March 15, 2018
Related Organizations:
Related Toolkits:
Sectors:
Land management and conservation
Wildlife
Resource Category:
Resource Types:
Assessment
Policy analysis/recommendations
States Affected:
Impacts: