Considering Climate Change in Florida's State Wildlife Action Planning: A Spatial Resilience Planning Approach
Conducted by the Massachusetts Institute of Technology (MIT) and commissioned by the Florida Fish and Wildlife Conservation Commission (FWC), this study piloted a new approach to incorporating climate change into wildlife conservation planning through a "spatial resilience planning" method. The method was tested, and recommendations developed, through a series of workshops with Florida species experts and wildlife managers that focused first on revising impact assessments for each species. Priority management actions and spatially specific planning options were then developed for each species under various climate change scenarios. The assessment method piloted in this study utilized "alternative futures" scenarios of climate change and the resulting effects on human behavior and land use change over the next 50 years - which in turn generate second-order impacts on wildlife.
The research focused on two steps to species conservation planning: a new method for spatially assessing vulnerability to climate change for six different species, and an analytical method to identify adaptation and management strategies to reduce vulnerability. The scenarios varied across four dimensions: climate change, human population change, land and water planning policies, and availability of public resources. Each alternative future took the form of a potential land use map, simulating climate and land cover change 50 years into the fu­ture at three time steps (2010, 2040 & 2060). 
These scenarios were overlaid with species habitat maps for the six species chosen to test the model. The result produced five potential "impact maps" for each species tested. The researchers used these impact maps, combined with expert comments and other data, to develop impact assessments for each species and overall conclusions about conservation planning in Florida in light of climate change considerations. The six "test" species included the American Crocodile (Crocodylus acutus), Key Deer (Odocoileus virginianus clavium), Least Tern (Sternula antillarum), Atlantic Salt Marsh Snake (Nerodia clarkii taeniata), Short-Tailed Hawk (Buteo brachyurus), and Florida Panther (Puma concolor coryi).
The results of five different land cover climate model scenarios, along with other detailed analysis is given for each of the six pilot species. For example, this is a portion of the graphic data for the Key Deer - an endangered deer that lives only in the Florida Keys: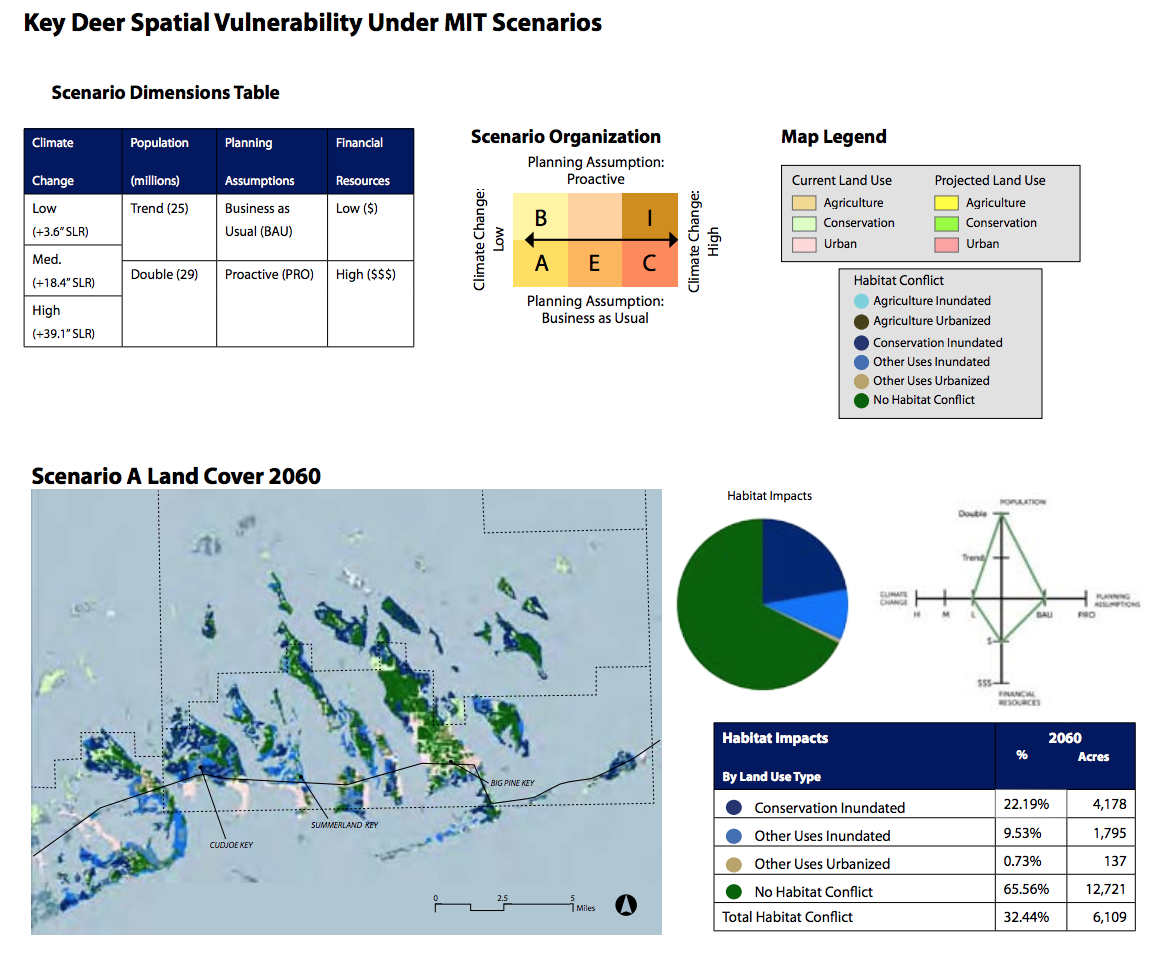 After spatial analysis refinement the research concentrated on management actions with a workshop that included species experts, land and wildlife managers. In partnership with Defenders of Wildlife, FWC performed a "conceptual modeling" exercise focused on the development of species management actions appropriate under climate change.
The report provides a method for replicating the spatial resilience planning approach, and recommendations for extending and generalizing it beyond the test species. 
This research was conducted in parallel with another study undertaken by Defenders of Wildlife and FWC, "Integrating Climate Change Vulnerability Assessment into Adaptation Planning," which is a case study using NatureServe's Climate Change Vulnerability Index to inform conservation planning for Florida's at-risk species.
Publication Date: 2011
Authors or Affiliated Users:
Michael Flaxman
Juan Carlos Vargas-Moreno
Related Organizations:
Massachusetts Institute of Technology (MIT)
Florida Fish and Wildlife Conservation Commission (FWC)
Sectors:
Land management and conservation
Wildlife
Resource Category:
Resource Types:
States Affected:
User Comments:
March 8, 2018
Kelly Cruce, Program Director at Spatial Informatics Group - Natural Assets Laboratory (SIG-NAL)

Incredible detail on a unique spatially explicit vulnerability assessment process supported by MIT, along with the methods outlined for application in conservation management action planning for key wildlife species. This rich report offers a replicable approach for wildlife scientists and decision makers anywhere! Well done Florida Wildlife Commission!