Critical Linkages: Bay Area and Beyond
The Critical Linkages Project identifies landscape-level connections between wildlands that are crucial to maintaining habitat connectivity, ecological processes, and species' population survival in three ecoregions surrounding California's San Francisco Bay Area. Considered by some to be the most important climate change adaptation strategy for wildlife conservation, strategically conserving and restoring connectivity between natural landscapes is the ultimate goal of this project. 14 landscape-level linkages were developed based on priority fish and mammal species, while the linkage network serves each of 66 selected focal species - including mammals, amphibians, reptiles, fish, birds, invertebrates, and plants - covering a broad range of habitat and movement requirements. Linkage maps and recommendations provided can be used collaboratively by agencies, organizations, and private landowners to preserve an interconnected system of wildlands that helps a diverse suite of species survive in the face of habitat loss and climate change. 
Movement between habitats is an essential function for a variety of natural processes and species survival, including as climate change forces species to shift their geographic range. (The general pattern of this shift in California is northwards and/or higher in elevation.) Maintaining and restoring connectivity of habitats across the landscape, therefore, is vital to allow species to respond to environmental disturbances, including climate change impacts such as wildfire and flood. Through a series of spatial analyses informed by expert guidance, the Critical Linkages Project identified 14 landscape-level linkages that are critical to protect between large blocks of natural and protected working lands in California's Central and North Coasts and Central Valley. The 14 connections were based off of a combination of least-cost corridors (i.e. most efficient route) developed for 11 focal species (mountain lion, bobcat, badger, black bear, kit fox, Tule elk, black-tailed deer, ringtail, western gray squirrel, California Quail and Wrentit) and key riparian corridors based on the needs of four focal fish species (steelhead/rainbow trout, Coho salmon, California roach, and riffle sculpin). The report includes a detailed description and map of the least-cost corridor and riparian corridor analyses for each species. The report also includes descriptions with maps of an analysis on how well the linkage network serves each of 66 selected focal species - including mammals, amphibians, reptiles, fish, birds, invertebrates, and plants - covering a broad range of habitat and movement requirements.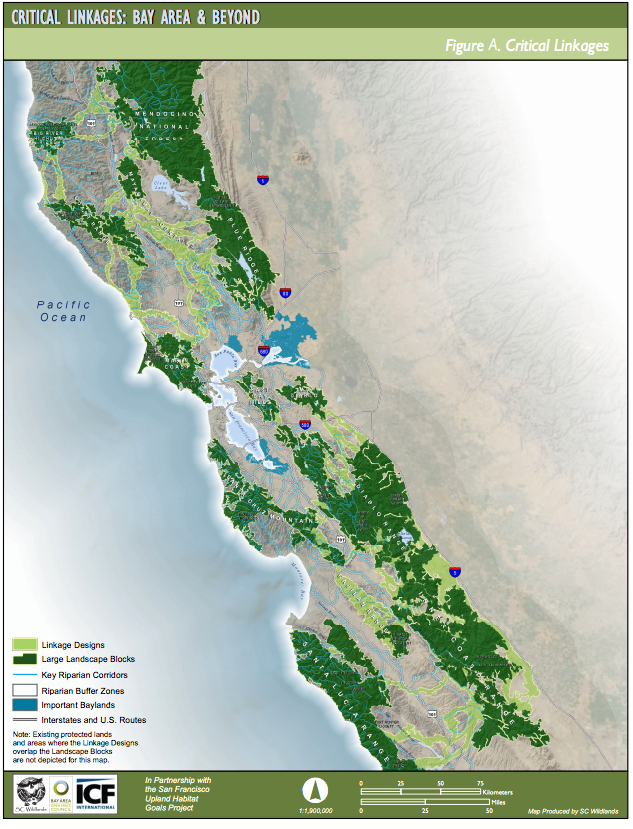 Recommendations on measures to mitigate the impacts of development, recreation, roads, and impediments to riparian connectivity are provided in chapter 6.  Also included is a section on Standards and Guidelines for Wildlife Crossing and extensive location-specific details of and recommendations for wildlife crossings based on field investigations.
Examples of specific implementation recommendations include:
Support ranchers to sustain the economic viability of their operations so their lands continue to provide valuable live-in and move-through habitat and other ecosystem services. 
Maintain and restore riparian ecosystem functions by restoring stream and riparian habitat and establishing stewardship buffer zones along streams and rivers.
Encourage the inclusion of Critical Linkages and the Conservation Lands Network in city and county general plans as well as transportation plans. 
Support programs...that conduct research, monitoring and outreach to enhance conservation and land management in the face of climate change. 
Finally, a framework for developing a monitoring and adaptive management program is offered with a list of potential monitoring techniques for various species. A monitoring program would allow the effectiveness of the linkage network and associated conservation and management actions to be assessed.
The Critical Linkages Project builds up from, complements, and refines the Bay Area Open Space Council's Conservation Lands Network that identified a network of lands in the nine counties of the Bay Area to conserve biodiversity. Together, Critical Linkages and the Conservation Lands Network form a foundation for a regional conservation strategy. In addition to the maps and conservation strategy presented in this report, links are provided for users to access Critical Linkage datasets from the Conservation Lands Network Explorer, an online decision support tool, as well as the spatial information used to develop the linkage network. 
Publication Date: 2013
Authors or Affiliated Users:
K. Penrod
P.E. Garding
C. Paulman
P. Beier
S. Weiss
N. Schaefer
R. Branciforte
K. Gaffney
Related Organizations:
Science & Collaboration for Connected Wildlands (SC Wildlands)
Bay Area Open Space Council
Related Resources:
Sectors:
Fish and fisheries
Land management and conservation
Wildlife
Resource Category:
Resource Types:
States Affected: