Encroaching Tides: How Sea Level Rise and Tidal Flooding Threaten U.S. East and Gulf Coast Communities over the Next 30 Years
This report from the Union of Concerned Scientists describes the threat of tidal flooding in the East Coast and Gulf regions and offers steps that communities can take to adapt. The report makes the case that tidal flooding, currently just considered a nuisance, could become a daily or weekly occurrence, redefining how and where people along the coast "live, work, play, and move through their daily lives." Data was collected in 52 locations to provide projections for sea level rise and tidal flooding in the region until 2045. It also provides ten small case studies of cities that detail their circumstances and responses to the threat.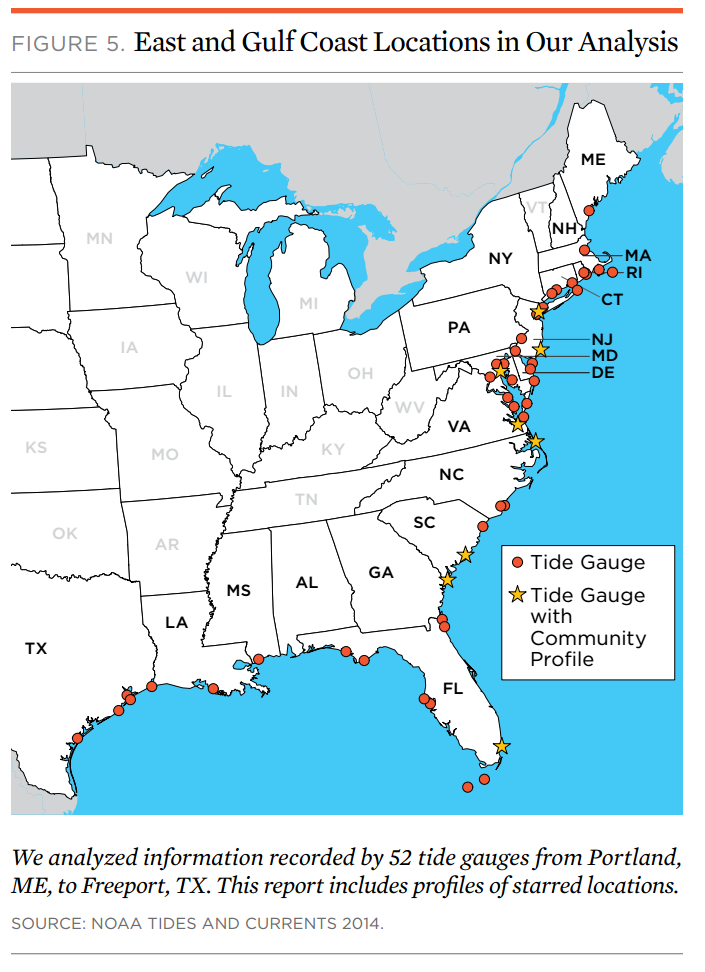 Climate change is increasing tidal flooding throughout the entire region already, and tidal floods will only become more frequent and widespread in the coming decades. As the report notes, this is particularly problematic as many areas of the East and Gulf coasts are densely populated. The study found that by 2030 over half of the locations analyzed will see at least 24 tidal floods annually. Additionally, one third of the locations may see 180 or more tidal flooding events annually by 2045.

 The report recommends the following four strategies for local communities seeking to combat tidal flooding:
Upgrade built systems that are in harm's way
Avoid putting anything new in harm's way
Consider the risk and benefits of adaptation measures
Develop a long-term plan
| | |
| --- | --- |
| | In a few of the city profiles, this report emphasizes the importance of finding equitable responses to tidal flooding. For example, it points out that Bridgeport, CT, which is already facing economic declines and is struggling to recover from Hurricane Sandy, could see more than 150 tidal floods by 2045 further exacerbating existing inequities.  While Bridgeport is actively working to address the needs of low-income neighborhoods, in Miami most of the analysis on sea level rise risks has focused on high-end districts rather than low-lying and low-income neighborhoods. One effective model the report mentions is Baltimore's effort to create what they call a "Flood Resilience Area," allowing the city to apply more flood resilient design standards in historic and economically vulnerable areas. |
The report also outlines the challenges that stand in the way of adaptation, including political, financial, and informational barriers. It argues that state governments and the federal government must take action and support local communities in overcoming these barriers. It urges these institutions to take the following steps: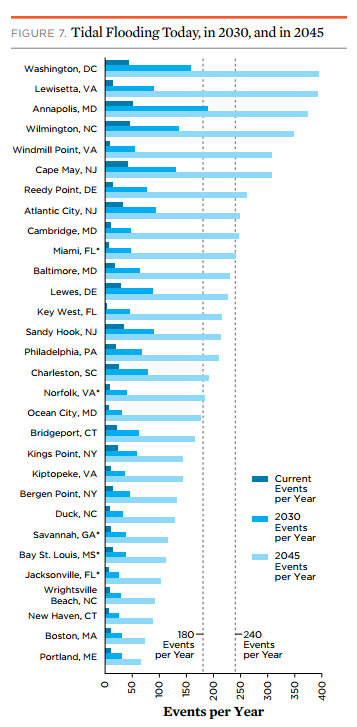 Build and maintain a monitoring and data-sharing system equal to the threat

Encourage or mandate the use of good scientific information

Support planning

Mobilize funding

Improve risk management

Ensure equitable investments

Reduce carbon emissions
Publication Date: October 2014
Authors or Affiliated Users:
Erika Spanger-Siegfried
Melanie Fitzpatrick
Kristina Dahl
Related Organizations:
Sectors:
Resource Category:
Resource Types:
Policy analysis/recommendations
States Affected:
Impacts: