EPA Nonpoint Source Grant Program for States and Territories
The U.S. Environmental Protection Agency (EPA) Nonpoint Source Program (CFDA Number: 66.460) provides formula grants under section 319 of the Clean Water Act (CWA) for state and territory nonpoint source (NPS) management programs to minimize water pollution related to runoff from rain events or snow melt.
Purpose:  The purpose of this program is to help states implement programs to reduce nonpoint source (NPS) pollution (caused by runoff rather than discrete sources) and improve water quality. EPA emphasizes the development of watershed-based plans (WBPs) to help guide restoration and protection projects from a more integrated, holistic approach.1 
Eligible Uses:  Recipients can use grant funding to implement EPA-approved nonpoint source management programs.  Grants can be used to fund technical and financial assistance, education and training, demonstration projects, water quality monitoring, and implementation of best management practices (BMPs).  States can also use NPS program funds for planning activities, such as revising their NPS management program or developing WBPs.  EPA's most recent guidance requires states to set aside at least 50 percent of NPS program funds for projects that implement WBPs.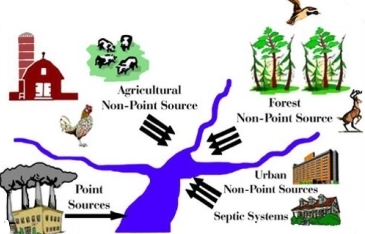 Potential Adaptation Uses:  The Grant Guidelines specifically recognize the benefits of using green infrastructure for stormwater management.  Examples include green roofs, infiltration basins, curb cuts and landscaped swales, and wetland/riparian area protection and restoration.  Green infrastructure can help communities adapt to increasing precipitation and heavy rainfall events and can help reduce urban heat islands. 
Eligible Grantees:  Eligible grantees include States, federally recognized Indian tribal governments, and intertribal consortia.  The lead nonpoint source agency can also subgrant to other organizations (e.g. public and private nonprofit organizations) so long as it is consistent with the state's EPA-approved work program. 
Process and Requirements: The state must have in place an approved nonpoint source management program, and the lead agency for managing nonpoint source pollution in the state must develop a work plan (which may be a multi-year plan) describing nonpoint source program activities.  Grants are then allocated on a formula basis to the lead agency and that agency can distribute funds in accordance with their EPA-approved work plan.  A 40 percent non-federal match is required for the overall grant (but not necessarily individual projects). 
The Catalog of Federal Domestic Assistance (CFDA) provides up to date information on recent appropriations to this program from Congress, the average size of grants, and matching requirements.  A summary is included here, but check the CFDA for more up to date information:
Recent Obligations

: $158 million (FY 2015); $163 million (FY 2016 est)

Size of Grants

:  Ranges vary based upon annual appropriations average grant sizes to states and territories vary between $422,000 to $8 million; and $2.8million to tribes: competitive grants are provided up to $100,000.
Authorization: Clean Water Act, Section 319(h) (33 U.S.C. § 1329(h)); 40 C.F.R. §§ 35.260-68; Nonpoint source management programs are required under the Clean Water Act § 319(b), 33 U.S.C. § 1329(b).
The Grant Guidelines detail the information, expectations, and context for the section 319 program grants. The Guidelines discuss eligible activities for section 319 funding (Section VIII), and various requirements and conditions for the grants (Section IX). Section XIII of the guidelines contains six helpful appendices:
Appendix A – key components of an effective state nonpoint source management program - including requirements to define short- and long-term goals.

Appendix B – potential measures and indicators of progress and success, including ideas for assessing water quality improvement and successful public education.

Appendix C –  describing the nine minimum elements that are critical for achieving improvement in water quality.

Appendix D – state-by-state section 319 allocation, which are presented as a percentage of the total allocation of section 319 dollars each year and instructions on how calculate each state's allocation.

Appendix E – a checklist that will be used by regions will use to assess state progress that must be completed before funding recommendations are awarded.

Appendix F – nationally consistent programmatic section 319 grant conditions, including reporting requirements.
If you have any trouble accessing the website link above, please find here an archived page. This archived page may, however, have more limited functionality. 
https://web.archive.org/web/20170121160813/https://www.epa.gov/sites/production/files/2015-10/documents/319-guidelines-fy14.pdf
Publication Date: April 12, 2013
Related Organizations:
Related Resources:
Sectors:
Resource Category:
Resource Types:
Impacts:
Endnotes
NPS Guidelines
1. See generally EPA, Nonpoint Source Program and Grants Guidelines for States and Territories (issued April 12, 2013), available at https://www.epa.gov/sites/production/files/2015-09/documents/319-guidelines-fy14.pdf (hereafter "NPS Guidelines").