Financing resilient communities and coastlines: How environmental impact bonds can accelerate wetland restoration in Louisiana and beyond
The Environmental Defense Fund and Quantified Ventures have assessed how an environmental impact bond (EIB) could effectively be used for coastal resilience financing for wetland restoration in Louisiana and other coastal areas. The report outlines the steps Louisiana would take to pilot and implement the EIB to restore the coast and wetlands, while greatly reducing land loss to sea level rise, and incentivizing investment. The framework could also support financing other natural infrastructure projects that build coastal resiliency, and serves as a template for coastal investments anywhere.
As defined in the report, environmental impact bonds (EIBs) are "an innovative form of pay-for-success debt financing in which investors purchase a bond and repayment to investors is linked to the achievement of a desired environmental outcome." Along with the immense benefits of wetland restoration to both natural and built communities, the EIB inherently has financial incentives. By design, local asset owners would voluntarily help pay for projects that achieve a high reduction in land loss - thereby directly benefiting from investments. Additionally, the EIB would generate a financial return for investors.
EIBs are repaid at the end of the bond period based on predetermined environmental outcomes. In this case, that performance would be measured by the success of the wetland restoration - such as quantifying avoided land loss. The performance payment goes to the investors and contractors - and is provided by local asset owners who received the direct benefits of restoration. Therefore, high-performing wetland projects and the contractors who build them are rewarded. The CPRA would bond against/ be repaid by the future annual settlement revenues from the Deepwater Horizon oil spill.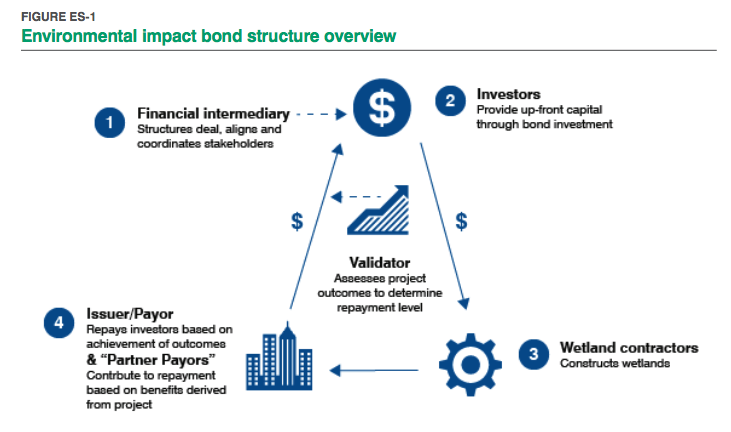 This study focuses on a potential $40 million investment in Louisiana's Belle Pass-Golden Meadow area adjacent to Port Fourchon, "due to the port's economic significance in facilitating offshore oil and gas production." The EIB is a bond with a bonus performance payment for "over-performance" of the wetland. This avoided land loss would reduce potential flood damages to nearby infrastructure assets; creating incentive for partners to invest sooner. 
Valuing wetlands and determining outcomes for measuring wetland performance includes understanding the benefits of flood risk reduction, habitat creation, and carbon sequestration. Wetland restoration will support sea level rise and coastal inundation adaptation - by reducing exposure of assets to storms and floods through wave attenuation. Also, wetland ecosystems in Louisiana are found to offer direct benefits to economically important marine species and such as alligator, crawfish, oysters, shrimp, as well as saltwater fisheries, and freshwater fisheries.
As outlined in the report, the next steps in actualizing this EIB would include:
establishing a credit rating

resolving any uses of Gulf oil spill funds

determining the bond's tax-exempt status
With an EIB transaction scoped and assessed, the additional work needed would be to:
activate Louisiana's Coastal Protection and Restoration Authority (CPRA) and Coastal Protection and Restoration Financing Corporation's bonding authority, and proceeding with transaction structuring

issuance of the proposed environmental impact bond
Recommendations are outlined on how the CPRA and its partners could proceed with this plan of action to implement the wetland restoration EIB. 
Publication Date: August 20, 2018
Related Organizations:
Environmental Defense Fund
Related Toolkits:
Sectors:
Land management and conservation
Resource Category:
Resource Types:
Case study
Policy analysis/recommendations
States Affected:
Impacts: