Flooding Threatens Public Schools Across the Country: Infrastructure analysis evaluates county-level flood risk
From the Pew Charitable Trusts and ICF, this analysis of flooding risk was conducted for public elementary and secondary schools in all 50 states. Three county-level indicators were developed to assess flooding risk including: a school's location within a designated flood zone, the percentage of a school's neighborhood (as represented by ZIP code) located within a flood zone, and the number of historical flood-related federal disaster declarations in that county.
Some of the trends found across the United States, include that:
The risk of school flooding is not just high for coastal counties. School flooding risk is also high in some inland places like the Mississippi River corridor and parts of Arizona.

Even if a student's school is not at risk, living in areas where there is a risk of flooding can also disrupt instruction by preventing them from getting to school.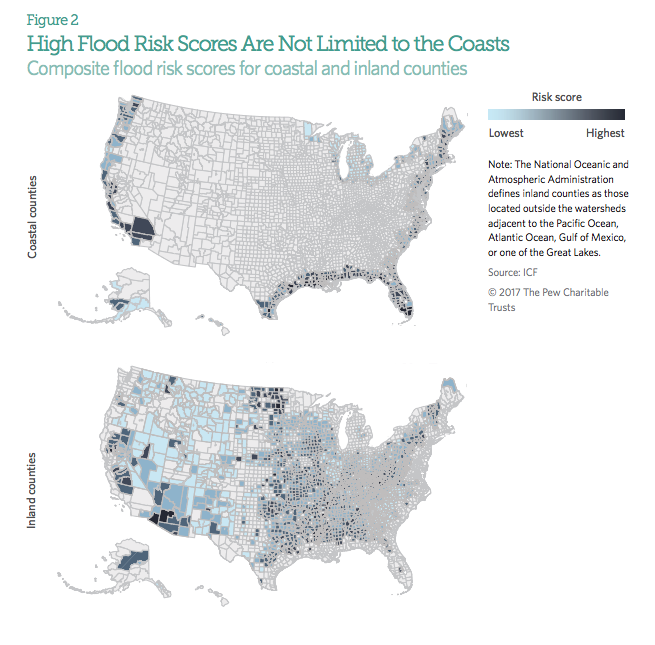 The risk index informed recommendations for adaptation, which aim to reduce human impacts and the cost of rebuilding through careful planning. These recommendations include:
Modernizing maps to better understand and plan

Leveraging federal assistance and expertise to support local decision-makers

Developing pre-disaster plans for schools that address risk reduction for school siting, upgrades, and facilities management

Rebuilding and leveraging federal recovery dollars to account for future risk, relocating when feasible
Publication Date: August 2017
Related Organizations:
Sectors:
Resource Category:
Resource Types:
Impacts: