Gleason Beach, California (Highway 1) Road Realignment Project
The California Department of Transportation (Caltrans) is proposing to realign a section of Highway 1 near Gleason Beach in Sonoma County to provide long-term protection from coastal bluff erosion threatening the highway and surrounding area. The highway provides the only access between Bodega Bay and Jenner communities and is the sole vehicular route north to south for coastal Sonoma County. Multiple efforts since the late 1990s have sought to stabilize the roadway in place via various measures to shore up the bluff, but these protective measures cannot offer a reliable long-term solution. The proposed realignment is designed to provide a viable route beyond the year 2100 and includes provisions for restoring the lower beach from years of debris build up from failing structures.
Gleason Beach is one of the most aggressive coastal erosion zones in California: the coastline is retreating in the area by approximately 14 inches a year on average. In 2014, an 87-foot section of the road was identified as particularly vulnerable and likely to be undermined within five years. As of May 2019, that stretch of road has been reduced to one lane. The western-most (coastward) lane has been abandoned after two decades of degrading. This stretch of roadway, as the only access between Bodega Bay and Jenner communities, hosts an average of approximately 5,000 motorists a day.

The interim, short-term plan is to 1) build a new, more inland adjacent lane (which will be the new northbound lane); 2) completely abandon the current southbound lane (closest to the coast). The northbound lane will thus become the southbound lane. Additionally, up to 60 50-foot steel beams may be installed to reinforce the bluffs. In the long term, a three-quarter-mile stretch of the road will be realigned and moved inland roughly 400 feet. An 850-foot bridge will also be built to replace an existing box culvert; the bridge will span a nearby floodplain as well as a delicate and important creek and wetland habitat (Scotty Creek) and archaeological resources. Other project elements include significant public access benefits by securing public beach access and connecting segments of the California Coastal Trail. Additional benefits of the project are restoring aspects of the affected creek to promote salmonid use and allowing natural erosion processes to unfold over time.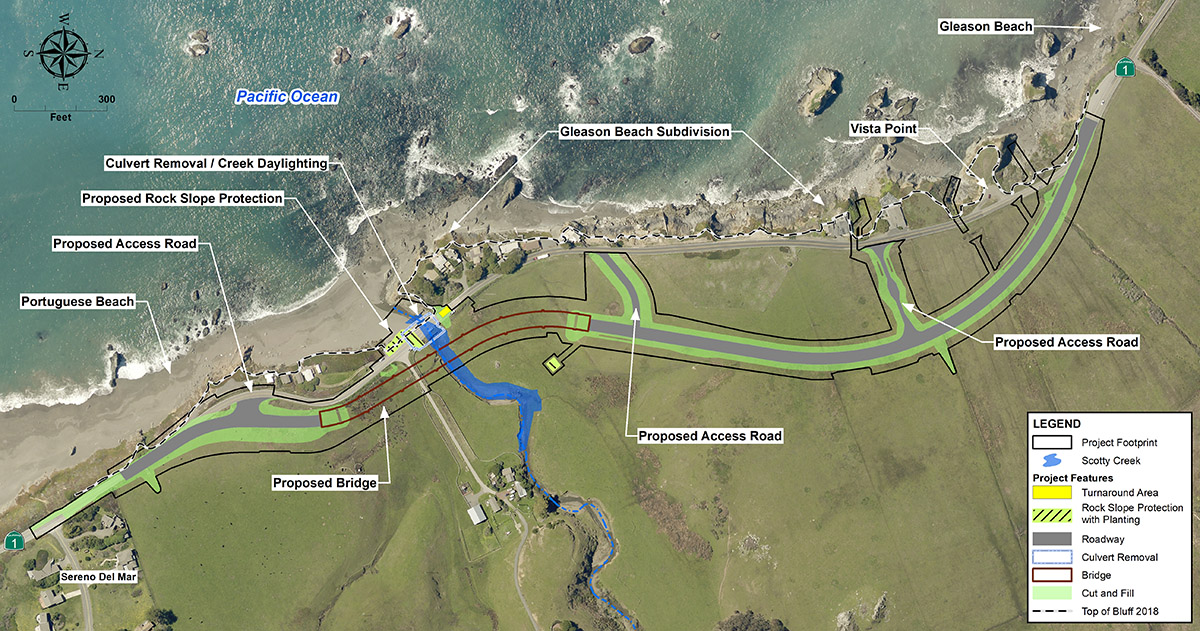 Cost estimates are approximately $10 million:
$3.2 million to purchase and clean up vacant parcels west of current Highway 1

$1 million for future purchase of properties from willing sellers

$150,000 to develop the California Coastal Trail west of the new Highway 1 and convert a section of the existing Highway 1 into beach access parking

$1 million to install and maintain a pedestrian bridge over Scotty Creek

$4.65 million to purchase land westward of new Highway 1, restore Scotty Creek, and fund future property management
The project was initiated with preliminary design and environmental review in 2008. Public and community meetings were held between 2014 and 2019. As of 2020, construction is expected to begin in 2021 and conclude in 2023.
Related Organizations:
California Department of Transportation (Caltrans)
Related Toolkits:
Sectors:
Resource Category:
Resource Types:
States Affected:
Impacts: