Great Lakes Indian Fish and Wildlife Commission Climate Change Vulnerability Assessment - Integrating Scientific and Traditional Ecological Knowledge
The Great Lakes Indian Fish and Wildlife Commission (GLIFWC) is "an intertribal natural resource agency that assists its 11 member Ojibwe (also known as Chippewa, or Anishinaabe) tribes in the implementation and protection of off-reservation treaty rights to hunt, fish, and gather in territories ceded (or sold) to the United States." The Commission has worked closely with these tribes to assess the vulnerability of the local ecosystems and natural resources to climate change across the Great Lakes region including Minnesota, Wisconsin and Michigan.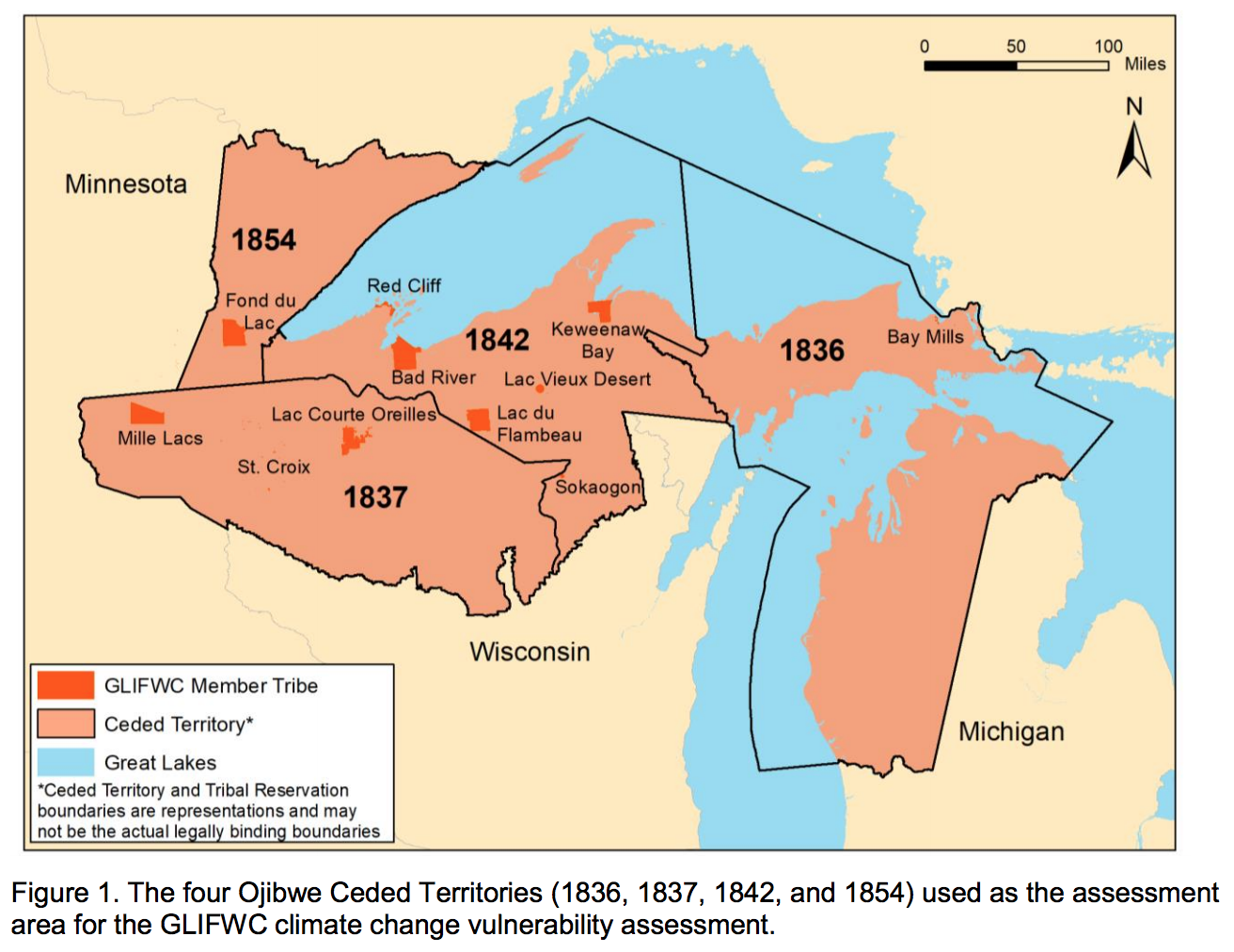 This assessment has combined Traditional Ecological Knowledge (TEK) and "Scientific Ecological Knowledge" to examine the impacts of climate change on over 60 beings/species of concern to GLIFWC's member tribes across the Ceded Territories. The authors explain that in Ojibwe culture, the word 'beings' refers to those which are both animate (such as a fish) and inanimate (such as a rock), and implies an equal importance to all. For this assessment, TEK interviews were conducted with tribal elders, harvesters, and knowledge holders from each of the member tribes, to help identify species of concern, and to understand how they are affected by climate change. TEK is described here as "a knowledge system that reflects an intergenerational world view of interrelationships with the environment."
The vulnerability assessment also used NatureServe's Climate Change Vulnerability Index (CCVI) to quantify the vulnerability of each species to climate change by midcentury. CCVI results are given in levels of exposure, sensitivity, and adaptive capacity to climate change for each species, and related to a summary of climate threats, and factors that increase the species' vulnerability.
This preliminary report shares some of the results of the assessment across the species most important to local tribes. The description of each plant or wildlife species provides current and historical significance, and findings from TEK interviews. The vulnerability findings of the CCVI scoring process is detailed and climate impacts are interpreted. Collectively, the assessment has a comprehensive, scientific, cultural and holistic approach to each of these 60 species or beings that are of most importance to the Ojibwe.
"The Ojibwe horizon for addressing climate change is also much longer than often considered in striving to preserve the environment for their children and grandchildren. The Ojibwe believe their responsibility to protect the Earth carries forward seven generations."
This report is the product of a collaboration between GLIFWC and its 11 member tribes:
Misi-zaaga'iganiing (Mille Lacs Band of Ojibwe Indians)
Bikoganoogan (St. Croix Chippewa Indians of Wisconsin)
Mashkiigong-ziibiing (Bad River Band of Lake Superior Tribe of Chippewa Indians)
Waaswaaganing (Lac du Flambeau Band of Lake Superior Chippewa Indians) Zaka'aaganing (Sokaogon Chippewa Community (Mole Lake Band))
Odaawaa-zaaga'iganiing (Lac Courte Oreilles Band of Lake Superior Chippewa Indians)
Nagaajiwanaang (Fond du Lac Band of Lake Superior Chippewa)
Gaa-miskwaabikaang (Red Cliff Band of Lake Superior Chippewa Indians)
Ginoozhekaaning (Bay Mills Indian Community)
Gete-gitigaaning (Lac Vieux Desert Band of Lake Superior Chippewa Indians)
Gakiiwe 'onaning (Keweenaw Bay Indian Community)
Publication Date: April 2018
Related Organizations:
Great Lakes Indian Fish and Wildlife Commission
Related Resources:
Sectors:
Resource Category:
Resource Types:
States Affected: