Land Acquisition and Restoration Projects in the Greens Bayou Watershed in Harris County, Texas: Greens WetBank and Bayou Greenways 2020
Executive Summary
Harris County Flood Control District (HCFCD) and other local partners, including the nonprofit Houston Parks Board, are implementing multiple land acquisition, restoration, and conservation projects in the Greens Bayou watershed in Harris County and the City of Houston, Texas. Two programs and initiatives include the Greens Bayou Mitigation Bank (Greens WetBank) and Bayou Greenways 2020. The Greens WetBank is a wetland mitigation bank on nearly 1,000 acres of land in Harris County, where HCFCD restores wetlands and generates revenue by selling "wetland credits" to developers who need to offset wetland losses at locations outside the Greens WetBank's land in Harris County. The Greens WetBank allows developers to meet federal permitting requirements under the Clean Water Act and dedicate funds to implement projects that improve the environment by restoring wetlands to provide flood mitigation, water quality, and natural resources benefits. In addition, Bayou Greenways 2020 is a large-scale, public-private initiative led by Houston Parks Board to create 150 miles of greenways and trails and an additional 3,000 acres of public greenspace along Houston's major bayous through land acquisition and conservation efforts. Bayou Greenways 2020 has been the result of an extensive community engagement campaign and funding leveraged from federal, state, local, and private sources to create local parks and open spaces in Houston. Greens WetBank and Bayou Greenways 2020 are examples of how comprehensive land acquisition, restoration, and conservation actions can increase local resilience in a specific watershed by mitigating future flood risks, enhancing the environment, and creating community assets. Other jurisdictions could consider a similar model to coordinate future land uses in a watershed with climate adaptation, including managed retreat strategies, hazard reduction, and natural resource and open space management. 
Background
The Greens Bayou watershed, located in north Harris County, Texas, covers an area of roughly 212 square miles, with 308 miles of open streams, including four primary streams: Greens Bayou, Halls Bayou, Garners Bayou, and Reinhardt Bayou, and tributary channels. This watershed is home to approximately 528,720 people and a large amount of development that have been subject to recurring flood events. The Harris County Flood Control District (HCFCD) jurisdiction encompasses Harris County, Texas, which includes the City of Houston and 22 primary watersheds. As future development is predicted in the region, HCFCD is working to mitigate flood impacts and improve the environment through a suite of recent flood risk and damage reduction initiatives in the Greens Bayou watershed.  In partnership with other organizations, like the Houston Parks Board - a nonprofit established to to improve the quality of life for Houston's residents through equitable access to green spaces - initiatives such as the Greens Bayou Mitigation Bank (Greens WetBank) and Bayou Greenways 2020 are underway.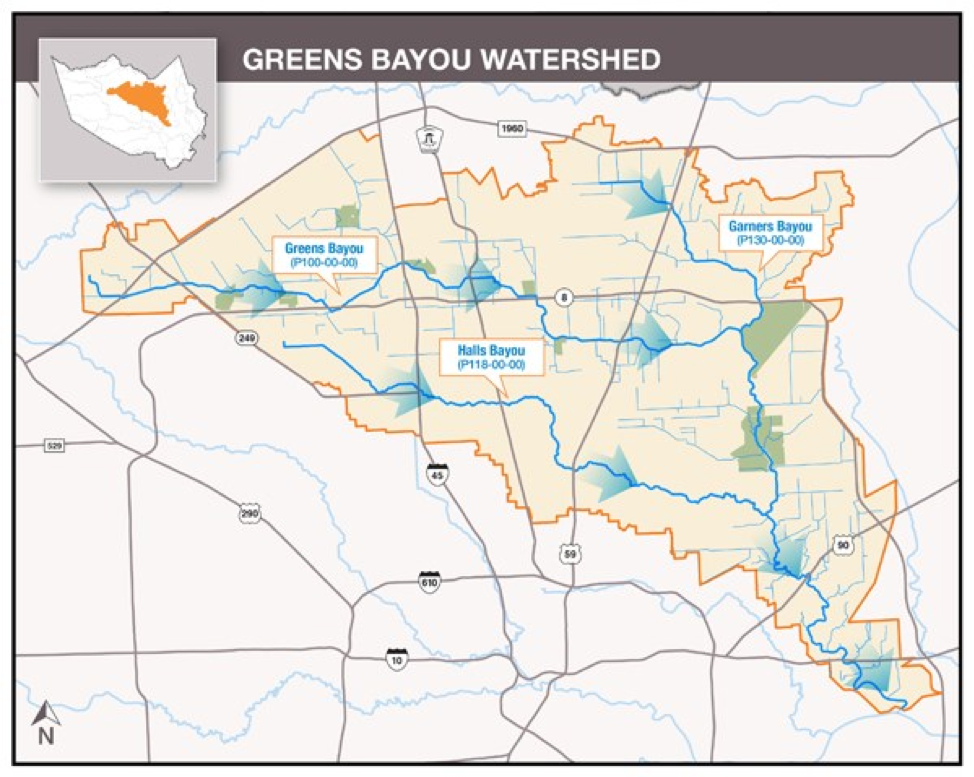 Greens Bayou Watershed Map (Credit: https://www.hcfcd.org/projects-studies/greens-bayou/).
Projects
HCFCD, Houston Parks Board, and other partners are facilitating acquisition and restoration efforts in the Harris County Greens Bayou watershed through several programs and initiatives, two of which will be discussed below. First, HCFCD established the Greens WetBank program, a wetland mitigation bank that provides a source of funding for wetland restoration and management. Second, Bayou Greenways 2020 is a large-scale initiative led by a public-private partnership that supports work across six different bayous in Houston, including the Greens Bayou watershed, to enhance the quality and connectivity of local greenspace and recreational opportunities. 
Greens Bayou Mitigation Bank (Greens WetBank)
In 1995, HCFCD created a wetlands mitigation bank known as the Greens WetBank, in Greens Bayou, near the confluence of Greens and Garners Bayou. The Greens WetBank spans a 961-acre area of ponds, marshes, and forests, and is permanently protected by HCFCD as open space. The Greens WetBank borders other properties owned by HCFCD for a total tract comprising 1,450 acres. Developers that are building projects affecting wetlands can pay a one-time fee to the wetlands bank as "compensating credits" for affected wetlands (i.e., under the Clean Water Act Section 404) and the funds are used to implement projects to offset the loss of wetlands on sites around Harris County. The WetBank provides a funding source that helps to ensure the long-term sustainability of wetlands within Harris County, which are an important productive ecosystem and also provide flood reduction benefits. In addition, the Greens WetBank enables developers to meet legal requirements to mitigate the net loss of wetlands, and simultaneously provide for a fee-generated source of revenue to restore the environment, which can result in reduced costs for Harris County. 
Bayou Greenways 2020
Overview
Bayou Greenways 2020 is a public-private partnership initiative between Houston Parks Board, the City of Houston, and the Houston Parks and Recreation Department, in collaboration with HCFCD. The initiative calls for the acquisition, restoration, and conservation of lands along bayous within the Houston city limits to transform it into connected parks and trails. Once Bayou Greenways 2020 is completed, Houston will have 150 miles of greenways and trails and an additional 3,000 acres of public greenspace along major bayous. Over the long term, the majority of this area will be stewarded and maintained by the Houston Parks Board. The Bayou Greenways 2020 project exemplifies land conservation efforts that can enhance community resilience because every acre of land acquired for the project will be permanently protected as greenspace, which can provide flood protection buffers for communities in Harris County. The large-scale Bayou Greenways initiative encompasses projects in six different bayous in the Harris County area: Brays, Greens (discussed in more detail  below), Halls, Hunting, Sims, and White Oak. Regardless, one overarching community engagement and funding campaign was conducted for Bayou Greenways 2020. The project aims to enhance recreation, conservation, and walking and biking within Houston, creating a healthier and more resilient city. 
Greens Bayou Greenway
The Greens Bayou Greenway Project is one example of a bayou project falling under the umbrella of Houston's Bayou Greenways 2020. Through Bayou Greenways 2020, the Houston Parks Board and project partners are redeveloping the current Greens Bayou into the Greens Bayou Greenway by enhancing public access and greenspace connectivity. Specifically, the Greens Bayou Greenway will offer a "ribbon of greenspace," which will include hike-and-bike trials, pedestrian bridges, botanical themed design elements, and landscaping, and will connect parks, people, and neighborhoods. Houston Parks Board began working on the Upper Greens Bayou segment in January 2018 and the Lower Greens Bayou segment in June 2018. The project is estimated to be completed by Winter 2020. 
Community Engagement
Community engagement is a key component of Bayou Greenways 2020 and has generated support for bond measures to fund projects to implement the initiative. Sixty percent of Houston's population lives within a one-and-a-half-mile band of the city's nine major bayou corridors. For over four years, the Houston Parks Board has celebrated an annual Bayou Greenway Day, with more than 4,000 people attending the community event in 2018. The Bayou Greenway Day event celebrates the city's bayous and greenways. Bayou Greenways 2020 has received strong community support from the outset, with a majority of voters approving a 2012 bond proposal that authorized $100 million in bond funding to implement Bayou Greenways 2020's individual projects. The proposal passed by the largest margin of any bond measure in the city's history, a result that has been partly attributed to the successful "Parks By You!" campaign that communicated directly with voters to push for approval. Post-Hurricane Harvey, HCFCD has experienced increasing interest from the public in flood control infrastructure and greenspace development.
Funding
The total cost for Bayou Greenways 2020 is estimated at $220 million. The projects will be funded by a combination of sources including a major bond referendum, private funds, and federal and state grants. The project is currently in various stages of development, with some sections of the Bayou Greenways completed and others still under construction. In 2012, Houston voters overwhelmingly approved a bond proposal that set aside $100 million for Bayou Greenways 2020. Houston Parks Board is raising an additional $120 million and is managing acquisition, design, and construction of the Bayou Greenways. More than $107 million has been raised as of early 2019, including a historic $50 million donation from the Kinder Foundation. Land acquisitions for the creation of greenspace along the Bayou Greenways have been funded by post-Harvey disaster-recovery grants from the FEMA's Hazard Mitigation Grant Program.
Related Organizations:
Harris County, Texas
Houston Parks Board
Related Toolkits:
Sectors:
Land management and conservation
Resource Category:
Resource Types:
Best practice
Funding program
Project
States Affected:
Impacts: