Louisville Urban Heat Management Study
The Louisville, Kentucky Urban Heat Management Study assesses the degree to which the Louisville Metro area is warming as a result of urban development and deforestation. The first of its kind by a major U.S. city, this report educates neighborhood and city decision makers on the impacts that rising temperatures have on public health, and provides recommendations for addressing Louisville's urban heat problem.
The report begins by defining the Urban Heat Island effect (UHI) and the implications for Louisville.  UHI refers to a metropolitan area that is significantly warmer than surrounding rural areas due to the replacement of vegetative surfaces and tree coverage with urban materials that absorb thermal energy such as roads, high density land use that traps solar radiation, and heat exhaust from buildings and vehicles. Paired with rising temperatures due to climate change, the UHI effect can become more dangerous, leading to higher rates of heat-related illnesses and death, especially among older residents, and risks to infrastructure and private property.  
The report discusses three UHI management strategies:
- using "cool" materials that reflect heat,
- increasing more vegetation and shade trees in cities, and
- implementing energy efficiency programs.
The report explores various heat management scenarios (assessing each of the three strategies as well as a combined strategy) which are modeled to assess the effectiveness of cooling techniques under a range of climate change projections. To assess the potential benefits of heat management in Louisville, the city conducted an inventory of land surface materials, the modeling of regional temperatures under current conditions, the modeling of regional temperatures in response to each of the heat management strategies, and, ultimately assessed the health benefits associated with heat management planning across Louisville. Each of these steps in the heat management study are discussed in Section 2. 
For the Land Surface Materials Inventory, climate simulations were used to assess how increased areas of vegetative cover and cool materials would modify temperatures around the Louisville Metro area. Maps of the distribution of land cover materials are given that illustrate how they were modified through each heat management scenario. 
Section 4 is a Population Vulnerability Assessment to extreme heat in Louisville. Each heat management scenario is modelled for its impact to the distribution of heat deaths within the urban core. The report presents a mapped distribution of heat-related mortality across the Louisville Metro area under current conditions, and then neighborhood level maps for each heat management scenario. (Complete results reporting the benefits of each heat management scenario for reduced heat mortality by neighborhood are presented in Table A.4 of Appendix A).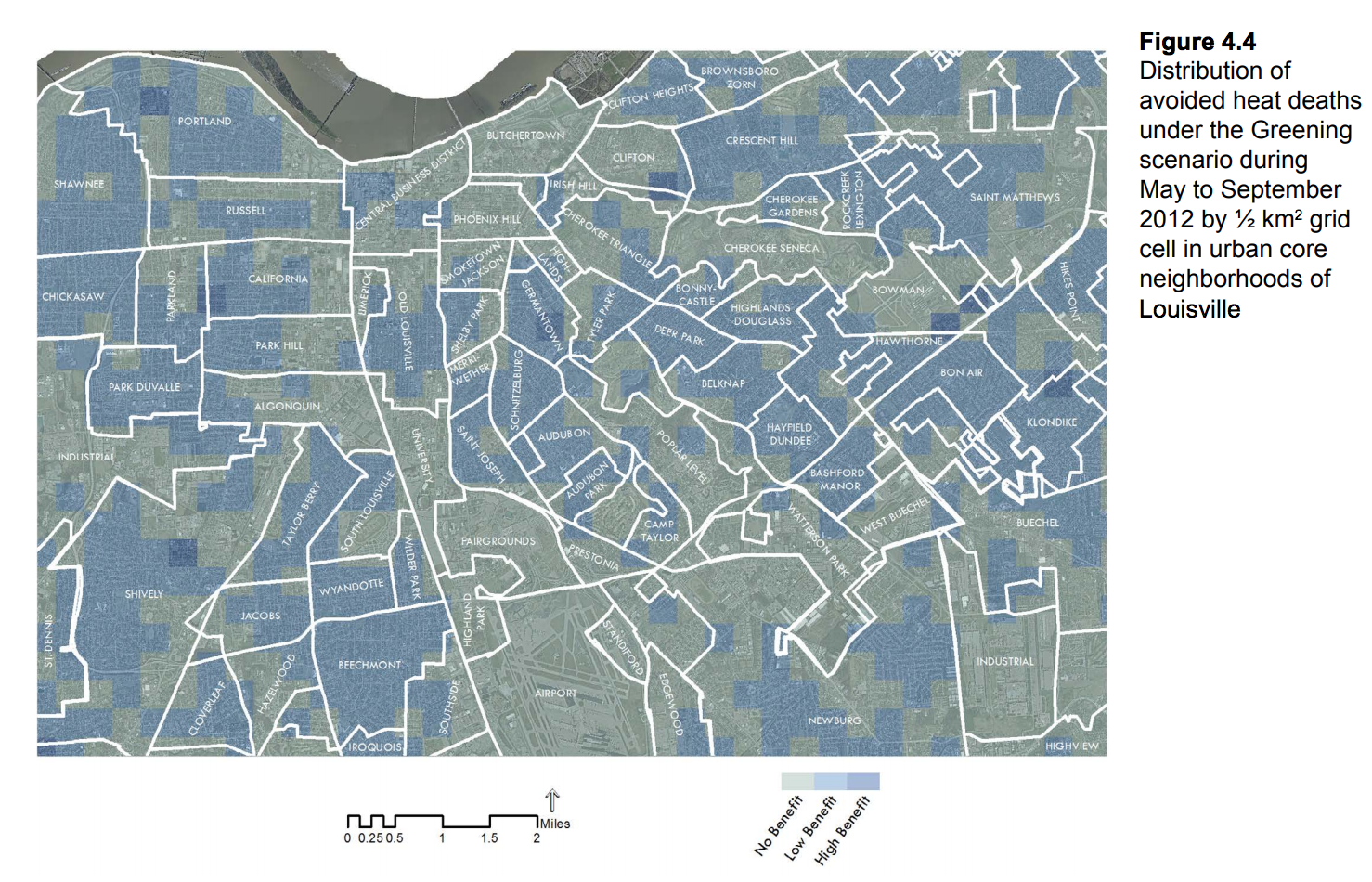 The results of the scenario planning process inform recommendations for improved heat management for the city as a whole, followed by recommendations for specific neighborhoods. The report urges decision makers to invest in "cool" building materials (the initiative with the highest stand-alone capacity for reducing UHI given the total land area available for cool materials). Vegetation provides a higher cooling benefit, but vegetation programs are only feasible in certain parts of the city. Vegetation strategies should be prioritized where flooding is a risk, and in residential and retail zones. Energy efficiency provides only modest benefits, but should be part of the suite of cooling policies.
The report presents neighborhood-based recommendations that can help the city determine where to focus each of the three strategies. In order to carry out the recommendations, the report acknowledges that new economic and regulatory incentives will be required.  
Publication Date: April 2016
Related Organizations:
City of Louisville, Kentucky
Sectors:
Resource Category:
Resource Types:
States Affected:
Impacts: