Mainstreaming Sea Level Rise Preparedness in Local Planning and Policy on Maryland's Eastern Shore
The Eastern Shore Land Conservancy project on sea level rise preparedness in Maryland's Eastern Shore region was conducted on behalf of the Eastern Shore Climate Adaptation Partnership (ESCAP). A summary report provides an overview of the project; an assessment of the local combined risks from sea level rise (SLR) and coastal storm flooding; and offers policy options, adaptation measures and implementation guidance to reduce these risks. Partners in the development of this report include the Eastern Shore Regional GIS Cooperative, the Georgetown Climate Center (GCC), and the University of Maryland Environmental Finance Center. GCC offers a discussion of strategies related to floodplain, zoning and regulatory standards to support sea level rise and coastal flooding resilience policies and decision making.
The report demonstrates the region's accelerated flood risks by assessing several sea level rise scenarios in the Chesapeake Bay and its tributaries. A sea level rise vulnerability assessment includes localized projections for Eastern Shore counties of Caroline, Cecil, Dorchester, Queen Anne's, and Talbot County, Maryland. The SLR rates used in this analysis are approximately 2 feet by the year 2050 and 6 feet by the year 2100. By overlaying storm surge inundation with projected SLR scenarios, this analysis provides new information by estimating the monetary costs of several expected flood scenarios.
The Vulnerability Assessment for sea level rise and flood events examines how climate change is currently affecting the risk of flooding and in the future. The report offers a multi-jurisdictional overview of damage estimates that graphically show the region's vulnerability in both number of buildings at risk, and monetary costs in flood damage.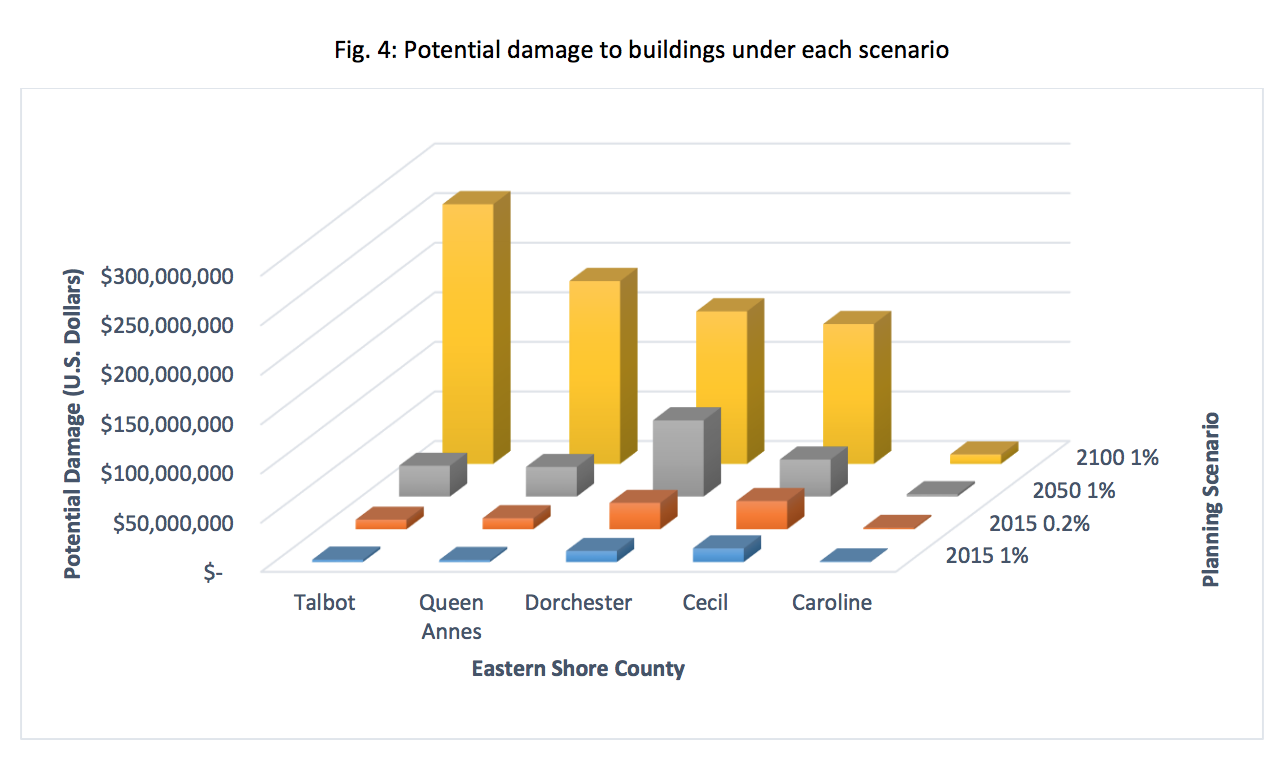 The report includes guidance documents from the Georgetown Climate Center and the Environmental Finance Center that present strategies incorporating sea level rise and climate risk assessments into policy, planning and capital improvements at the municipal and county levels. Sea level rise assessments and GIS mapping reports are included for five Eastern Shore counties. 
Higher Standards: Opportunities for Enhancing Flood Resilience, prepared by GCC, contains strategies pertaining to floodplain, zoning, and regulatory standards to help enhance resilience to future flooding. It highlights higher regulatory standards that Eastern Shore jurisdictions can adopt, in combination with non-regulatory approaches, to reduce increasing flood risks posed by sea levels.
Integrating Resilience into Local Capital Improvement Programs, from the University of Maryland Environmental Finance Center, offers recommendations and best practices pertaining to capital improvement planning.
County Sea Level Rise Scenarios GIS Reports, prepared by the Eastern Shore Regional GIS Cooperative, are vulnerability studies of sea level rise and flood risks for communities on the Eastern Shore. Each report contains maps, detailed flooding information, hazard analysis, and damage estimates for the following counties: Caroline, Cecil, Dorchester, Queen Anne's, and Talbot County. 
Publication Date: January 2019
Related Organizations:
Eastern Shore Regional GIS Cooperative
Related Resources:
Related Toolkits:
Sectors:
Resource Category:
Resource Types:
Assessment
Policy analysis/recommendations
States Affected:
Impacts: