Miami-Dade County, Florida: Sea Level Rise Strategy
In February 2021, Miami-Dade County, in collaboration with private consulting partners, released the Miami-Dade County Sea Level Rise Strategy. The strategy outlines the five different ways that the County, its agencies, and its partners can facilitate county-wide adaptation to climate impacts, especially sea-level rise: 1.) building on fill; 2.) building like the keys; 3.) building on high ground around transit; 4.) expanding greenways and blueways; and 5.) creating blue and green neighborhoods. To help advance these five approaches, the strategy outlines ten strategic actions built on previous work done throughout the county to help communities prepare for increased flooding and higher sea levels. 
The report is organized into three distinct chapters, and ends with mini-guides outlining how sea level rise will affect specific different areas of communities throughout the county. Chapter one outlines the history of South Florida's experiences dealing with storms, flooding, and sea level rise, and how the impacts from these weather and climate events will worsen as temperatures rise. Chapter two analyzes and describes the five adaptation approaches that will help the county deal with these worsening impacts. Each analysis of the five approaches includes a description of the approach, as well as tools and project types that can be implemented to advance each strategy. The analyses also include considerations on equity impacts of the approach, and benefits it will provide to the community, among other concerns—as well as next steps that applicable agencies, private partners, and communities can take to ensure that each strategy is implemented.  
Chapter three outlines the next steps—by providing ten distinct actions—that Miami-Dade County can "initiate in the short term" to help advance the five adaptation approaches and prepare communities within the county to "live with more water." Each of the ten action item analyses contain a description of the project, proposed changes that "show the direct changes or sub-actions involved within the broader action," which of the five adaptation approaches the action helps to advance, and case studies that provide examples of where the adaptation actions have been implemented—among other considerations. 
Short Term Actions to Advance Adaptation Approaches
Five of the ten actions outlined by the plan are briefly explained below:
1. Accelerate adaptation action areas across the county
Adaptation Action Areas (AAA) are local-level, innovative tools outlined within the sea level rise guide that are used to identify areas and communities that are most likely to be negatively impacted by climate change. An AAA is "is a flexible planning tool that allows Miami-Dade County to work directly with community members to create a more detailed adaptation plan for a focus area. It also facilitates the coordination of projects such as road, park and green infrastructure, and water and sewer improvements, among others."
The strategy proposes that the county's Office of Resilience develops a process for identifying and designating future AAA in the next five years and how projects will be implemented in these specific areas. This action will help advance all five adaptation strategies outlined earlier in the plan: building on fill, building like the keys, expanding greenways and blueways, building on high ground around transit, and creating blue and green neighborhoods. Case studies of places where AAA have been designated include Arch Creek Basin and Little River, which are both located within the county. 
2. Enhance flood protection by expanding greenways and blueways 
The installation of green and blueways has environmental and public health benefits for communities. Environmentally, green and blueways can provide spaces for native plants to grow, increasing biodiversity; blocking waves and collecting excess water during increased flooding events due to sea-level rise or storms; and providing recreation spaces for overburdened communities. Voluntary buyout programs should also be expanded. These types of programs, when run by government agencies, allow the government to purchase property in overburdened, flood-prone communities and convert the land into parks — not only helping individuals move from these areas, but also expanding blue and greenway projects. Blue and greenway projects should be scaled-up throughout the county as part of the Parks and Open Space System Master Plan's Greenways, Trails, and Water Trails Vision. 
Authors of the strategy recommend changes to policy and government action, such as designing more projects in conjunction with the Miami-Dade Greenways Plan and assessing the feasibility of expanding voluntary buyout programs, including considering different funding and financing grants. Case studies of places where green and blueway projects, as well as voluntary buyout programs, have been implemented successfully include the Snapper Creek Trail and the New Jersey Blue Acres Program. 
3. Integrate green infrastructure into County projects 
Green infrastructure is a broad term that includes integrating aspects of the natural environment — like trees, permeable soil and surfaces, and wetlands — into projects that help filter and absorb stormwater, and improve drainage. Green infrastructure projects have the potential to help with stormwater management and contribute to community benefits like cleaner air and water, cool spaces with shade trees, and more. This action will help to advance the adaptation strategy of creating blue and green neighborhoods. 
Policy changes included in the strategy encompass creating new stormwater parks to serve as an example locally of the benefits that green infrastructure can have for a community. Current plans relating to implementing green infrastructure projects are outlined in the County's Parks and Open Space Master Plan, further expanding to include potential sites obtained through voluntary buyout programs, AAA designated areas, and other acquisition programs. Another policy recommendation is to require that green infrastructure be incorporated into county-funded projects. This could be accomplished through amending Chapter 9 of the County code. Additionally, right of ways, parking lots, and redevelopments can be designed to incorporate rain gardens, trees, and other stormwater features. Case studies of places where green infrastructure integration has occurred successfully include the Good Neighbor Stormwater Park in the City of North Miami and the Arcola Lakes project. 
4. Address vulnerable septic systems 
Within Miami-Dade County, there are upwards of 100,000 septic systems. Septic systems are extremely vulnerable to sea-level rise and increase flooding due to climate change. As groundwater tables rise due these events, septic systems can become compromised and cause chemical and waste seepage, leading to negative impacts on water and soil quality. While the County is currently implementing its plan to convert septic systems to mainstream plumbing, the cost to do so is extremely high. Moving forward, conversion projects should be "pursued in a methodical and phased approach that better aligns infrastructure and land use goals to address the systems that pose the highest risk." Addressing and removing septic systems in vulnerable areas would help to advance the adaptation approaches of building on fill, building like the keys, and expanding green and blueways. 
According to recent studies, around 12,000 properties currently on septic systems have the capacity to join with available sewer lines abutting the properties. The County should continue to implement and support existing programs that facilitate the installation of "public laterals" that connect these properties wastewater systems to the public sewer. Additionally, decommissioning of the 9,200 septic systems deemed most vulnerable to sea level rise by the Water and Sewer Department should be prioritized. One report that lays out these vulnerability studies and identifies places where septic has been successfully replaced can be found in Miami-Dade County's Septic Systems Vulnerable to Sea Level Rise Report. 
5. Increase affordable, resilient housing on high ground within SMART plan transit corridors 
Many of the areas identified by the county as most susceptible to the impacts of climate change contain affordable housing developments. While building new affordable housing developments outside flood-prone areas is already a priority within Miami-Dade County, as more and more people move from high-risk areas, housing costs in lower-risk areas will increase, potentially pricing out affordable housing developments. Therefore, "[i]t is critical to ensure that sufficient affordable housing options are available in low-risk areas to serve existing residents and accommodate those who may be displaced from high risk areas." 
Among the proposed changes included in the plan is developing affordable housing around transit, according to the County's Strategic Miami Area Rapid Transit (SMART) Plan. Additionally, county officials should continue to work with housing and community development organizations and staff to integrate climate and flood considerations into affordable housing developments and policies. This will include preserving and climate-proofing existing affordable housing developments. Doing so will help advance the adaptation strategy of building on high ground around transit. Case studies and resources emphasized within the strategy include Miami Dade's Affordable Housing Framework and the University of Miami's Mapping Affordability Project.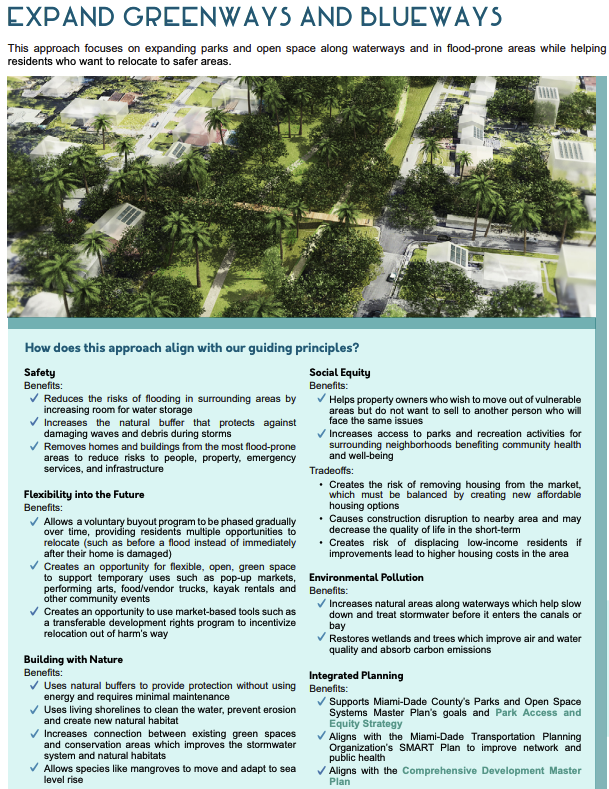 To help ensure that all of these different goals and objectives are met, Miami-Dade County, which is a member of the Florida Regional Climate Change Compact, should continue to collaborate regionally. "The Compact is a network of highly talented and committed leaders of counties that face similar long-term risks as Miami-Dade County." This collaboration can help county officials learn of best practices through data sharing, as well as find financing and funding opportunities for critical projects. 
The report closes out with a series of mini-guides that are organized by sector, and how sea level rise will impact each: people, housing, transportation, natural areas, wastewater systems, freshwater resources, beaches and dunes, critical facilities, and drainage systems. Each miniguide outlines how sea level rise will impact that area of focus, and briefly lists tools or projects that the county can implement to help avoid climate impact risks. The report also offers a variety of tools and case studies related to these mini guides that will help localities implement the approaches recommended within the strategy. 
The report is a result of the work of public and private partners, including Arcadis, the Miami-Dade County Office of Resilience, and more. The Strategy is a result of an expansive effort relating to community engagement. Over the course of development, the county heard from almost 400 participants about what resilience actions would be most beneficial in their communities through a variety of different types of outreach, including workshops, tabling events, presentations, and focus groups. Each of the key action items outlined by the plan also includes potential current and future funding or financing sources.
Publication Date: February 2021
Related Toolkits:
Sectors:
Land management and conservation
Resource Category:
Resource Types:
Planning guides
Scenario planning
States Affected:
Impacts: