Montana Climate Assessment 2017
The Montana Climate Assessment (MCA) reports on climate change trends and in Montana, and climate impacts on three focal sectors of water, forests, and agriculture. The assessment concludes with an analysis of major knowledge gaps, related to the climate impacts identified for the three sectors. 
An overview of climate change and its effects on Montana is provided in the Climate Change chapter. This introductory chapter has extensive information on present-day climate as well as climate terminology, past climate trends, and future climate projections. The overview of climate impacts focuses on changes in temperature, precipitation, and extreme events occurring in the state. The chapters following illustrate how projected changes in climate may influence Montana's water supply and distribution, various forest types, and agricultural production and economy.
The Water chapter details how climate will affect key parts of the water cycle including: Snowpack, Snowmelt and Runoff Timing, Annual Streamflow, Groundwater Resources, and Drought. Overall major findings about Montana's water suggest that rising temperatures will reduce snowpack, shift historical patterns of streamflow, likely result in additional stress on Montana's water supply, and exacerbate persistent drought periods that are a natural part of Montana's climate.
To best represent the influence of climate variations on water resources, this chapter focuses on eight rivers and their watersheds: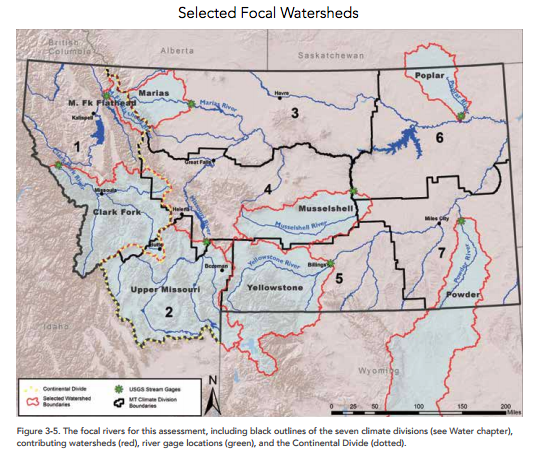 The Forests assessment describes the potential climate-related direct effects to Montana's forests including: Establishment and regeneration, Growth and productivity, Mortality, and Range shifts and forest distribution.  Other indirect effects include changes in disturbance by fire, pathogens, and insects.
Table 4-6: General adaptation strategies to increase resilience of forests to climate change and variability provides example methods to apply the following "Adaptation options:"
Increase genetic and phenotypic diversity

Improve forest structure, diversity, and resilience

Improve establishment

Improve water availabilty

Improve soil quality

Reduce fire risk and fire severity

Manage forest diseases

Consider assisted migration and adaptation
The Agriculture chapter reviews the influence of climate change on Montana crops and livestock, and on the associated roles of pollinators, disease, pests, and weeds. Climate change effects are analyzed for some commodity crops in Montana including spring and winter wheat, corn, sugar beets, potatoes and organic grains. 
Attention is paid here to the uncertainties around identifying and predicting climate change effects on agriculture, but also that "no Montana producer is guaranteed the status quo - change is happening, even if we cannot yet unravel all its components."
The MCA was developed with support from university faculty and students, state and federal agency researchers, non-profit organizations, resource managers, and the public. The Montana Institute on Ecosystems, a statewide center based at both Montana State University and University of Montana, organized the assessment process. 
Publication Date: September 2017
Related Organizations:
University of Montana
Montana State University
Sectors:
Forestry
Land management and conservation
Resource Category:
Resource Types:
States Affected:
Impacts:
Air temperature
Precipitation changes