National Equity Atlas
The National Equity Atlas, created by PolicyLink and the Program for Environmental and Regional Equity, is an online tool that allows users to find information on demographic changes, racial and economic inclusion, and potential economic gains from racial equity. Data is available for the largest 100 cities, 150 metropolitan regions, and all 50 states in the United States. While this resource does not address climate change, it can provide useful information to frame environmental justice and equity challenges that may be exacerbated by climate change.
Users can explore data for included geographies by entering a state, region, or city into the "data summaries" tab. The resulting report will show:
How the racial and ethnic composition of that place has changed since 1980 and projected into 2040
Information on which ethnic or racial groups are driving growth
Earned income growth for a full-time worker, and how wage growth differs within the 10th, 20th, 50th, 80th, and 90th percentile
Differences in median hourly wage between white residents and people of color between 1980 – 2012
The current education attainment of the population by race and ethnicity, and the percentage of jobs that will require an associated degree or higher in that place by 2020
Information on the economic benefits of social equity
Users can also explore a wide range of additional information under the "indicators" tab. This includes data on how immigrants contribute to growth, the racial generation gap, detailed race and ethnicity data, changes in diversity, poverty, school poverty, asthma rates, car access, housing burden, neighborhood poverty, among others. For each indicator, the atlas includes a graphical summary of the data (see example below), information on why it matters, and potential policy solutions to address those inequities.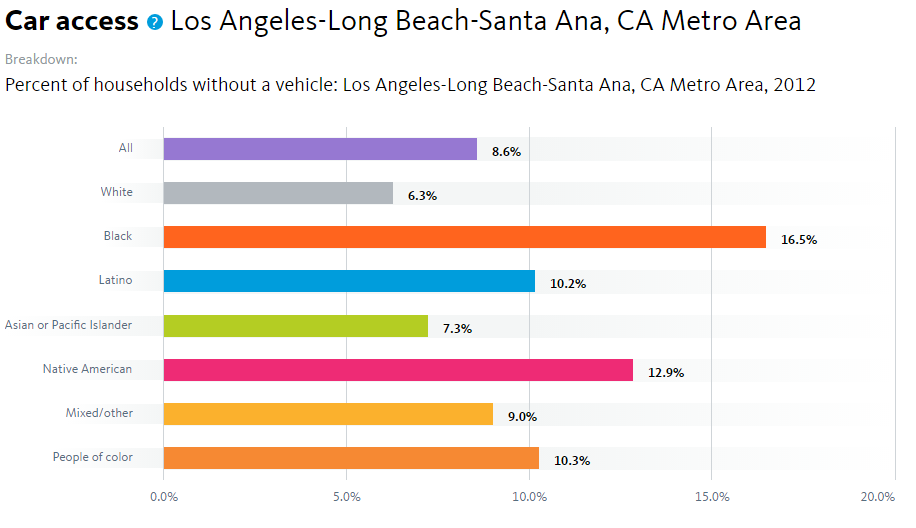 In October 2016 the Atlas introduced neighborhood opportunity maps that allow certain indicators to be visualized by county or census tract. Users can apply filters to see trends. For example, a user can visualize how homeownership maps onto neighborhood composition by race and ethnicity.
The Equity Atlas provides links to more in-depth equity profiles for select regions and other reports on the importance of social equity.
Related Organizations:
Sectors:
Resource Category:
Resource Types:
Mapping tool
Tool (general)
Websites
User Comments: