New York Model Local Laws to Increase Resilience (Chapter 3: Coastal Shoreline Protection Measures)
In June 2019, the New York Department of State completed a set of model local laws to increase resilience as part of its required actions under the State's Community Risk and Resiliency Act (CCRA). The model laws are meant to inform municipalities who want to adapt their own resiliency measures. Five categories of model laws are included in the model, which is divided into five corresponding chapters. The third chapter addresses coastal shoreline protection measures, including coastal setbacks and erosion control districts. Such coastal protection measures may also have benefits related to federal flooding programs. 
Coastal Erosion Hazard Area management 
Noting that the National Flood Insurance Program (NFIP) incentivizes community resilience efforts, the model recommends the designation of what New York calls Coastal Erosion Hazard Areas (CEHAs), where erosion control or protection measures are required to mitigate hazards. Under New York Law, these CEHAs are divided into 1) areas exhibiting natural protective features, and 2) structures landward from those features that are receding at more than one foot per year. Permitted erosion control structures (concrete walls, sandbags, etc.) are allowed in some scenarios, but the state prioritizes nature-based and non-structural erosion protection measures in CEHAs. Two Coastal Erosion Hazard Areas models are outlined. Erosion solutions include: 
Moving development away from the coastline in advance of shoreline retreat,

Increasing building elevation in anticipation of sea level rise and flooding,

Planting vegetation to secure the shoreline,

Regrading the shoreline (reversing degradation through replanting and replenishment), and

Adding a geogrid to reinforce soils or slopes on the shoreline.
For municipalities not located near a Coastal Erosion Hazard Area, the model suggests that these lower-risk areas can nonetheless strengthen resilience by, for example, establishing a coast or shoreline overlay district in their zoning code.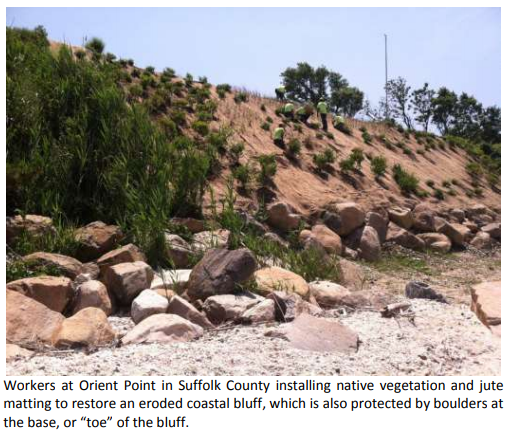 Coastal Setbacks
Municipalities can also protect coastlines using coastal setbacks. A setback is simply a set distance from the shoreline, inside which no built structures can be placed. Well-designed coastal setbacks reduce the need for expensive shoreline protection measures by protecting natural dunes and beaches, which themselves help insulate against rising sea levels and storm surges. The chapter then outlines four types of coastal setback, three of which are described in the Georgetown Climate Center's Adaptation Tool Kit: Sea-Level Rise and Coastal Land Use. 
A fixed setback is a simple measure that determines minimum distance from the shoreline based on the upland use, the degree of the slope, or some other factor. A tiered setback is more flexible, with the size of the setback varying according to a variable such as lot size. An erosion-based setback uses scientific data to determine the erosion rate and life expectancy of a given location to determine the size of setback needed. Lastly, the model recognizes a fourth category that combines the approaches of the second and third: an erosion and lot depth-based setback establishes distance based on the depth of the relevant lot and the observed erosion rate there. 
In drafting setback laws, the model recommends that municipalities should, at a minimum:
Identify the coastal feature(s) being protected with the setbacks, to determine where the setback distance will be measured from,

Consider the type(s) of upland use, their vulnerability to coastal hazard, and their potential to detriment coastal features,

Account for projected changes in water levels and erosion rates, including landward migration of dunes, and

Estimate the number of lots that may become undevelopable or come into noncompliance with zoning ordinances as a result of new setback laws, and discern how this fits into the community's plan.
Other good practices include placing the development barrier well behind reliable indicators of shore stability, like the first line of natural, stable vegetation. Setbacks can even be measured from these natural barriers instead of the coastline itself, further taking advantage of natural storm surge barriers and other ecosystem services. Pairing these structures with other measures such as vegetative buffers can help maximize their efficacy. All four given setback types are modeled. 
Basic Protections for Dunes, Beaches, and Coastal Vegetation 
Healthy dune and beach features are significant buffers against storm surge and sea-level rise. These features recover naturally from storms and flooding events if they are healthy and vegetated, as the vegetation will hold the dune in place and trap more wind-blown sand to build and replenish it, which can in turn help replenish nearby beaches. These natural processes, if preserved, can reduce the need for costly shoreline protection projects. Conversely, human disturbance (building atop the dunes, for example) can remove vegetation and erode the dune system. 
Municipalities can reduce dune and beach erosion through regulation. Setbacks, especially those that start at the first vegetation rather than the shore, are only one method to protect coastal dunes and beaches. A complementary measure is to establish a coastal vegetative buffer inside which natural vegetation is protected (or restored, if necessary). Another option is a 'maximum disturbance area', inside which only a specific proportion of lots can be disturbed. The maximum area to be disturbed can be adjusted for smaller lots to allow them to remain buildable, according to the needs of the municipality. The model also recommends avoiding coastline armoring like seawalls and bulkheads, which upset natural sediment distribution processes and can increase net erosion. For areas where public access is allowed over dunes, dune walkways should be designed so that vegetation on top of dunes is not trampled. Model language is included for coastal vegetative buffers, maximum disturbance areas, and design standards for dune walkovers.

Shoreline Management Alternatives 
Municipalities may also take advantage of alternative approaches to shoreline management. These typically are used to reduce the flooding or erosion risk of upland areas by implementing structural, nature-based, and natural or non-structural measures. Non-structural measures avoid shoreline armoring structures in favor of building elevation, siting away from coastlines and flood-prone areas, and supporting naturally-developed buffers like dunes, reefs, wetlands, and vegetation. These naturally-occurring methods would require no maintenance. Nature-based measures incorporate structural features with natural infrastructure. This includes measures like sediment replenishing, using vegetation to stabilize banks, and creating living shorelines. These resources typically need more up-front maintenance while natural vegetation, etc., establishes itself.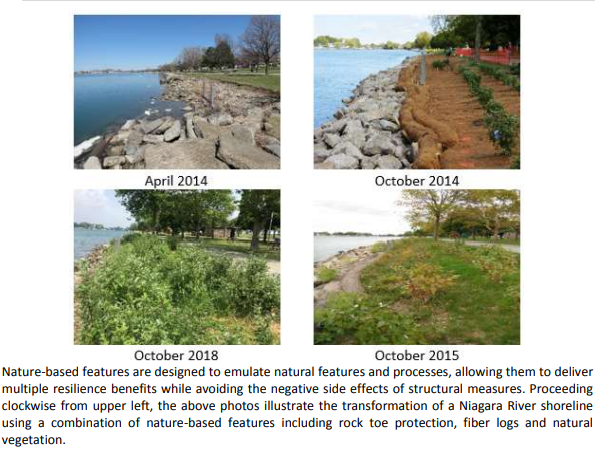 Lastly, structural measures can be adopted. These are often referred to as "erosion protection" or "erosion control" devices. While these measures protect the upland area they are installed to preserve, they often exacerbate erosion elsewhere by disrupting natural sediment processes. They can also cause dunes to migrate landward, eventually resulting in loss of the natural feature. They further require regular maintenance and removal at the end of their useful life. As a result, structural measures are recommended only where other measures are unavailable.

Municipalities can regulate adoption of structural measures by permitting processes or by designation of overlay zones. A permitting process would require land developers to show that natural features, nature based features, and taking no action would all be insufficient to protect their structures from flooding or erosion before permitting a structural measure. Overlay zones would identify areas wherein structural measures may be permissible. Models are included for each approach. 
Beach Erosion Control Districts 
New York State law allows towns to establish special improvement districts, wherein the town can levy a special tax to fund localized improvement projects. One way to use such a district for resilience is to construct a beach erosion control district. Creating such a district (where state law allows) would allow the municipality to raise funding for localized projects that may not be attached to federal funding sources (the model uses the example of beach nourishment). Two model beach erosion control districts from New York are included. 
Emergency Activities
Following an emergency event, property owners or developers will want to take immediate action to secure their lots and prevent further damage or erosion. At the state and federal levels, general permit programs allow activities that have been determined to have an insignificant environmental effect. At the local level, municipalities can adopt laws that suspend specific restrictions when (e.g.) a disaster has been declared. Permitting emergency dwellings on lots that have reduced oversight is another method. These are outlined in greater detail in Chapter One of the document. In crafting such regulations, a municipality should define the situations that will trigger regulatory suspension, define who can declare such an emergency, list what will be suspended, and identify what notifications must be made to the city in lieu of normal regulations. 
The published model does not establish any legally binding standards, and should not be a substitute for a local government's consultation with an attorney.  
Publication Date: June 2019
Related Organizations:
New York Department of State - Office of Planning and Development
Related Resources:
Sectors:
Resource Category:
Resource Types:
Best practice
Laws
Policy analysis/recommendations
States Affected:
Impacts: