Populations at Risk Tool
Populations at Risk is an online tool that can be used to determine socioeconomic information about populations more likely to experience adverse social, health, or economic outcomes, due to their race, age, gender, poverty status, or other potential risk factors.

Build reports to identify frontline communities that might face climate risks. 
Using reliable, government data available nationwide and published annually, the tool allows you to build reports for geographical areas ranging from census tracts to states. It also can compare or aggregate multiple geographies. Users can quickly create and download reports of current socioeconomic data in Excel or PDF.
The reports provide statistics for the risk factors of:
Young & Elderly Populations

Race & Ethnicity

Educational Attainment

Language Proficiency

Individuals in Poverty

Families in Poverty

Households Receiving Public Assistance

Labor Participation

Housing Affordability

Rental & Mobile Homes

Potentially Vulnerable Households

Potentially Vulnerable People (This page describes groups of people that are associated with increased hardship, including people with disabilities and people without health insurance.)
For each category, the report describes how the indicator is measured, and why it is important when assessing vulnerability. Reports also contain already made bar charts summarizing key data.
The report also contains a final page that compares the study area to the U.S. as a whole. See an example below.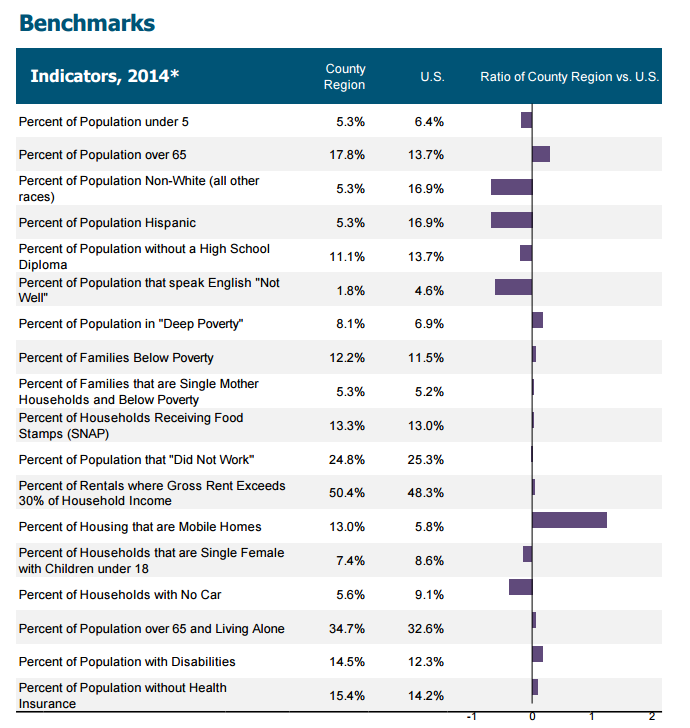 Related Organizations:
Sectors:
Resource Category:
Resource Types:
Impacts: