Portland, Oregon 2018-2020 Strategic Plan - A Better Future, A Better Now
The City of Portland, Oregon Bureau of Planning and Sustainability (BPS)'s mission is to "take action to shape the future of Portland and advance climate protection for a more prosperous, healthy, equitable and resilient city now and for future generations." The Bureau's 2018-2020 Strategic Plan includes strategies to create a low-carbon resilient built environment, including affordable housing, and to improve watershed health and climate resiliency. 
Portland, Oregon's Strategic Plan is a long-range plan for growth and development - grounded in a climate resilient socially equitable vision for 2035. This plan is a strategy to advance its own and the collective long-term goals of Portland's recently adopted major plans. The Portland Plan, Climate Action Plan, 2035 Comprehensive Plan and Zoning Map, and the Central City 2035 Plan are all designed to support one another - providing a city-wide context to advance "healthy connected neighborhoods, a vibrant central city, and an equitable, low-carbon economy."
 

While comprising only 3% of Portland's land, about 30 percent of the city's residential growth is expected to occur in the Central City by 2035. Sufficient housing availability is a focal issue here, and Portland is establishing inclusionary zoning so that a significant portion of this residential growth will be affordable for low-income households.

In the plan's Vision for 2035,  Social Justice is a main tenant with the goal that Portland will: "advance equitable outcomes, dismantle institutional racism and correct past harms." 

The plan describes eight Key Initiatives that BPS describes as urgent and time-sensitive actions it will implement in the next three years. The Key Initiatives are to:
Increase Housing Options

Create an Efficient, Low-Carbon Built Environment

Grow Vibrant, Successful Centers

Build a 21st Century Central City

Pursue Smart Cities Initiatives

Increase Reuse, Recycling and Composting

Advance Inclusive Prosperity

Improve Watershed Health and Resiliency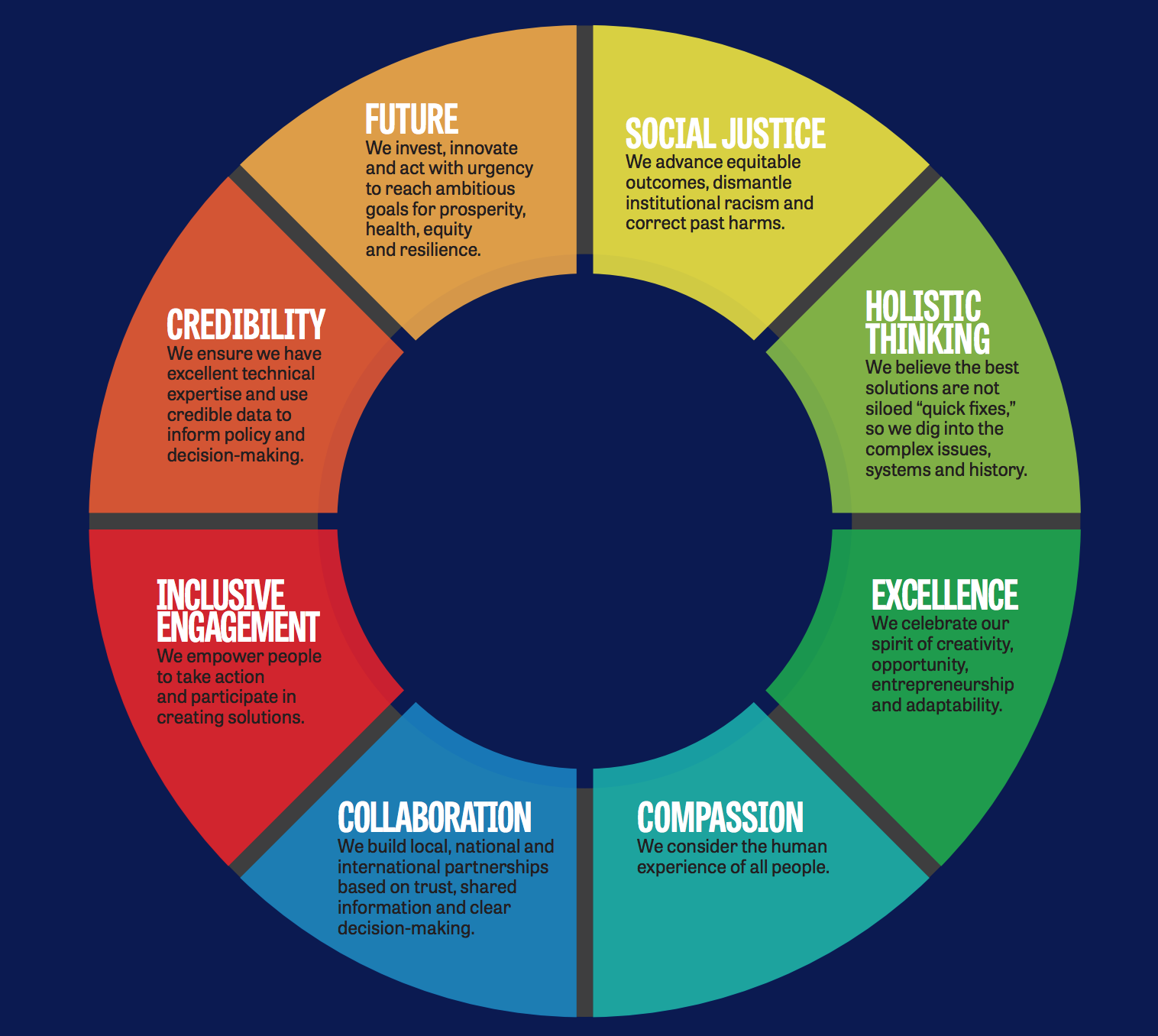 The Initiative to Improve Watershed Health and Resiliency is focused on climate change resilience. The goal is to protect and restore natural resources and floodplains in the face of climate change; and, to protect, restore and increase public use of the Willamette River.
Some of the example projects that could be implemented in 2018-2020 for this key initiative include:
Environmental overlay zone maps and code: Update the environmental overlay zone (e-zone) maps to align with the newly adopted Natural Resources Inventory. Also update the e-zone code to create a consistent regulatory approach across the city and conformance with the 2035 Comprehensive Plan, as well as regional, state and federal regulations.
Willamette Greenway Plan and code for the South Reach: Update the 1987 Willamette Greenway Plan including its policies, natural resources inventory, zoning regulations and maps, and actions for the city's southern Willamette riverfront.
Publication Date: July 9, 2018
Related Organizations:
Sectors:
Resource Category:
Resource Types: