Potential Impacts of Climate Change on Transportation Infrastructure in New Hampshire
The New Hampshire Department of Transportation (NHDOT) conducted an assessment of the vulnerability of the state's transportation system, and this report outlines the results, and includes an action plan of adaptive strategies for the department to address climate-related impacts. NHDOT assets, programs, policies, and activities (APPA) that may be impacted by climate change are discussed. The report also describes NHDOT's goals to increase the resilience of the state's transportation infrastructure, and the department's preparedness for natural disasters and climate-related impacts.
The Vulnerability Assessment in Section 4 details the climate change vulnerability of NHDOT's infrastructure. Four primary climate change variables were identified by NHDOT to likely impact transportation infrastructure: an increase in extreme precipitation events, sea-level rise and coastal storm surge, warming winters, and increasing general temperatures. For example, NHDOT found that the trend of warming winters produces more freeze and thaw occurrences throughout the season that result in more frost heaves and potholes, damaging roadways.
NHDOT identified key transportation assets, which climate variables were likely to affect which assets, how probable those events were to occur, and evaluated the vulnerability of asset to significant impact. From this, NHDOT developed a prioritized ranking of their assets that are at greatest immediate risk to help guide future adaptive management actions. The highest priority assets in this ranking are:
Bridges
Culverts/Storm drainage systems
Roads
Key evacuation routes
Maintenance and operations facilities
Backup power, communication, fueling, and other emergency operations systems
Sea wall infrastructure
NHDOT's Action Plan to adapt infrastructure to be more resilient to climate change includes adaptive actions chosen based on an evaluation of the agency's APPA and their vulnerabilities to climate change. The actions are designated as either short-term (1 year), medium (1-3 years), or long-term (1-10 years) in order to plan NHDOT's work. Table 9: Climate Change Recommendations by Division includes a matrix of all of the adaptation plan's actions broken down by timeframe and responsible division. 
NHDOT acknowledges that the uncertainty of climate change is one of the biggest challenges the transportation industry faces. Table 10: Challenges Identifies by NHDOT lists additional climate adaptation concerns for the transportation industry.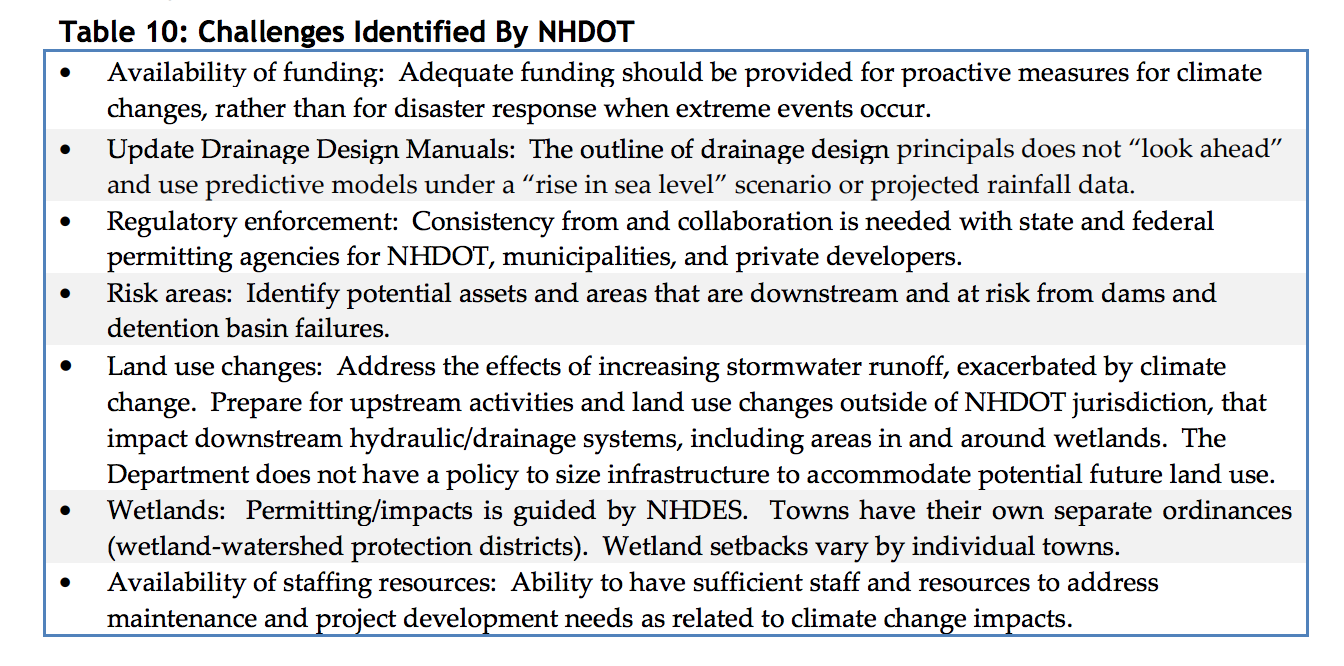 Publication Date: April 2014
Related Organizations:
New Hampshire Department of Transportation (NHDOT)
Sectors:
Resource Category:
Resource Types:
States Affected:
Impacts: