President's State, Local and Tribal Leaders Task Force on Climate Preparedness and Resilience: Recommendations to the President
As part of his Climate Action Plan, in November 2013, President Obama issued Executive Order 13653 - 'Preparing the United States for the Impacts of Climate Change,' creating The State, Local, and Tribal Leaders Task Force on Climate Preparedness and Resilience. The Task Force was directed to advise the Administration on how the Federal Government can respond to the needs of communities nationwide in achieving climate change resilience. The Task Force members, which include governors, mayors, county officials, and Tribal leaders from across the country, met throughout the year and used their first-hand experiences in building climate preparedness and resilience in their communities to inform their recommendations to the Administration. In November 2014, the Task Force presented their recommendations to the President.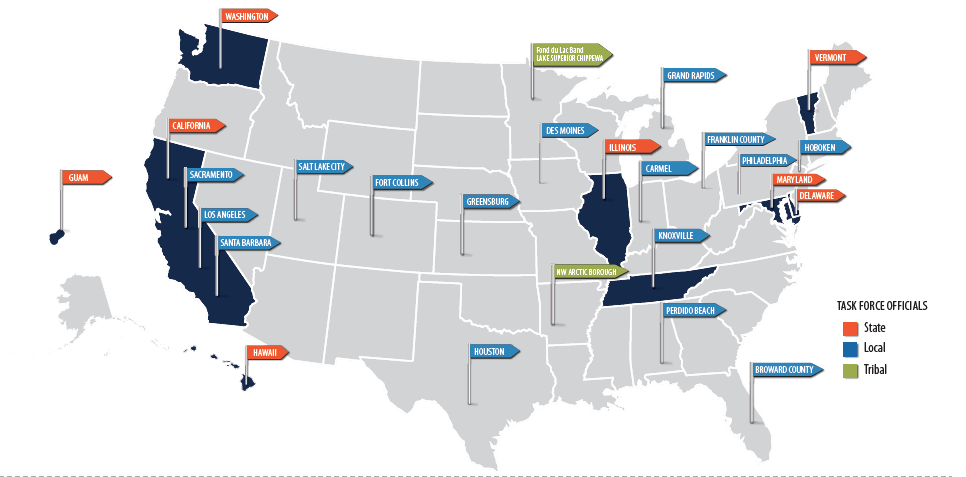 Many of the recommendations in the report to help communities prepare for climate change also draw from the 100 recommendations for federal action that the Georgetown Climate Center released in September 2014.
The recommendations offer guidance on how the Federal Government should modernize programs and policies to incorporate climate change, and incentivize and remove barriers to community resilience. The recommendations focus on how to modernize Federal grant and loan programs to better support and encourage local efforts, and develop the information and tools that decision makers need to understand and prepare for the impacts of climate change.
The Task Force recommendations are organized across seven themes:
1. Building Resilient Communities
2. Improving Resilience in the Nation's Infrastructure
3. Ensuring Resilience of Natural Resources
4. Preserving Human Health & Supporting Resilient Populations
5. Supporting Climate-Smart Hazard Mitigation and Disaster Preparedness and Recovery
6. Understanding and Acting on the Economics of Resilience
7. Building Capacity for Resilience
Recommendations call federal on agencies to:
Require or encourage strengthened building codes and floodplain ordinances.
Ensure that federal investments will be resilient to climate change impacts by considering climate change impacts in environmental review documents required by the National Environmental Policy Act and developing a national flood resilience standard.
Improve the delivery of disaster recovery funds to allow for community-scale resilience investments and to address the needs of communities displaced by climate-related disasters.
Improve floodplain maps by including information about how climate change effects, such as sea-level rise and increased precipitation, may exacerbate flooding, erosion, and other hazards.
Reform policies hindering the deployment of Property Assessed Clean Energy (PACE) programs for energy efficiency and other resilience investments.
Encourage and fund green and natural infrastructure projects to provide multiple benefits to: buffer storm surges, filter polluted runoff, manage erosion, and provide habitats for species.
Reform cost-benefit analysis to ensure that federal investments account for the long-term benefits of adapting to climate change.
Support efforts of communities and states to coordinate regionally on climate adaptation and resilience.
Improve training of federal agency staff so that policies identified at senior levels are translated down the line to staff who work directly with state, local, and tribal officials.
Improve the delivery and translation of climate science, data, and tools so that information is presented in way that can lead to state and local action.
Create a Climate Corps, modeled by other national service models such as Americorps, to build community capacity to respond to climate change and to develop the next generation of adaptation professionals.
Task Force members will continue to collaborate with the Administration as these recommendations are implemented. The Administration has already made progress by acting upon good ideas that have emerged through this process over the past year. For example, at the Task Force meeting in Washington D.C. on July 16, 2014, President Obama announced a series of new actions responding to the Task Force's input.
Publication Date: November 17, 2014
Related Organizations:
Sectors:
Resource Category:
Resource Types:
Policy analysis/recommendations
Impacts: