Resilient Houston - City of Houston, Texas Resilience Strategy
The City of Houston, Texas, in partnership with 100 Resilient Cities (100RC), finalized its citywide resilience strategy in February 2020. The plan identifies 62 actions across 18 goals touching on issues relating to equity, individual and community resilience, the region's bayous, infrastructure, the regional economy, city government, and more. In conjunction with the plan release, Mayor Sylvester Turner signed an executive order aimed at aligning city budgets and programs with the new resilience strategy.
From 2015 through 2019, Houston had six federally declared disasters for major flood events, including Hurricane Harvey in August 2017 and Tropical Storm Imelda in September 2019. Flood events expected to have only a 2% likelihood of occurring in any given year have in fact occurred annually in recent years in Houston, exacerbated by climate change and rapid growth and the lack of land use regulation. Accordingly, the plan emphasizes the need to prepare for a new normal of increasingly frequent and severe floods, including through drastic changes in land use such as removing all habitable structures from flood zones.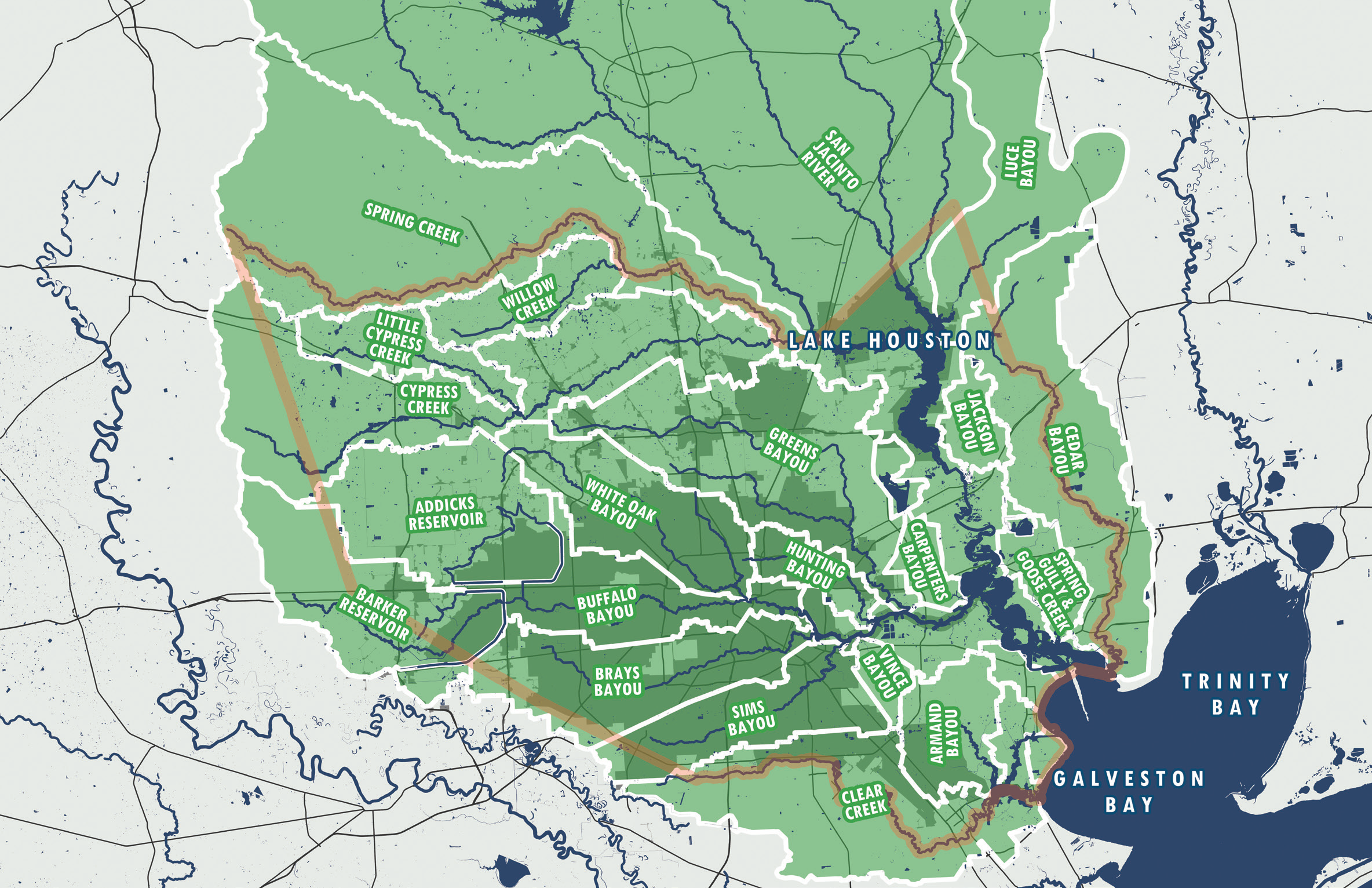 The plan lays out five overarching visions for Houston: a healthy place to live; an equitable, inclusive, and affordable city; a leader in climate adaptation; a city that grows up, not out; and, a transformative economy that builds forward. The goals and actions recommended in the plan are organized within five chapters:
Prepared and Thriving Houstonians, which focuses on individual resilience, opportunity, and inclusivity
Safe and Equitable Neighborhoods, which focuses on community cohesion and emphasizes place-based solutions
Healthy and Connected Bayous, which focuses on living better with Houston's 22 watersheds and recognizing their role in improving physical, environmental, and economic resilience
Accessible and Adaptive City, which focuses on modernizing infrastructure and institutionalizing equity, inclusion, and resilience across policies and practices
Innovative and Integrated Region, which focuses on improving coordination and collaboration outside of Houston city limits to achieve greater resilience
Each of the 18 goals in the plan has an associated target that serves as an important metric and basis for the actions recommended to achieve the goal. Several notable examples include:
Chapter 2, Goal 6

: We will ensure all neighborhoods are healthy, safe, and climate ready.

Target 6: Plant 4.6 million new native trees by 2030.

Chapter 3, Goal 8

: We will live safely with water.

Target 8: Remove all habitable structures from the floodway by 2030.

Chapter 4, Goal 12

: We will advance equity and inclusion for all.

Target 12: Eliminate geographic disparities in life expectancy by 2050.
The plan also identifies six implementation themes (engagement, finance, metrics, partnership, policy, and smart cities/technology) to help ensure that the City follows through with the actions. The implementation themes are designed to identify opportunities to group actions in ways that advance implementation in the most efficient and coordinated manner. For each of the plan's 62 actions across the 5 chapters and 18 goals, relevant implementation themes are identified, as well as any logical partners and a timeframe for implementation.
Enabled by a $1.8 million sponsorship from Shell, Houston joined the 100RC network in August 2018, exactly one year after Hurricane Harvey. Following the end of the 100RC program in July 2019, Houston helped develop a new Global Resilient Cities Network to continue and build on collaborations established through 100RC. Houston is also planning to release the Houston Climate Action Plan in 2020, which will identify goals to reduce emissions and is intended to complement the resilience-building actions of Resilient Houston.
Publication Date: February 2020
Related Organizations:
Sectors:
Resource Category:
Resource Types:
States Affected: