Resilient Infrastructure for New York State
This report from Rebuild By Design describes a proposal to create a Resilient Infrastructure Fund to support green and grey infrastructure projects that reduce flooding, coupled with a buy-out program, to improve the physical, social, and ecological resilience of New York State. It proposes a transparent, inclusive, and equitable approach to finance climate adaptation planning and implementation throughout the state. Though designed for New York, the recommendations are applicable to and can serve as a model for other states.
The proposal describes a program designed to fully engage stakeholders and prioritize the most physically and socially vulnerable areas as it financially promotes regional and cooperative planning and adaptation-focused infrastructure development for flood protection with co-benefits. This report describes the program and the process, who and what kind of projects are eligible, how funding will be awarded, and how the state will pay for planning and implementation.  It also presents summaries of exemplary projects in New York State that could improve physical, social, and ecological resilience, but as yet remain unfunded.
Through this program, agencies, municipalities, tribes, non-profits, and some private entities could apply for funding for green or grey infrastructure projects that a) prioritize the most vulnerable, b) offer ecological, social, and public health benefits, and c) use science-based and forward-looking risk approaches, including:
improving shorelines and stormwater management systems
restoring wetlands and protecting migration pathways
building berms, dikes, and levees; removing dams
right-sizing culverts and elevating streets and railways
adapting sewage treatment plants, water supply systems, and other utilities
buying out homes and businesses from harm's way
acquiring land that can remain protected
stabilizing soil for farmland
creating new parks or ecological enhancements such as re-vegetation to absorb water
slowing energy from storms
providing grants or tax incentives to move infrastructure to higher ground
The program builds on and its process is modeled after the Rebuild by Design and National Disaster Resilience Competitions.  The process includes three stages: 
1) Research, Risk assessment, and Planning: Communities will identify local hazards, conduct a vulnerability assessment, and identify other municipalities or areas needed for cooperation to effectively address the causes of flooding for the given system.
2) Comprehensive Collaborative Adaptation Planning and Design: Design a comprehensive plan of flood reduction projects with multiple co-benefits, ensuring strong stakeholder engagement and support, proving project feasibility and effectiveness.
3) Implementation: Implement resilient infrastructure and buy-out programs with metrics to monitor project effectiveness and benefits.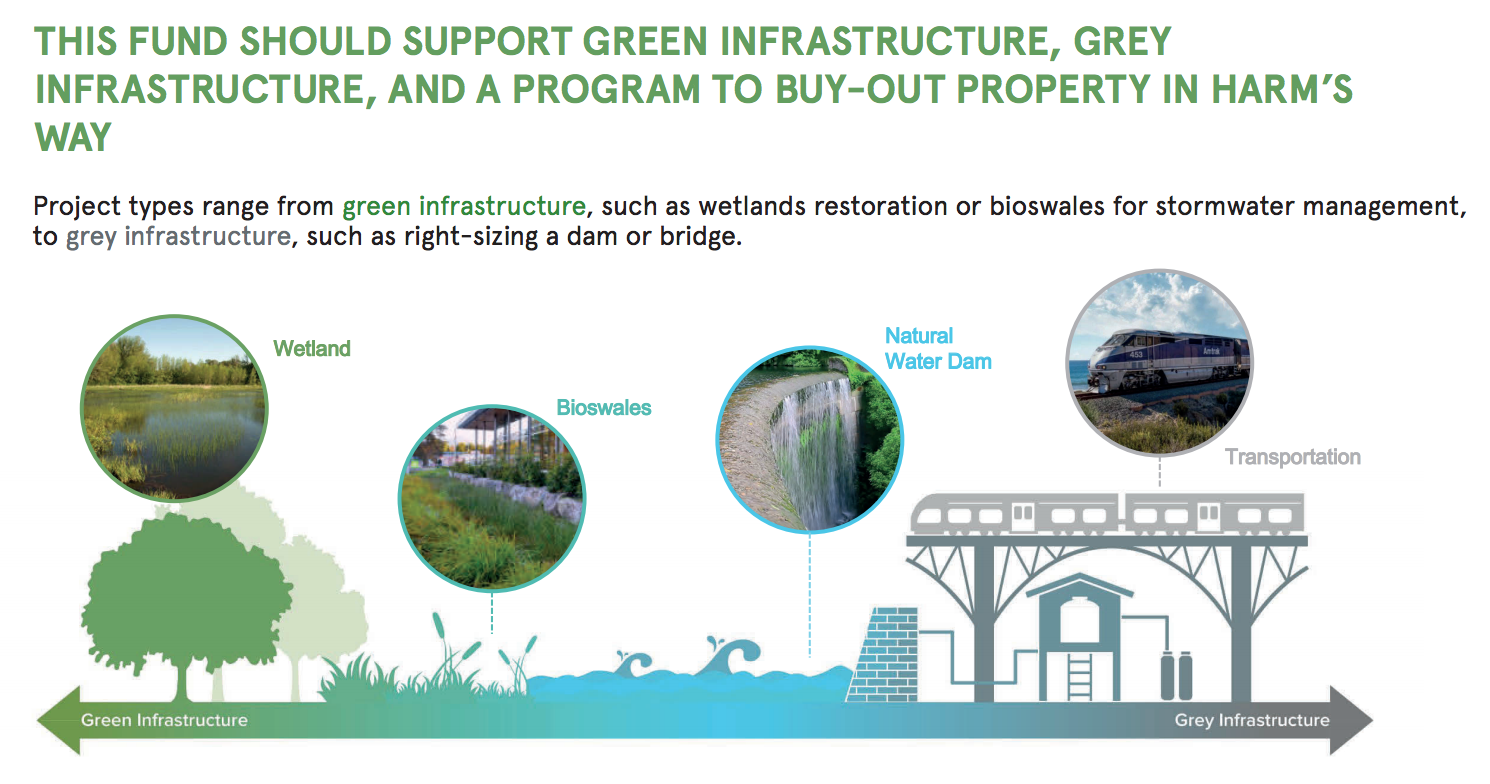 The report identifies two primary funding mechanisms to support the proposed program: 1) creating a progressive surcharge on property-casualty insurance, and 2) creating a Resilient Infrastructure Bond. It also offers a review of other new types of bonds that could provide funding and brief case study examples of how other states are financing climate adaptation.
Additionally, the report includes a visual summary of the health effects of hurricanes, storms, and floods and a focused section on how climate change increase inequities both during and after a flood event, illustrating the need to prioritize frontline communities: "as climate change increases the frequency of flooding, it will further reinforce underlying vulnerabilities and systemic inequality."
Publication Date: December 19, 2019
Related Organizations:
Sectors:
Resource Category:
Resource Types:
Best practice
Policy analysis/recommendations
States Affected:
Impacts: