San Bruno Creek and Colma Creek Resiliency Study - San Francisco International Airport
This resiliency study describes the vulnerability assessment and sea level rise adaptation strategies for two creek systems - San Bruno and Colma - that flow into San Francisco Bay adjacent to the San Francisco International Airport (SFO), San Mateo County, California. SFO - a critical component of the Bay Area economy - and residential neighborhoods within the lower reaches of the San Bruno Creek and Colma Creek watersheds (Project Area) are at risk of severe flooding from these two creeks due to sea level rise. The lower reaches also provide habitat for threatened and endangered species. This report documents the vulnerability assessment of the Project Area as well as suggested adaptation strategies for the creek systems and recommendations for implementation.
The vulnerability assessment followed guidelines from the California Climate Adaptation Planning Guide. The report details the data used to assess flooding risk in the Project Area including the topography of the Project Area, the hydrologic and hydraulic modeling of San Bruno and Colma Creeks, and increased flooding potential of the creeks. The relative sea level rise projections considered in this report were from 1-3 ft between 2030 and 2155. 
Vulnerabilities in each creek system are identified and discussed. Potential adaptation strategies are provided for specific sections of both San Bruno and Colma Creeks that are considered most vulnerable to sea level rise. Some of the suggested adaptation measures include: floodwalls, tide gate and pump systems, channel deepening, surface detention basins, regional tidal-barrier structures, and low impact development.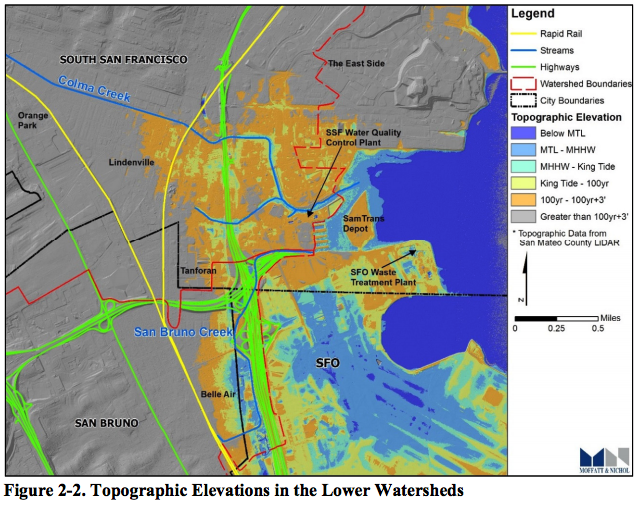 Recommendations are provided to facilitate the implementation of proposed adaptation strategies, including, among others:
Develop Regional Watershed Management Plans

- Because some of the proposed adaptation strategies cross jurisdictional boundaries, a regional watershed management plan would help with coordination of some adaptation projects along the San Bruno and Colma Creeks.
Conduct Focused Research & Studies

- An evaluation of the viability of proposed adaptation strategies will help refine the list of potential strategies.
Education/Public Outreach

- Understanding and support from the public can help facilitate planning and implementation of some adaptation strategies.
Incentivize Basin-Wide Low Impact Development (LID)

- To mitigate flooding damage through greater use of LID techniques, San Mateo County could reduce the area threshold for LID permitting and cities within the watersheds could prioritize and incentivize LID techniques.
Publication Date: August 2015
Related Organizations:
San Francisco International Airport (SFO)
Sectors:
Resource Category:
Resource Types:
States Affected:
Impacts: