Sea Level Rise Adaptation Guide - Virginia
This comprehensive, web-based guide compiles sea level rise adaptation resources for local governments in coastal Virginia.  The guide includes numerous case studies, both from Virginia and other coastal communities of the United States. It also highlights funding opportunities, costs and benefits of different approaches to adaptation, flags adaptation approaches eligible for receiving credit through the National Flood Insurance Program's Community Rating System, and explores means of public engagement.
The guide is organized into four main sections, each of which describes what Virginia is already doing, lessons from other jurisdictions, relevant federal and state legislation, and other best practices. 
Planning - This section provides guidelines for comprehensive plans, green infrastructure plans, transportation planning, hazard mitigation planning, and capital improvement planning.
Regulatory - This section covers zoning, floodplain management, the Chesapeake Bay Preservation Act, building code, and stormwater management. 
Financial - This section provides guidance on property acquisition, easements, land use value assessment, transfer of development rights, and purchase of development rights. 
Construction - This section covers design standards, hard and soft armoring, beach replenishment, structure elevation, and freeboard requirements. 
The guide uses icons throughout the website that allow users to easily identify key information. Below are some sample icons.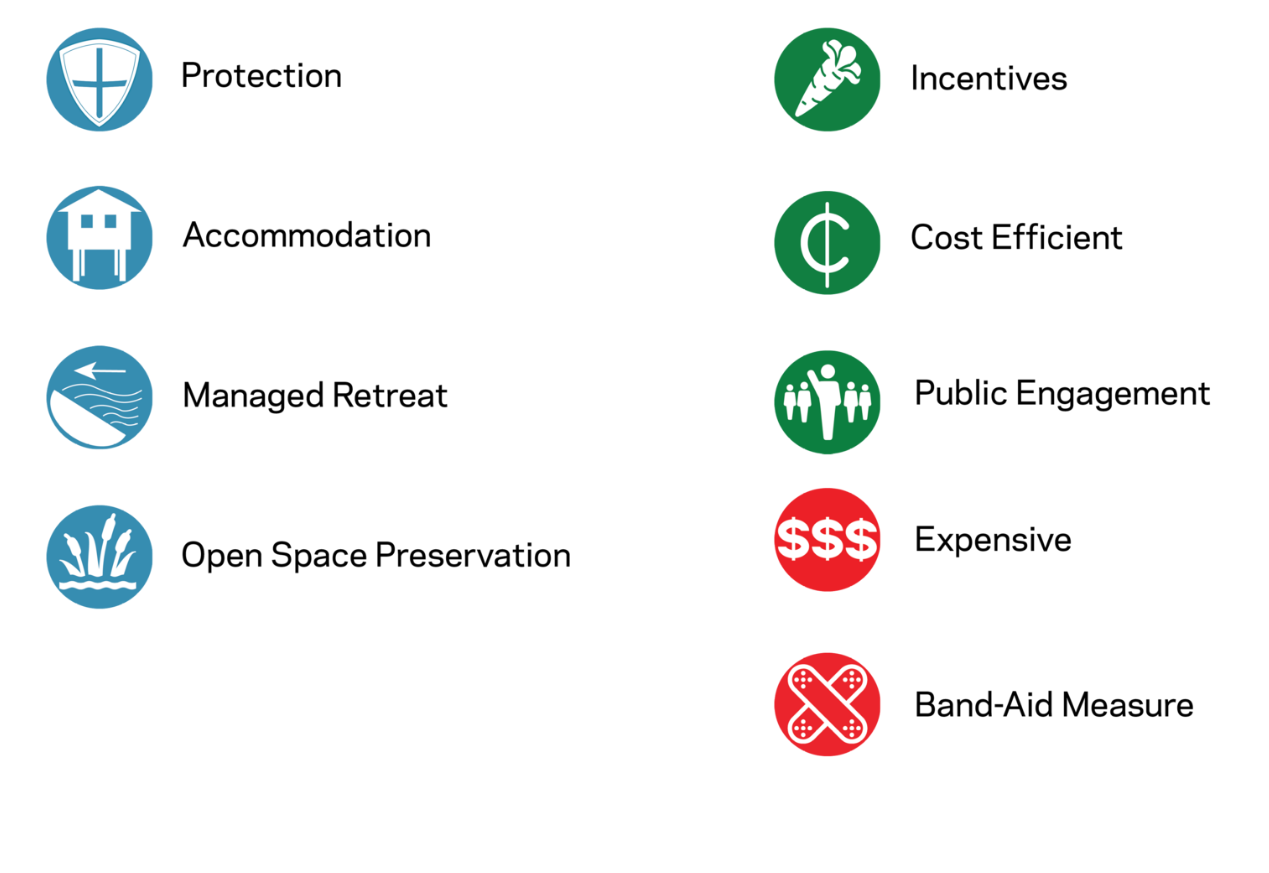 Authors or Affiliated Users:
Related Organizations:
Sectors:
Land management and conservation
Resource Category:
Resource Types:
Best practice
Case study
Tool (general)
Websites
States Affected:
Impacts:
User Comments:
March 24, 2017
Jessica Grannis, Adaptation Program Director at Georgetown Climate Center

Really great resource tailored for Virginia localities - with specific case studies and excerpts of code language that can be cut and pasted into a jurisdictions ordinances. Well organized and highly usable with clear icons to help users navigate the document. Well done Skip Stiles and team!