Sea Level Rise Response Strategy Worcester County, Maryland
From the Worcester County Department of Comprehensive Planning, this strategy informs local stakeholders, including planners and developers, about options that Worcester County, Maryland has to adapt to sea level rise and land subsidence. The analysis utilized various sea level rise models and a vulnerability assessment to inform the development of response strategies and recommendations for the county.
The report discusses sea level rise scenarios and details the results of locally focused models and projected impacts for the region. The vulnerability analysis is organized by the potential impacts sea level rise will have on current and future development including transportation infrastructure, potable water systems, wastewater and stormwater management systems, and other public facilities. The impacts of sea level rise on coastal ecosystems in Worcester County are discussed also in terms of shoreline erosion, wetland inundation, drowning of submerged aquatic vegetation, and saltwater intrusion. Localized sea level rise impacts by jurisdiction within the county are detailed, and in some cases mapped, as in the analysis on historical resources projected to be inundated.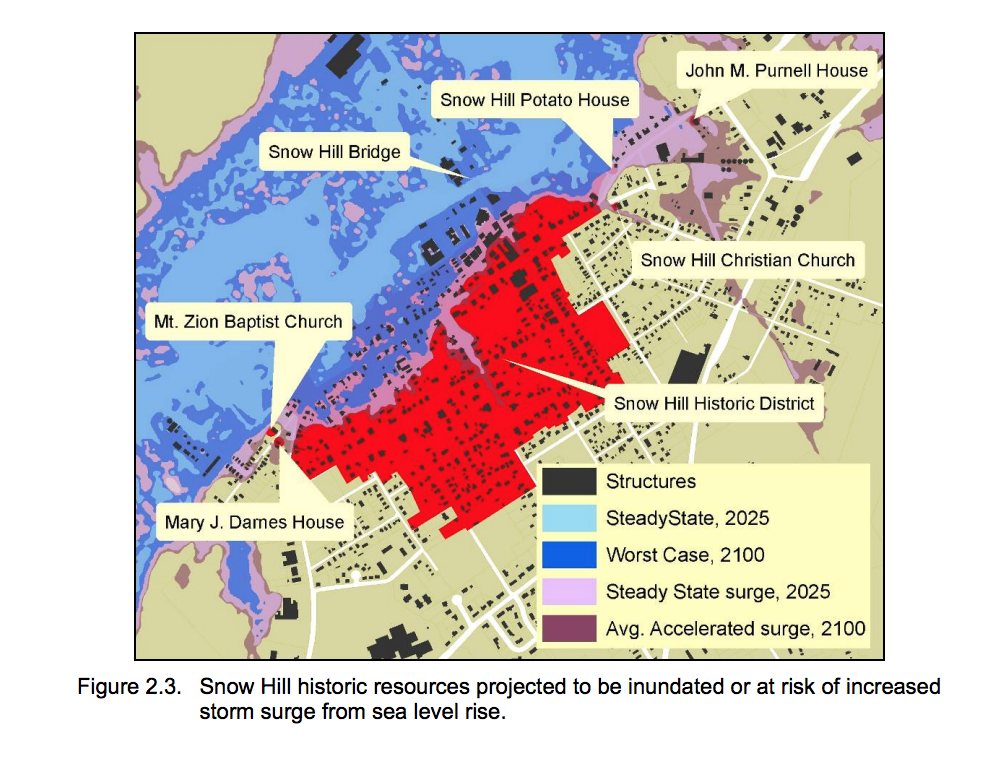 Chapter 3 offers varied sea level rise response strategies, including options for existing versus future development, and options for infrastructure, public facilities, and natural systems. The advantages and disadvantages of protection, accommodation and retreat options as well as related strategies (i.e. structural and non-structural options, rolling easements, elevation, floodproofing) are evaluated. A concluding prioritization framework for determining sea level rise adaptation response options in Worcester County suggests:
Using the 2100 Worst Case scenario and soliciting public input to inform planning

Planning response options for sites based on their zone (In accommodation zones, for instance, rolling easements, property acquisition, restrictions on future development, and elevating/floodproofing existing structures might all be considered).

Engaging the public through an educational campaign

Acting quickly to implement strategies to minimize the most imminent effects of sea level rise

Identifying funding sources and begin codification of selected strategy
Publication Date: September 2008
Related Organizations:
Worcester County, Maryland
Sectors:
Resource Category:
Resource Types:
Assessment
Policy analysis/recommendations
States Affected:
Impacts: