Sustainable Santa Fe, New Mexico 25-Year Plan
The Sustainable Santa Fe 25-Year Plan brings Santa Fe, New Mexico into sustainability and climate resilience by protecting the triple-bottom-line of ecological resilience, economic vitality, and social equity. Santa Fe has committed to carbon neutrality by 2040, and the plan provides a framework for mitigation across the city, as well as for climate resilience through ecological sustainability.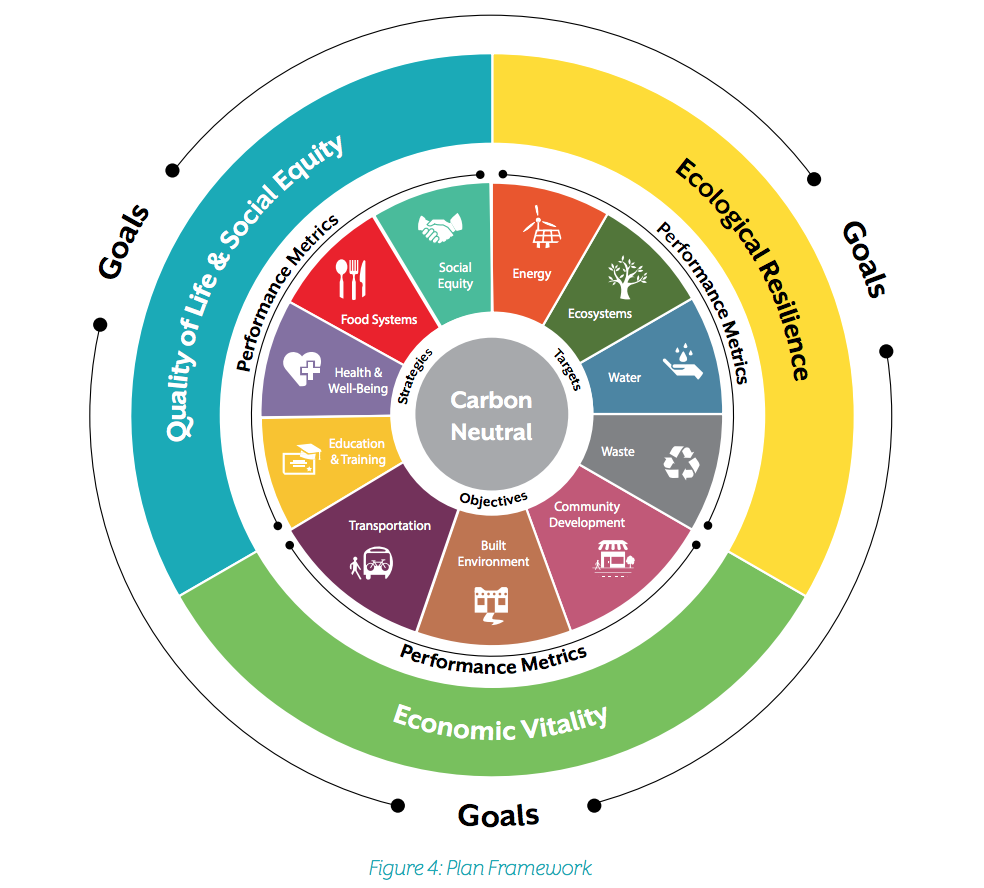 Santa Fe is vulnerable to climate change impacts of drought, wildfire, reduced water supply, extreme temperatures and related public health risks. To address these issues as well as social and economic concerns, the plan utilizes a framework of Three Triple Bottom Line "Planning Pathways" - Ecological Resilience, Economic Vitality, and Quality of Life and Social Equity. Goals and strategies are designed to fulfill all of the pathways collectively.  Ecological Resilience strategies were developed for focal sectors of Energy, Ecosystems, Water and Waste.  The Energy sector looks to clean, green energy solutions, and the Waste sector will focus on intensive recycling programs. 
This plan was designed to facilitate "a strong social sustainability framework to address the issues of climate change, affordable housing, transportation, diversity, food systems, education, and health and wellness." Social Equity is one of the Planning Elements or focal sectors of the plan - seeking to both engage and to meet the needs of underserved and underrepresented populations in Santa Fe. 

Some of the climate adaptive Equity Strategies are to:

Adopt and employ triple-bottom line analysis practices for City of Santa Fe decision making; and

Establish a recurring and reliable revenue source to invest in community social equity and sustainability initiatives.
The resilience planning for Ecosystems and Water systems includes many climate adaptive strategies.
Ecosystems Strategies:
A. Quantify the impacts of air pollutants on health in Santa Fe and develop appropriate response plan.
B. Enhance the connectivity of greenbelt and habitat corridors across the community.
C. Determine a baseline of carbon sequestration levels from plants and soils and increase carbon sequestration.
Water:
A. Continue to see a year over year weather normalized decrease in total potable water consumed by all sectors.
B. Increase the use of reclaimed water for municipal operations.
C. Increase the number of residential and commercial greywater systems.
D. Create at least two neighborhood-scale water conservation projects and programs.
E. Increase the number of public and private use of raingardens and other infiltration projects.
Performance Trends are included also which are high level indicators of overall progress that can be used to demonstrate sustainability performance across the pathway.
Publication Date: October 29, 2018
Related Organizations:
City of Santa Fe, New Mexico
Sectors:
Resource Category:
Resource Types:
States Affected:
Impacts:
Air temperature
Precipitation changes
Wildfires