Taking Action on Green Resilience: Climate Change Adaptation and Mitigation Synergies
This report summarizes a workshop entitled "Taking Action on Green Resilience"at the 2017 ICLEI Canada Livable Cities Forum in Victoria, British Columbia, and provides recommendations on capacity building, research and public policies needed to advance green resilience practices. "Green Resilience" strategies are described as those that address both climate mitigation and adaptation - by simultaneously reducing GHG emissions and enhancing climate resilience. The report was produced by Green Resilience Strategies and ACT (the Adaptation to Climate Change Team) at Simon Fraser University.
The workshop explored ways to integrate climate change mitigation and adaptation planning, such as bringing energy efficiency opportunities to adaptation projects, and resiliency to emissions reduction programs. This report provides examples of green resilience (GR) measures and key benefits; recommendations on how to identify, fund and implement GR opportunities; and strategies to improve GR research, analysis, technical assistance, incentives and regulations.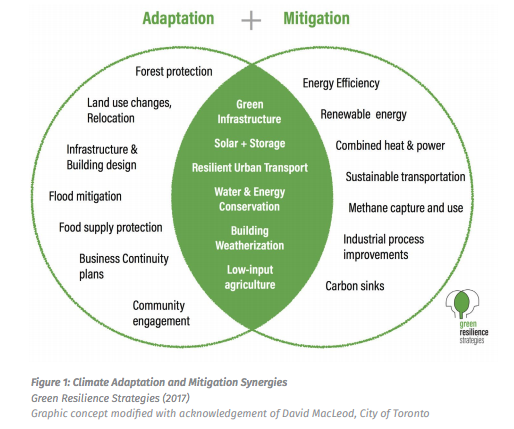 Examples of green resilience measures include:
Energy efficiency, distributed renewables, district energy systems, microgrids

Green infrastructure

Public transit flood protection, active transportation

Water use efficiency and wetland treatment

Low-carbon, resilient buildings

Climate smart agriculture
The report describes that integrating climate change adaptation and mitigation through GR measures can: achieve multiple co-benefits; expand funding sources; increase return on investments; save time and resources; avoid missed GHG reduction opportunities and risk of building in future vulnerability; and accelerate implementation and scale up. 
Publication Date: November 20, 2017
Authors or Affiliated Users:
Edward Nichol
Deborah Harford
Related Organizations:
Simon Fraser University
Green Resilience Strategies
Sectors:
Resource Category:
Resource Types:
Best practice
Engagement
Scenario planning