Texas 2019 Coastal Resiliency Master Plan
The Texas General Land Office (GLO) updated Coastal Resiliency Master Plan provides a framework for the protection and adaptation of coastal infrastructure and natural resources across the most vulnerable regions of the Texas Gulf coast. The Resiliency Plan adopts the most current storm surge and sea level rise models to determine the implication of projected climate impacts, coastal hazards, and prioritization of these projects. The priority issues of concern identified for resilience planning on the Texas coast focus on degraded or lost habitat, beach and dune erosion, storm surge, coastal flooding, impacts on water quality and quantity, loss of marine and coastal resources, and shoreline debris.   
The plan consists of 123 "Tier 1" or high priority projects that target areas in greatest need of coastal protection and restoration across community, socio-economic, infrastructure and ecological sectors. Built infrastructure and natural environments are to be "considered in partnership to understand and achieve coastal resiliency." Priority natural assets are both resources and ecosystem services of the Texas coast including seafood, flood prevention, recreation and habitat benefits. The Texas ocean economy depends on coastal resiliency and includes industries such as waterborne commerce, energy and chemical industries, commercial and recreational fishing, and tourism.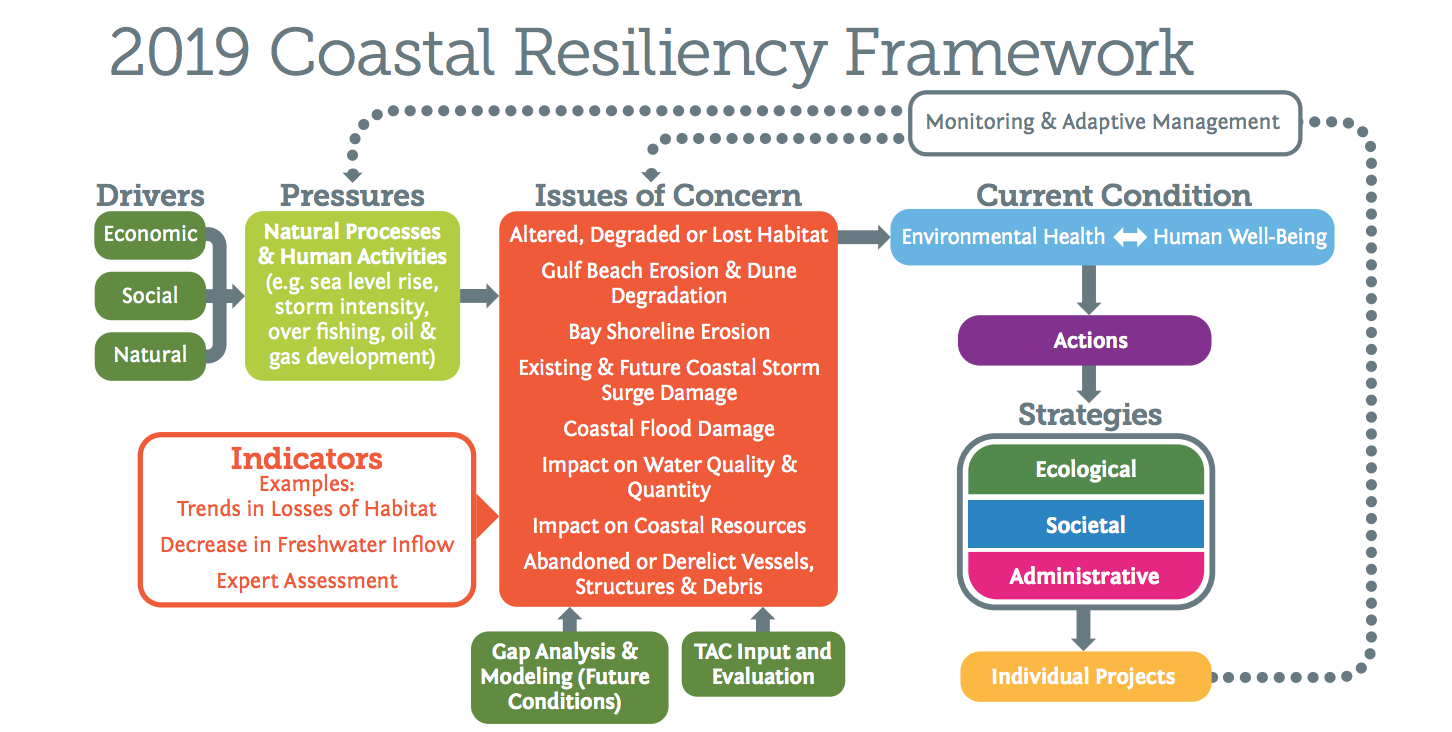 Section 3 - Moving Toward a Resilient Coast details 11 priority resilience Actions for state and regional level to increase long-term adaptation.
Beach and Dune Sustainability

Coastal Storm Risk Management

Delta Management

Oyster Reef Enhancement

Regional Infrastructure Improvements

Responsible Development

Rookery Island Enhancement

Watershed Planning

Wetland Protection and/or Shoreline Stabilization

Data Collection and Monitoring (Coastwide)

Storm Preparedness and Response (Coastwide)
Projected coastal flooding risk and critical facilities impacted are mapped and discussed for each region along with Socioeconomic (value of built environment and demographic snapshot) and Ecological overviews (Coastal habitat change) for the region.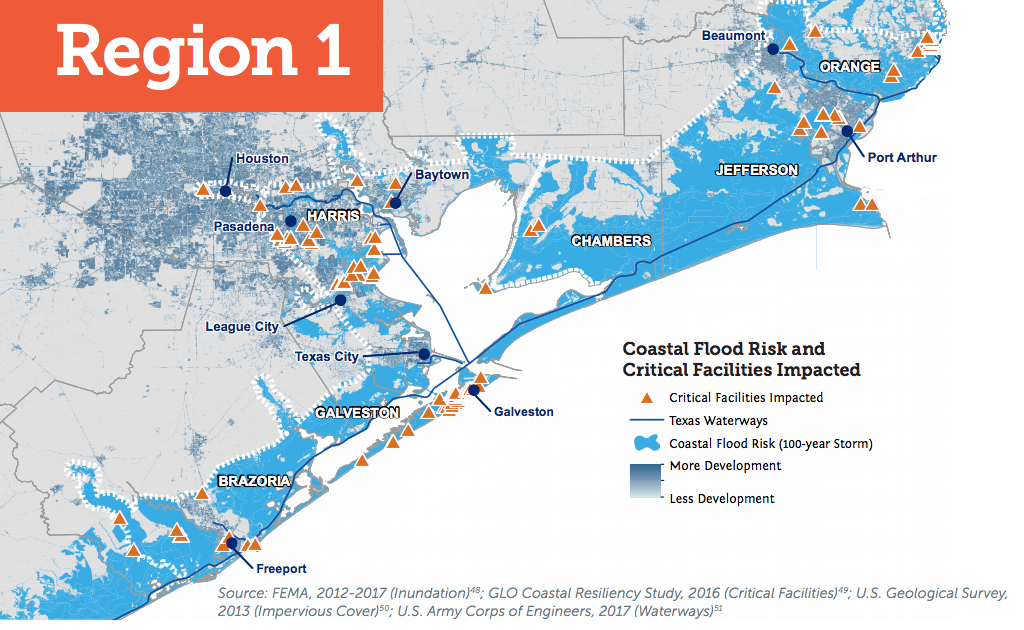 Actions are mapped and detailed for each region by target locations; and Recommended Projects per region are described for each of the primary Action topics.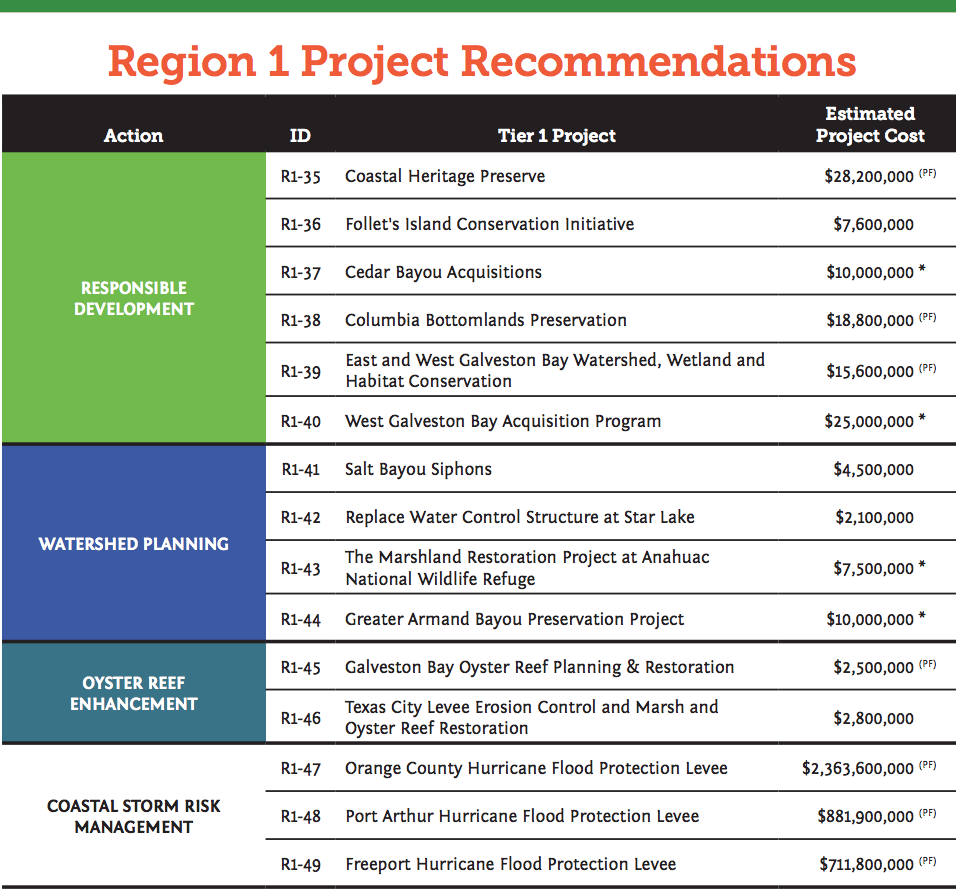 Every Tier 1 Recommended Project then also has an individual profile or "Project Cut Sheet." Each project sheet includes a map and describes the need, benefit, the budget or estimated total project cost. Construction-type project costs include design, construction and maintenance costs and are developed using cost templates included in the Technical Report. For non-construction projects, project costs are estimated based on input from stakeholders.
The climate resilience of the Texas coast has broad implications across the state and national economy. As explained in the report:
"Its vast expanse of port enterprises and the energy industry's exploration and production endeavors, the Texas coast is both the main trade hub for the rest of the state and the leading energy producer for the nation. In recent years, Texas ports provided $368 billion in economic value to the state – roughly 23% of the total state gross domestic product – and handled 23% of all U.S. port tonnage annually."
While the words "climate change" are not mentioned directly - future climate conditions based on global climate models are. Texas anticipates flooding to be the greatest economic threat to the coast region as worsened by sea level rise. 
"As coastal flooding is expected to become a more frequent occurrence, driven by higher sea levels, land subsidence, erosion, wetland loss, development in low lying areas, higher than typical tide events, and storm surge from coastal storms, flooding in the coastal region is projected to be the natural hazard of greatest economic threat in Texas from 2018 to 2023 causing an expected $5.6 billion in property losses and accounting for 34 percent of all weather-related economic losses."
Publication Date: March 14, 2019
Related Organizations:
Texas General Land Office
Sectors:
Resource Category:
Resource Types:
States Affected:
Impacts: