U.S. Forest Service (USFS): Climate Change Resource Center
The USFS Climate Change Resource Center (CCRC) is a reference website for resource managers and decision makers who need information and tools to address climate change - regarding both mitigation and adaptation - in planning and implementing projects. The website offers educational information, including basic science modules that explain climate and climate impacts, decision-support models, maps, simulations, case studies, and numerous toolkits and publications.
The CCRC lists tools that are intended to help land managers incorporate climate change and carbon stewardship into their decision-making. Tools included on the CCRC may range from specialized calculators to maps or models covering a variety of scales and geographical regions. The CCRC does not recommend specific tools, but does provide guidance on appropriate tool applications.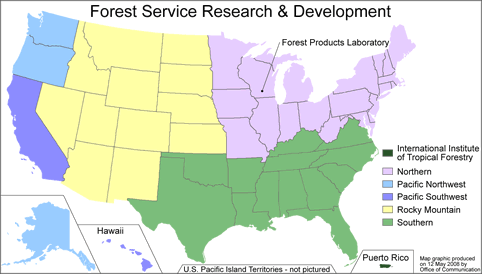 Some example Forest Service tools provided on the site include: 
Climate Change Tree Atlas and Bird Atlas: The Atlases can be used to examine the current distribution of tree and bird habitats in the eastern United States, and how tree and bird distribution might change in response to different climate scenarios.
CUFR Tree Carbon Calculator (CTCC): This Carbon Calculator provides quantitative data on carbon dioxide sequestration and building heating/cooling energy effects provided by individual trees.
ecoSmart Landscapes: The ecoSmart Landscapes tool can be used to calculate carbon dioxide sequestration and building energy savings provided by individual trees.
First Order Fire Effects Model (FOFEM): FOFEM is a model that predicts first-order fire effects including tree mortality, fuel consumption, emissions (smoke) production, and soil heating caused by prescribed burning or wildfire.
FishXing - Fish Passage Learning Systems: The Fish Crossing software is designed to assist engineers, hydrologists and fish biologists in the evaluation and design of culverts for fish passage. It may be used as a component of a management approach to help fish species respond to climate changes.
Water Supply Stress Index (WaSSI) Ecosystem Services Model: WaSSI is a model that can be used to project the effects of forest land cover change, climate change, and water withdrawals on river flows, water supply stress, and ecosystem productivity. Users can define custom scenarios to run through the model's online interface
In order to maintain access to this website, we are linking to an archived version of the website saved on January 9, 2017. The original link can be found here: https://www.fs.usda.gov/ccrc/.
Related Organizations:
Sectors:
Resource Category:
Impacts: