National Climate Adaptation Science Center
The USGS National Climate Adaptation Science Center is the managing entity for nine regional Department of the Interior Climate Adaptation Science Centers (CASCs) across the continental U.S., Alaska, Hawai'i, and U.S. Affiliated Pacific Islands. The National CASC, based in USGS headquarters in Reston, Virginia, is a national center for independent and collaborative research on climate change vulnerability and adaptation. It also serves as the managing entity for the broader CASC network, providing leadership and guidance in administration, communication, partnership coordination, and data/program management. The CASC mission is to deliver science to help fish, wildlife, water, land, and people adapt to a changing climate. 
The nine regional CASCs, shown in the map below, are focused on delivering science that addresses resource management priorities of the states within their footprints. Each regional CASC is a federal-university partnership made up of a consortium of institutions, including university, tribal, and NGO partners, with each center housed at a host university selected through a competitive award process.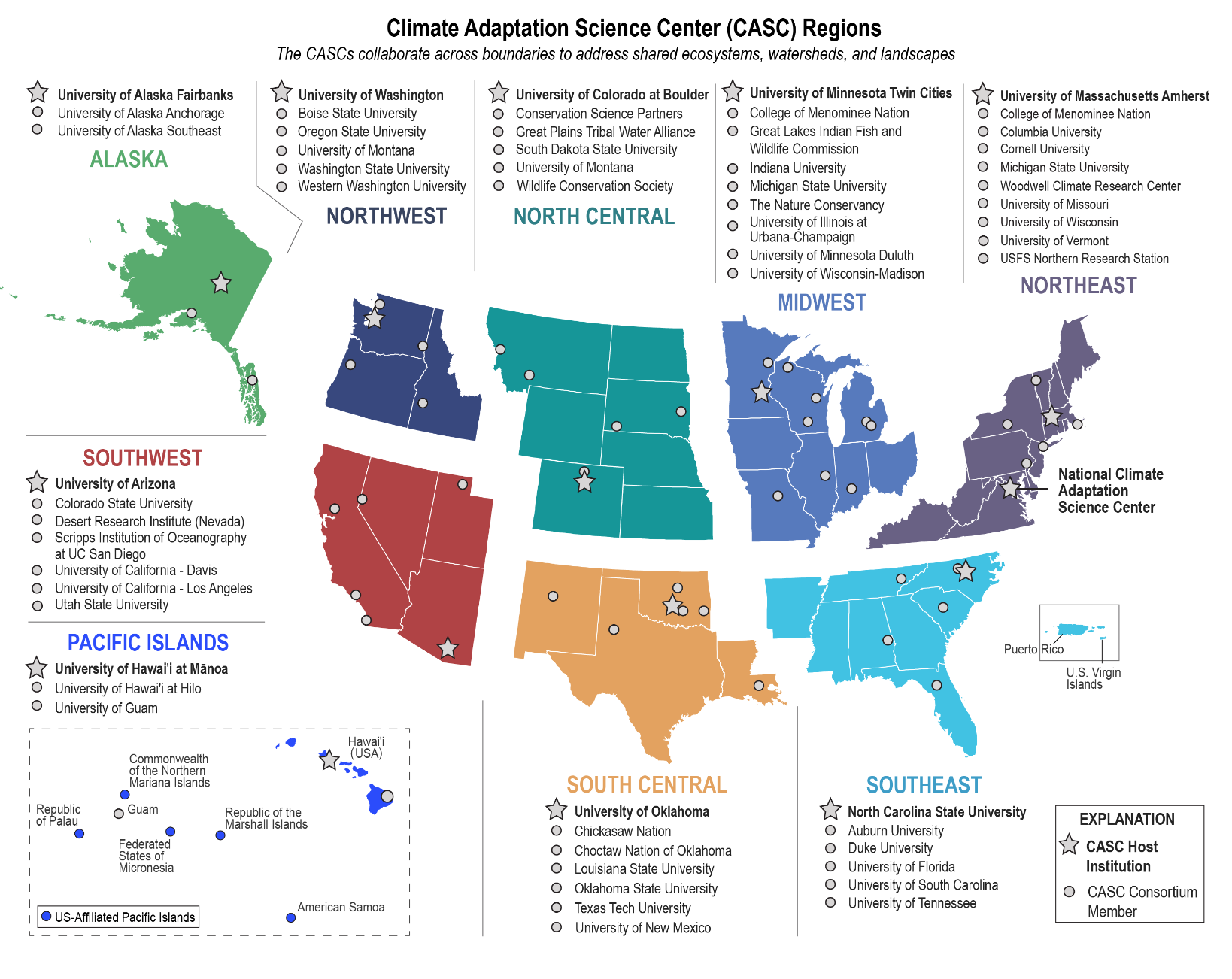 The National and regional CASCs conduct research to provide resource managers and other partners with the scientific information and decision-making tools they need to understand and adapt to the effects of climate change on fish, wildlife, water, land, and people. CASCs collaborate with managers and scientists from state and federal agencies, Tribal Nations and Indigenous communities, universities, and NGOs to address science needs and inform adaptation planning.  
The CASC network places emphasis on generating actionable science, information and products that address identified science needs and are directly usable in supporting resource management decisions, actions, and plans. Development of actionable science requires scientists to work iteratively with the intended end users of the scientific product, such as resource managers and native communities.  
Sectors:
Related Organizations:
Related Users: