A Resilient Power Capital Scan: How Foundations Could Use Grants and Investments to Advance Solar and Storage in Low-Income Communities
This report identifies market barriers to deploying solar and energy storage technologies in low-income markets, and proposes more than 50 grant and investment opportunities that socially-minded investors can use to target those barriers. Solar and energy storage can further climate adaptation by helping communities avoid power outages.  The report includes a detailed analysis of the energy market and a matrix of interventions organized according to market participant, barriers, and difficulty.

Identify policies and programs to advocate for to better encourage solar and storage in low-income communities. 
The primary market barriers to integrating solar+storage in low-income communities include:
The need for an integrated development finance model to overcome finance gaps in underserved markets.

Lack of internal capacity of portfolio owners, advocates, and public officials to develop solar+storage projects.

Insufficient energy data collection, policy research, and economic analysis to understand the development of solar storage technology in low-income markets.

Insufficient capacity of technical service providers, project developers, and nonprofit intermediaries to reach underserved communities.

Inadequate market rules, incentives. and regulatory policies to advance new solar+storage technologies in low-income markets.
Among the proposed interventions that foundations can undertake are the following:
Support New Tax Credit Aggregation Entities.

Provide Credit Enhancement to Reduce Performance Risk.

Provide Working Capital and Long-term Capital.

Fund Leadership Awards to Owners.

Invest for Expansion to Low- and Moderate-Income Communities and Fund Advocacy.
By promoting expansion of this market, the Clean Energy Group seeks to expand the benefits of community resiliency, climate adaptation, and climate mitigation to vulnerable populations.
This report draws on a survey of 32 organizations to better understand the challenges in deploying solar and energy storage in low-income markets.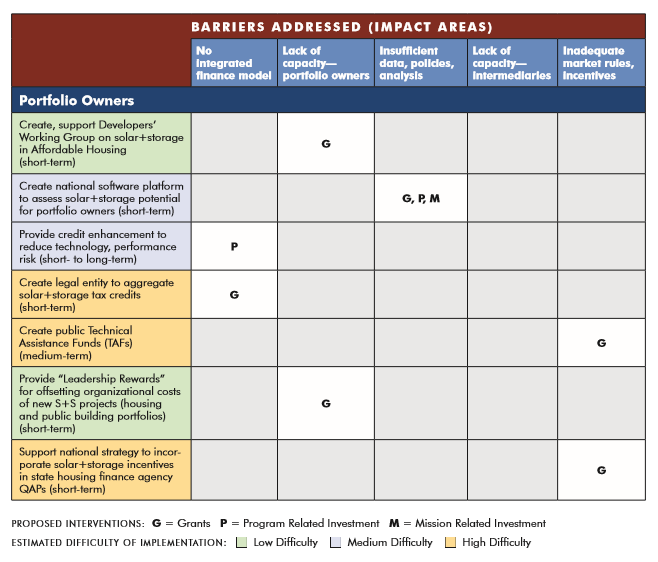 This report was commissioned by The Kresge Foundation, the Surdna Foundation, and The JPB Foundation.
Publication Date: February 1, 2017
Authors or Affiliated Users:
Lew Milford
Robert Sanders
Related Organizations:
Related Resources:
Sectors:
Resource Category:
Resource Types:
Policy analysis/recommendations
Impacts: