Adaptive Finance to Support Post-Disaster Recovery
This report looks at the reasons for the gap between needed and available funding after disasters - and provides guidance on an adaptive approach to post-disaster financing.  This report is primarily intended for those stakeholders who participate directly in decision-making processes surrounding post-disaster financing, and financiers as well as other practitioners who are looking to creatively support resiliency initiatives.
Adaptive financing is described as that which offers flexible products that can be responsive to specific contexts and locations after disasters. Adaptable underlying processes that allow for finance providers to make ongoing adjustments to products in response to changing needs drives this format. Adaptive financing benefits and opportunities are discussed at length in the report. The authors describe a redesigned financial product-development process, and a new conception that a financial product is a service instead of a commodity.
Two primary challenges for post-disaster finance of availability and timing are discussed, which demonstrate the current need for adaptive financing. First, gaps remain between the financing needs of individuals and businesses after disasters and the availability of funding. In addition, financing is too slow to respond to disaster events and support the critical needs of communities.
Other challenges that affect post-disaster financing are detailed as well. Some of these issues addressed include the need for new financing models; lack of preparation increasing the magnitude of impacts; disrupted supply chains complicating recovery logistics; and many more.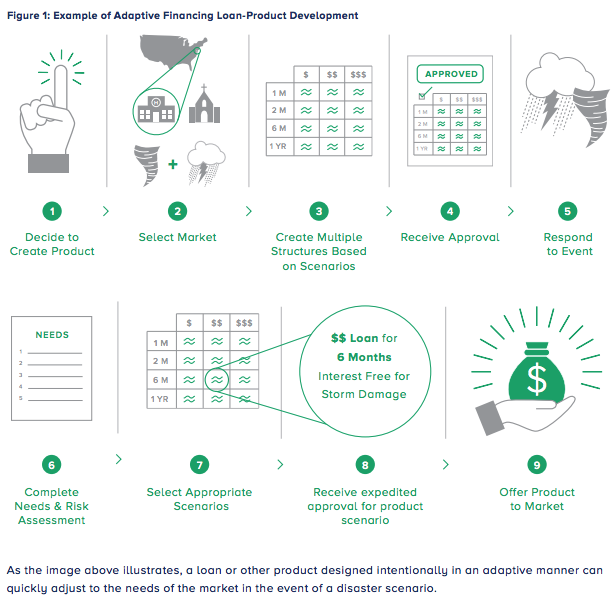 The following recommendations are given for companies to begin to incorporate adaptive financing strategies:
Research the primary financial and non-financial needs clients will have. Research the most common hazards in a geography and identify the most common patterns of needs after disasters (with the understanding that these may change in the face of shifting climate patterns).

Pre-approve a set of solutions that can be adapted quickly after a disaster. They can be engaged to address the needs of individuals and businesses.

Use scenario-based planning models. These can combine the latest scientific research for anticipating the impacts that various disasters can have on economies with financial models that anticipate a financial products' performance.

Create products that have several investors participating at various levels of risk with some willing to take a first loss on defaults. This can help reduce the risk of an overall investment and attract more institutional investors.

Optimize the non-monetary benefits of the deal. For example, this could include a United States investor's ability to earn credits under the Community Reinvestment Act so that there is additional value on the table that will not be lost if unexpected risks or defaults occur.
Publication Date: October 2017
Authors or Affiliated Users:
Sectors:
Resource Category:
Resource Types:
Policy analysis/recommendations