Banking on Green: A Look at How Green Infrastructure Can Save Municipalities Money and Provide Economic Benefits Community-wide
Banking on Green describes the cost-effectiveness of green infrastructure (GI) for stormwater management, and the co-benefits of energy reduction, flood mitigation, and improved public health outcomes. American Rivers, Water Environment Federation, American Society of Landscape Architects, and ECONorthwest created this report to put information from GI performance research into the hands of decision makers. Detailing the benefits of green infrastructure, along with documented examples of successful GI practices, this document provides information on the economics and climate change adaptation benefits of GI for policymakers, municipal and utility officials, and the general public.
Throughout the report, case studies and brief examples from across the country are provided to highlight real-world instances of how green infrastructure can provide cost-effective adaptation solutions. The benefits of green infrastructure are quantified in some of these case studies, citing the cost savings from implementation over traditional infrastructure. 
The report summarizes the economic impacts of stormwater and describes the various ways green infrastructure can be both less costly and more cost-effective than grey infrastructure for stormwater management. For example, green infrastructure reduces costs associated with stormwater volume control, operation and long-term maintenance (ie. if properly maintained, GI is designed to increase in resilience and functionality over time as plants mature), and broad infrastructure (eg. pavement). For example, outside of Chicago, Illinois, a green infrastructure solution for stormwater management could save $3 million in culvert upgrades: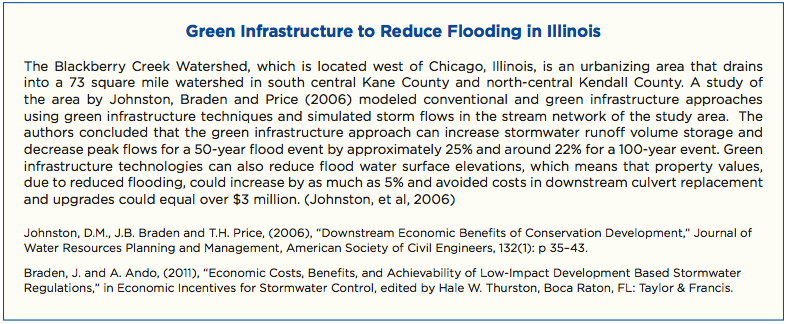 In regard to energy, GI can help increase energy efficiency with green roofs thereby reducing heating and cooling costs. Additionally, GI practices that capture, infiltrate, and reuse rainwater can reduce the energy needed to pump and treat drinking water and wastewater.
The report focuses a section on GI benefits for flooding as it is "the most frequent and costly natural hazard in the United States" and is predicted to be more frequent and extreme with advancing climate change. Green infrastructure is known to be a well-suited and cost-effective control option for mitigating flood impacts of small, frequent storms. Widespread use of GI can also hold benefits for larger, less frequent flood events. 
Finally, the report describes the economic benefits of green infrastructure to public health through illness prevention and health promotion. Polluted stormwater runoff poses a serious threat to public and environmental health, as flooding can cause contamination of waterways from toxic chemicals or sewage. GI can reduce costs to public health by providing runoff reduction, air and water quality improvements, urban heat island effect mitigation, and increased recreational space.
Publication Date: April 2012
Related Organizations:
Water Environment Federation
ECONorthwest
Sectors:
Resource Category:
Resource Types:
Impacts: