Before the (Next) Storm: The Disaster Planning for Historic Properties Initiative
The Pennsylvania State Historic Preservation office was awarded $1.5 million by the National Park Service following Hurricane Sandy, the bulk of which will be used to undertake disaster planning initiatives. The goals of the initiative are to identify the counties with the most vulnerable historic properties, develop strategies to protect those historical properties from future disasters, and then integrate those strategies into the selected counties' Federal Emergency Management Agency (FEMA) Hazard Mitigation Plans. Counties were selected based upon their requirement to update their hazard mitigation policy by 2017 and their status as a Presidential Disaster Declaration county during Hurricane Sandy.
Through the award, it is the hope that both FEMA and PEMA (the Pennsylvania Emergency Management Agency) will gain more comprehensive information about the historic and cultural resources in Pennsylvania, and will be able to be more proactive in protecting those assets pre-disaster. The integration of historic preservation goals into county hazard mitigation plans will be based upon the guidance in "Integrating Historic Property and Cultural Resource Considerations Into Hazard Mitigation Planning: State and Local Mitigation Planning How-To Guide," a FEMA publication from 2005.
The teams working on the project will also study the impacts of common mitigation strategies on the integrity of historic properties and districts. They hope to identify and develop least-intrusive disaster management best practices for historic buildings and different building types, and will explore damage reduction in case of flooding, severe winds, and fires. Those practices in turn will be incorporated into the selected counties' hazard mitigation plans.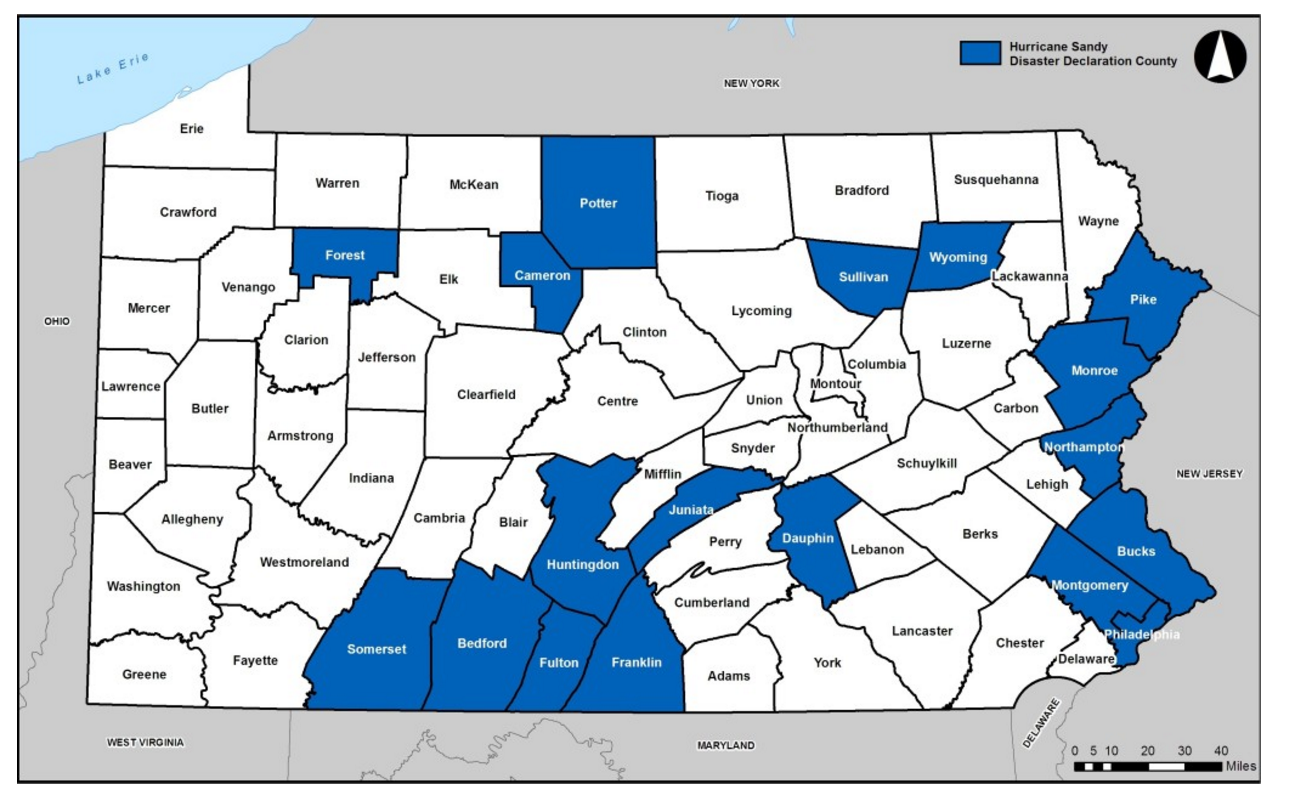 (Photo: PA Disaster Declaration Counties)
Publication Date: February 4, 2015
Related Organizations:
Pennsylvania Historic Preservation Office
Sectors:
Resource Category:
Resource Types:
Agency guidance/policy
Project
States Affected:
Impacts: