Bridging the Adaptation Gap: Approaches to Measurement of Physical Climate Risk and Examples of Investment in Climate Adaptation and Resilience
This report was prepared by the Global Adaptation and Resilience Investment Working Group (GARI), a private investor-led initiative focused on climate adaptation and resilience investments. It describes existing approaches to measuring physical climate risks and examples of investments in adaptation and resilience. It also provides recommendations to help stakeholders - including governments, industry groups, think tanks, and investors and financiers - to address barriers to public and private sector investment in climate adaptation and resilience.
Thus far, investment in adaptation has lagged far behind investments in mitigation. Even more, the small amount of public sector investment has leveraged nearly no private sector finance. This is problematic since the private sector owns and controls assets and infrastructure, supports products that will be affected by climate change, and can bring in expertise and innovation that remains untapped. A few of the primary barriers to investment in adaptation include uncertainty and a lack of agreed-upon metrics and measurements to understanding the return on investment and tangible examples of practical investments that can be made.
A number of recommendations are made for improving approaches to measuring physical risk - including identifying uniform data sets, standardizing scenario planning techniques, reporting asset-based assumptions, and linking resilience metrics to concrete financial implications.
The section showcasing examples of investment in climate adaptation and resilience offers a few methods for describing the investment landscape. First, it discusses the differences between investments where resilience is a feature (such as investments in resilient roads), and an investment where resilience is the product (such as climate analytics). It also distinguishes between horizontal investments in services and data (e.g. disaster warning systems or climate resilience consulting firms) compared to vertical investments in sectors (e.g. drought-resistant seed company, water metering companies, or a company producing cool roof materials) as seen in the image below. Other categories include investments in fixed assets, such as a water rehabilitation project, and investments in financial products, such as green bonds. Overall, the report explains that more examples are needed, more work needs to be put into defining what "adaptation investment" means, and more needs to be done to understand and measure returns on investment.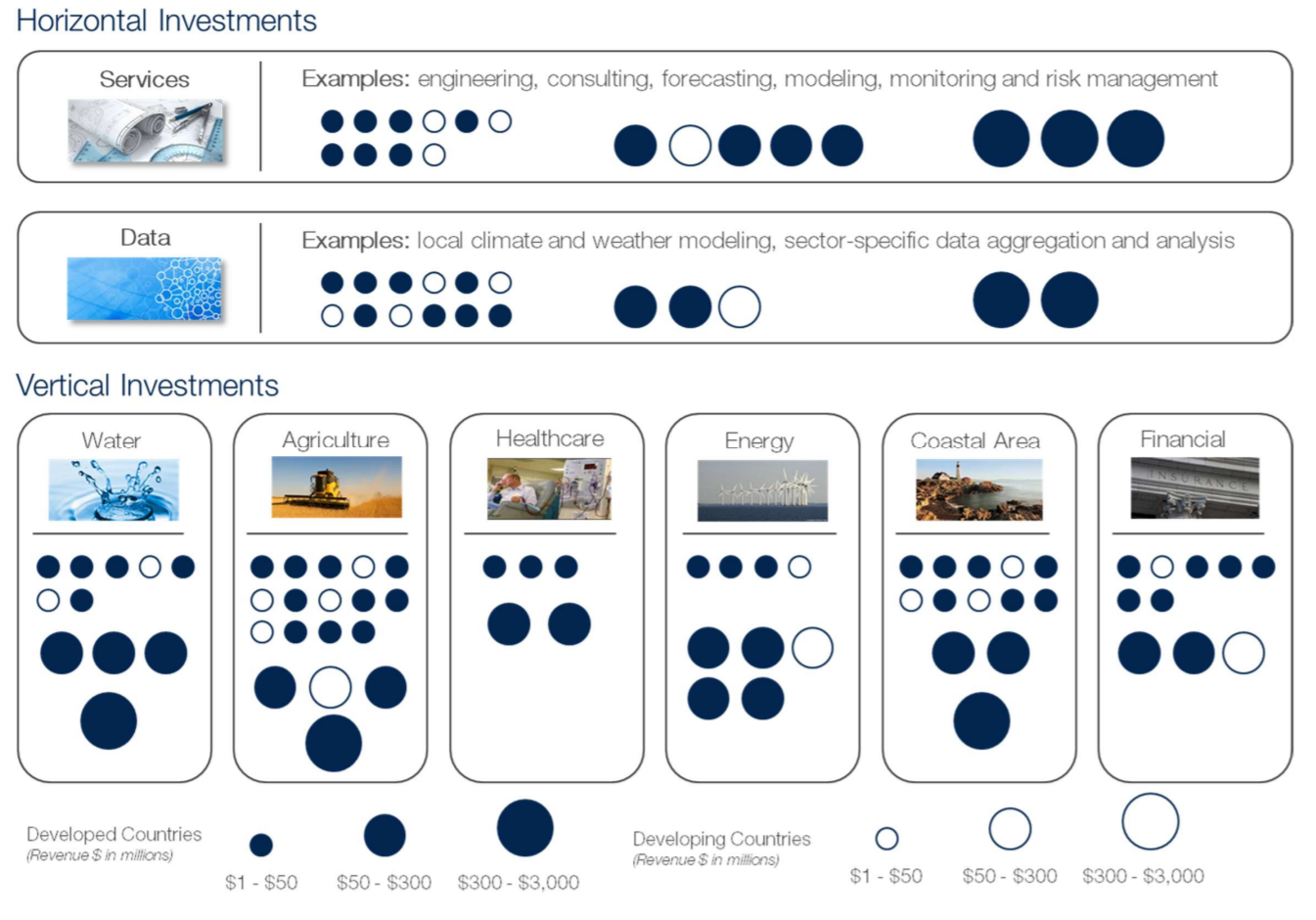 The final section in the report provides recommendations for governments, industry groups, think tanks, investors, and financiers. For example, the report recommends that regulators should establish standards for assessing climate impacts Industry groups and think tanks should develop more consistent measurement approaches and data to help investors make decisions. Additionally, investors and financiers should assess physical climate change risks and focus on identifying returns on investment.
Publication Date: November 2016
Author or Affiliated User:
Related Organizations:
Global Adaptation & Resilience Investment Working Group
Sectors:
Resource Category:
Resource Types:
Policy analysis/recommendations